SchoolBook
Students: Progress Reports Do Not Tell the Whole Story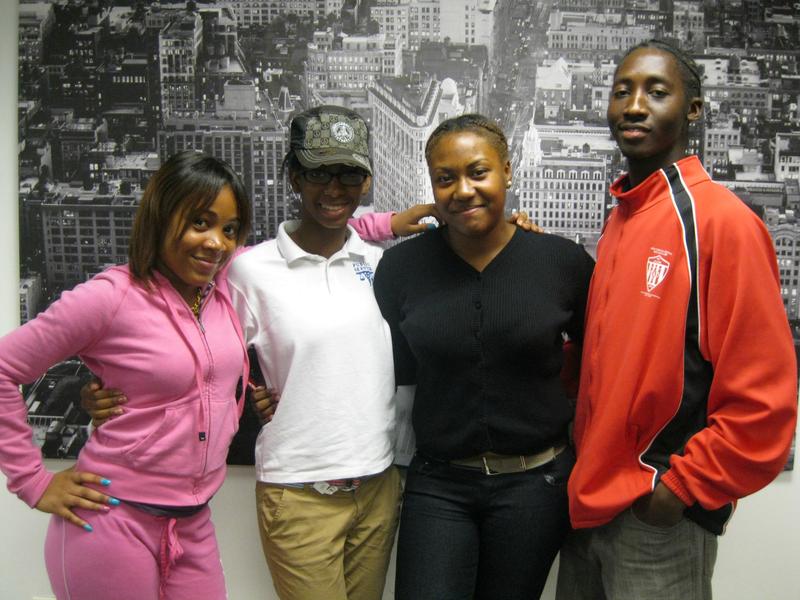 High school students who have spent time analyzing the city's annual school progress reports argue that the reports are a limited tool for evaluating schools and student learning. The students, who are participating in a youth leadership program, acknowledge that the A through F grades may expose some realities, but they can also overlook aspects of a school that contribute to a student's overall education and ultimate success.
Bianca Chapman, a junior at the High School for Public Service in East Flatbush, Brooklyn, which has received an A-grade for the past several years, said she is not sure what to make of the report's heavy reliance on tests, like Regents exams.
"It doesn't say anything," she said. "This is a community service school and we do a lot of work. And we have a lot of programs that other schools don't have, like French and all that. It didn't say anything about that."
Ousmane Barry, a senior at The School for Human Rights, also an "A" school, said he thinks about the confusion of being a high performing student in a low-performing school.
"How can students be doing good in school and the school is labeled 'failed'?" he said. "It doesn't connect."
Student progress, which includes earning course credits in core subjects and passing Regents, accounts for more than half of the progress report score. Another 20 percent of the report is based on student performance, which takes into account graduation rates and how many students earn weighted diplomas -- also tied to Regents exams. This year, a new college readiness measure accounts for 10 percent of a school's grade.
"If I could tell the D.O.E. to add something, I would just say to open it up more," said Makaida Wrong, a junior at Gotham Professional Arts Academy in Bedford-Stuyvesant, Brooklyn. Gotham is an alternative assessment school, meaning students produce academic projects, such as presentations or research papers, instead of taking standardized tests. Students do take one state exam, the English Regents.
Still, when Gotham received an F on its 2010-2011 progress report, Wrong said she could understand how the school's environment contributed to a poor grade on paper.
"It was a bad year for my school," she said. "Like, there was a lot of fights and people dropping out and people not coming to school." But she said that the school's environment has changed dramatically since that time. The school improved to a B grade on the 2011-2012 progress report released Monday.
But another Gotham junior, Tamara Enoe, said shaking the stigma of an F grade is hard. She recalled working at a high school fair recently when a mother came over to the Gotham table and looked in the high school directory to find Gotham's F.
"She pulled her son -- she said 'No, let's go, let's go. You're not applying here,'" said Enoe.
Barry said he wished education officials who grade schools, and who use progress reports to help make high-stakes decisions, like whether or not to close a school, would spend more time in their buildings talking to students.
"Surveys can be part of it," he said, noting that a school environment survey, filled out by students, parents and teachers, accounts for 15 points on the progress report. "But surveys are not always true. Ask students, 'How do they feel about their school?'"
Shael Polakow-Suranksky, the city's chief academic officer, said the city always uses multiple measures to make decisions about whether or not to close a school, and that the progress report is just one quantitative view of a school. The Education Department also conducts quality reviews, another evaluation of how well a school is organized to support student achievement, through interviews and classroom observations. The most recent quality review score is listed on the front page of each school's progress report, and the full report can be found on each school page through the D.O.E. website.
But the students who spoke to SchoolBook argue that qualitative reviews happen less frequently than annual progress reports, that evaluators are only in the building for two to three days and that students and school staff always know ahead of time when the review is going to happen. That defeats the purpose, they said.
The students are in a program run by Coro New York which trains students to understand education policy and come up with their own solutions. They said they are prepared to do what they can to improve their own schools.
Enoe said she would encourage fellow students to be more honest when taking the school environment survey. Wrong acknowledged that, while some measures on the progress report are out of her hands, students should take responsibility for things that they can control, such as attendance.
Barry said it is important for students to feel invested in their own school and education. "It is like you have a contract with your school," he said, which requires students to be positive and do their work.