SchoolBook
Rockaways Teen Documents Life Post-Sandy for School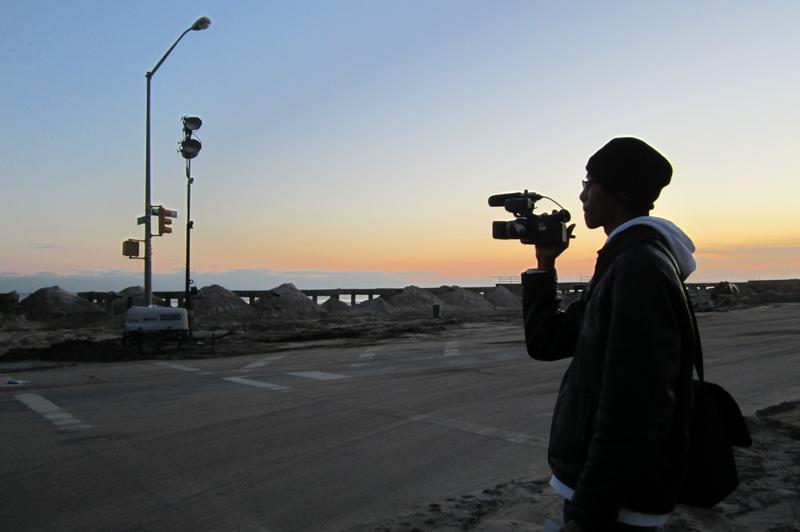 You can hear the audio version of this story which aired on NPR here.
Seventeen-year-old Brandon McClain was on his way home from high school when his mom called, asking him to pick up dinner. He had just gotten off the bus and walked over to a shopping plaza where city workers under a white tent were giving out boxed meals of chicken and chili.
The woman serving McClain recognized him and joked about him being a regular. He asked for four meals. "Cookies?" she asked. "Of course," he said, "who would deny that?"
It was day 16 since the storm wrecked the Rockaways. Power was still out in McClain's area, Rockaway Beach, and the stores were all closed, including the supermarket. But the parking lot was mostly empty. McClain didn't understand why there weren't more people asking for food. He turned on a video camera and asked the workers.
"Before it was crowded here. What happened?"
"I don't know," said a man under the tent. "I really don't know." He told him to ask the city.
McClain is a senior at Information Technology High School in Long Island City, 16 miles away on the other side of Queens. His long bus rides became even more arduous after the storm because of problems with mass transit. When McClain told his video teacher Mike Vander Putten that he wanted to make a documentary about life in the Rockaways, the teacher promptly loaned him the school's equipment.
"He doesn't have any power, we got every battery we could for every camera we could so he could get out there and record as much of this to get it out there, to get the word out," Vander Putten said. "Because I think it's atrocious."


So McClain been asking a lot of questions, lately, with a focus on the disaster relief response in the diverse neighborhoods of the Rockaways.

"I want to see what people know about what's happening out there," he said. "For example, like, Belle Harbor. The last people I interviewed. It seemed that money wasn't a problem, organizations coming in wasn't a problem. They were frustrated at the Red Cross, though."

McClain is six feet tall and thin, with light brown skin and high cheekbones. He's serious and respectful, especially when approaching some volunteers in a Red Cross van a few feet away in the parking lot.

"A lot of people in Rockaway are actually frustrated with the Red Cross," he said, gently. "I mean they're disappointed... Like, how do you think you can improve that?"

A volunteer from North Carolina told him, "There's always room for improvement. That's all I can say. If they're disappointed I'm really sorry but we have volunteers coming in from all over the country." She explained that this was a massive disaster recovery operation.

Vander Putten was disturbed by McClain's stories about waiting for power to be restored, or not knowing when the Red Cross would show up. He drove to McClain's home to drop off donations and said he met a neighbor who had similar complaints.

"I know a lot of us worked really hard to get relief down there and we feel like we've done our job and everything is going back to normal, and then you walk over there and it's just stunning to me that it isn't back to normal. You think it should be fixed. So I wanted him to get a camera in his hand. I wanted him to get out there and show what people aren't seeing."

McClain had never taken a video class before but Vander Putten gave him a lot of tips, encouraging him to shoot as much as he could of nightfall, the "freakier part of the day."

The teenager was afraid to walk around at night carrying a camera - and for good reason. His local shopping plaza near Beach 90th Street was looted after the storm. And the streets got so dark during the extended blackout that city buses stopped running after sundown to avoid hitting pedestrians.

"It would be nice if you could show those buildings near you: they have power why don't we have power" Vander Putten suggested, adding that he didn't want McClain to take any risks. He suggested shooting from his window or front door.

McClain lives with his mother and his older sister in a small apartment in a three-family home. They were the only ones who stayed after the storm, bundling up to weather the cold nights and days. Their power was eventually restored three weeks after Sandy. His mom, Reina Wong, heated the place by boiling water on a gas stove. An immigrant from Suriname, she's been living in the Rockaways for 20 years and said she didn't evacuate because she has no family nearby. On the night of the storm they drove to a friend's apartment in a taller building. But their car got hit by a wave and they had to drag each other through the salty water the rest of the way.

"I know it's a little bit traumatizing for them," referring to McClain and his sister George Ann, who has Down Syndrome. "I caught him crying. I really want him to get back on his feet. He's a smart kid, he has so many opportunities. He wants to study medicine."
McClain's teachers aren't worried about his academics. They say he's an excellent student with a 3.5 grade point average. He even started a Red Cross club after Tropical Storm Irene. But he does have to apply to colleges this fall. And he wants to keep working on the video project. He put a little bit of footage on the school's web site and he's planning to make a longer version too.

On the day he was picking up food for his family, he dropped off the boxed dinners and went back out to interview some neighbors before the sun went down. Then he headed toward the ocean a few blocks away. The boardwalk's been destroyed. Pieces lay in a vacant lot, next to a downed crosswalk sign for pedestrians. A car lay against a house on top of a pile of sand.
"This is definitely something I'm going to remember for the rest of my life," he said. "Me living in Rockaway, I never experienced something like this. This is a huge slap to the face."
McClain has been thinking a lot about equity and the role of government after a disaster. He's been talking to his principal about Hurricane Katrina. But for now he takes out his camera to record the sunset before going home. He wants to share this moment and everything else he's witnessed with the rest of his school.
You can hear the audio version of this story which aired on NPR here.