SchoolBook
A Staten Island School Blames Its Problems on Location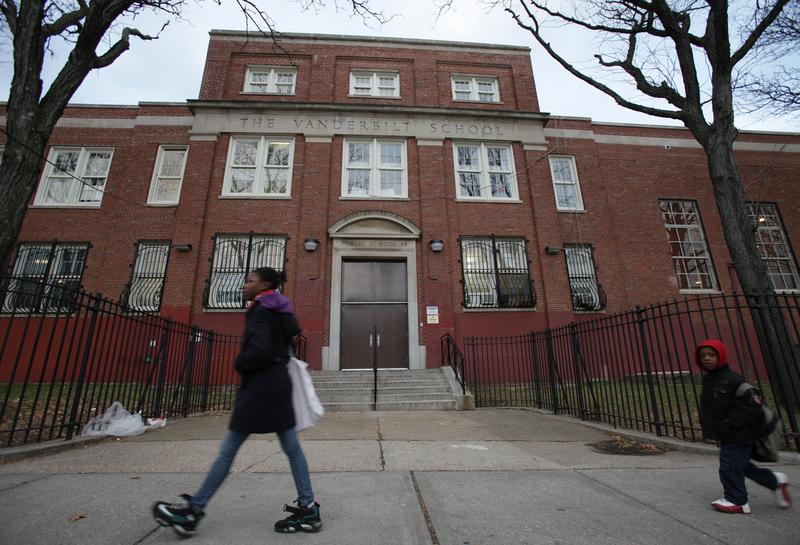 9:28 p.m. | Updated The announcements came year after year. Eight schools to shut down in Manhattan. Ten in the Bronx. Six in Brooklyn. Two in Queens. None on Staten Island.
It was hard for Staten Islanders not to develop a degree of superiority when it came to school closings.
Since 2002, the year Mayor Michael R. Bloomberg gained control of the system, the city has shut down 117 schools, leaving the borough untouched -- until now.
"Staten Islanders thought they were impervious," said Anne Marie Caminiti, an education advocate who until recently worked for Parent to Parent of New York State. "Schools here tend to operate better than many schools around the city."
But one of them has finally been singled out.
Public School 14 Cornelius Vanderbilt in the Stapleton area of Staten Island is among 19 schools the city has marked to be closed, with the final judgment to come on Feb. 9 in a vote by the Panel for Educational Policy.
At a raucous hearing at P.S. 14 on Wednesday night, about 400 parents, students and teachers filled the auditorium as an overflow crowd sat in a cafeteria down the hall. About 20 minutes into the meeting, people in the audience began shouting questions about the school's future at officials for the city's Education Department and criticizing the plans to close the school.
It is no secret that the school, serving more than 660 students in prekindergarten through fifth grade, has been struggling. In recent years, its grade on its progress report card dropped from an A to a C to a D.
P.S. 14 ranked in the bottom 4 percent of elementary schools in the city in mathematics and English language arts proficiency last year. About 31 percent of students met state standards on the math exam, while just 23 percent passed the English exam.
Still, none of that is new, leaving the community to wonder, Why now?
"This is entirely political," said Sean Rotkowitz, a Staten Island representative for the United Federation of Teachers. "There hasn't been any school closed on Staten Island, so they needed to go find a school and, I guess according to the Board of Education, P.S. 14 fits the bill."
The school's principal, Nancy Hargett, said: "This is just devastating. We were on a journey of improvement. We thought this was going to be the year we earned an 'A.' I don't understand why they chose us. I just don't have the energy for the politics."
Two other schools on Staten Island also saw their progress report grades drop from an A to a C to a D in recent years: P.S. 52 John C. Thompson and P.S. 60 Alice Austen. P.S. 54 Charles W. Leng went from a B to a C to a D.
A spokesman for the city's Education Department said the decision to close P.S. 14 was rooted in performance.
"Our goal is to ensure that every student has access to an excellent school, and despite our support, P.S. 14 has been failing to provide high-quality education for its students year after year, consistently scoring near the bottom of schools citywide," the spokesman, Frank Thomas, said in a statement. "The decision to propose the school for phase out is not easy, but it is our responsibility to give this community a better option."
The Education Department's plan would involve phasing out P.S. 14 while opening a new school, Public School 78, in the same building. (In the time that the city has closed 117 schools, it has also opened 535 new ones.) As P.S. 14's students graduate, P.S. 78 will grow to accept children from the neighborhood.
Residents in the area say the plan amounts to much more than a name change. They say it would strip the school of more than 100 years of history and take away generational legacies shared by families in which grandparents, parents and children all attended the same school.
"This is my community school -- I've been living here for the past 12 years," said Wasila Amin, 34, a member of the School Leadership Team. Her children, one in fourth grade and one in first, would be split between P.S. 14 and P.S. 78 next year under the plan. "My children love the school. Their teachers have helped them so much."
Deborah Rose, a city councilwoman who represents Staten Island's North Shore, which includes Stapleton, said P.S. 14's neighborhood was poor. The borough's largest New York City Housing Authority complex is down the block from P.S. 14, and long lines frequently form at a food pantry across the street.
Ninety percent of students at P.S. 14 qualify for free or reduced-price lunch, and 19 percent are entitled to special-education services.
"This is a community that really needs stability," Ms. Rose said. "It needs mental health services, organizations that can come in and provide support services. If you don't address the issues of the community, nothing will change."
Harold Williams, a technology teacher at P.S. 14, said many of his students were exposed to drug abuse, alcoholism and crime. Before the staff members can even begin to teach, he said, they have to become secondary parents and earn the students' trust.
In 2009, the school was on the state's list of persistently dangerous schools, but it came off a year later, aided by a series of staff and student workshops, the presence of an additional security officer and efforts to better the school culture, said Mr. Williams, who is also the teachers' union representative at the school.
New reading and math curriculums have been implemented, despite budget cuts, and math and English test scores have gone up, albeit slightly. Mr. Williams said the staff had been striving for an A or a B in the next progress report.
"The D.O.E. claims they gave us support, but me personally, I never got any support," he said. "They came and gave us a 44-page PowerPoint presentation on dealing with very simple problems. They said, 'Put your hand on Johnny's shoulder; try to tell Johnny he can do it.' That's not the kind of stuff we're dealing with. We have serious issues here. Johnny wants to kill Mary. Johnny wants to beat up the teacher. Johnny wants to attack you."
Mr. Thomas, the Education Department spokesman, said the community's challenges were all the more reason for the city to step in.
"We don't believe students in those kinds of neighborhoods deserve to be languishing in a low-quality school," he said. "It's unfortunate that a lot of these schools are in low-income areas. Frankly, those are the students we need to help the most."
A former principal at the school, Frank Carpenito, said it had always been difficult to get help from the city.
Mr. Carpenito, who worked as a teacher, an assistant principal and a principal at the school for a combined 34 years, said things had only gotten worse since he left. He said citywide changes in district organization had left few school leaders with the kind of close relationship he once had with P.S. 14's superintendent.
"He knew me personally," he said. "He knew my school. He lived on Staten Island. He knew the neighborhood we were in."
Even then, he said, it was common for P.S. 14 to be ranked toward the bottom of Staten Island schools, in large part because of the low-income community.
He recalled the time he met a 34-year-old woman who had just enrolled her grandson at the school and an instance when he spoke with a student who didn't know his own name, only his nickname, "Boo Boo."
"Closing the school, changing the administration, I think that's just an excuse to put the blame on someone else: the city doesn't have to say it's them," Mr. Carpenito said. "I think the principal there is doing a wonderful job. I know when I was there, the teachers gave out of their own pockets, out of their own hearts."