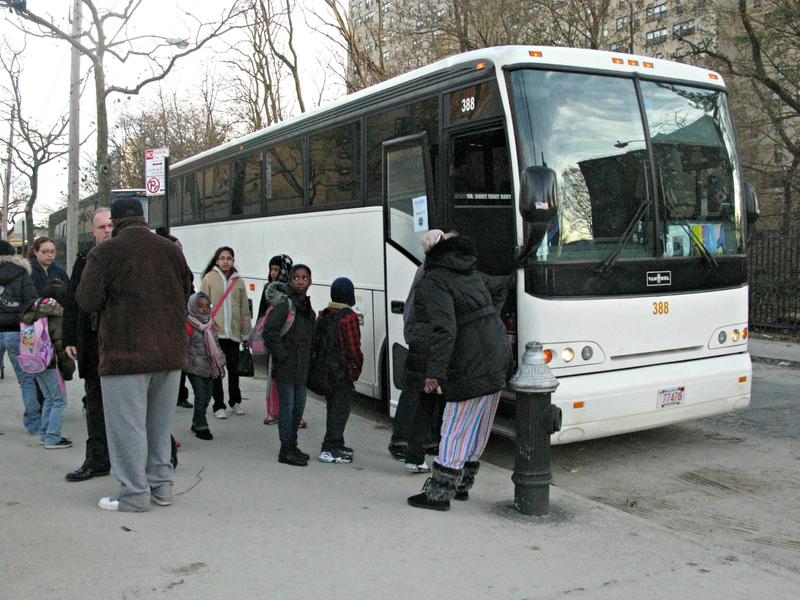 Diane Maben, assistant principal at P.S. 288 The Shirley Tanyhill, greeted students outside of their Coney Island school building Thursday morning and helped direct them onto six coach buses lined up on West 25th Street. As the buses filled with students from the pre-K through eighth grade school, they took off to P.S. 288's new temporary location about a 10 minute drive away at I.S. 228 David A. Boody.
"Don't you want a hat?" she asked one girl. "You're not cold?"
She cautioned another boy coming down the sidewalk to slow down, "Don't run, I'm not going to leave you."
Parents gave kisses and wiped noses one more time for the morning, then many of them stood on the sidewalk until the buses pulled away. This is the new routine for getting students to school after storm Sandy.
As of Thursday, about 15,000 students in 33 schools have been relocated to other buildings, because their own sites were too damaged from the storm. The Education Department is providing busing to the new sites for all affected students in kindergarten through eighth grade and most high school students. It's a situation that for at least some schools could last until January, education officials said.
As the bus situation stabilized this week, so did attendance at relocated schools. Education officials reported an attendance rate of 70.4 percent on Wednesday for students at relocated schools. Last Friday, that number was 36.9 percent.
"She likes the ride, so I guess that's what's making her want to go to school," said Shanell Garrett, whose daughter is in kindergarten at P.S. 288.
Other parents agreed that their children seem dazzled by the coach buses. Carolyn Heard said her daughter, a second-grader, told her "it's a pretty school bus." Alicea Diaz said her second-grade son described the bus as "nice and comfy."
"It's the only thing that gets him going," Diaz said.
But there's a tradeoff for the perks of riding up high in upholstered seats. Diaz said her family is still going without heat and hot water although they have power back in their apartment. She said they have been taking "sponge baths" in the kitchen by heating up water on the gas stove.
"Getting him back to school has helped make it a normal routine," she said, but added that has required an adjustment too. "He feels like it's a 'big people school', as he calls it, full of lockers. He just feels out of place. He's used to his old atmosphere."
Raquela Singh, who has both an eight-year-old son and five-year-old daughter at P.S. 288, said she is having to wake up her children earlier than usual, at 5:30, to get them ready and out the door for the bus. The first day "they hated it" at the new school, she said. But they are getting more used to it.
"My main concern is knowing that they are safe over there," said Singh, and added that she wants to visit the new site to see it for herself.
Nearly all of the more than 450 students at P.S. 288 are now taking the buses to school, said Maben, whereas many of them walked their children to I.S. 228 in Gravesend last week.
Maben said she took her post on the sidewalk, greeting children and their parents at 6:30 a.m. She waited until the last bus left at 7:50 a.m.
"We're doing the best we can with what we've got," she said.