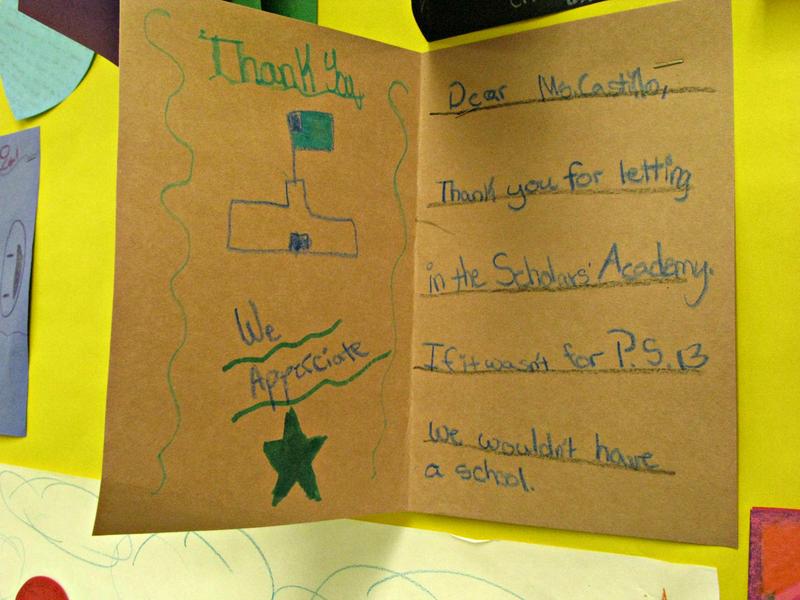 The students of Scholars' Academy, who normally attend a combined middle and high school on Beach Street in Rockaway Park, finally returned to classes Wednesday across borough lines.
Not only were they at an inland location, far from the effects of last week's storm surge, but they went back in educational time to an elementary school, P.S. 13 Roberto Clemente in East New York, Brooklyn. The building also houses Achievement First East New York Charter School, with students in kindergarten through eighth grade.
"You don't realize how small you really were until you come back to an elementary school," said Jesse Morris, a junior.
Morris said it did feel different to spend a school day in a foreign building, but there was some comfort in being back at school regardless of the space. "Since I saw the same people, it felt a little bit at home," he said.
About 700 of 1,200 Scholars' Academy students returned to school Wednesday, which Brian O'Connell, the school's principal, called a "huge turnout," especially considering the transportation challenges for many families. It was higher than the 43 percent the Department of Education reported as the attendance rate for relocated students citywide.
Some students took public transportation. Others received rides from parents. And others who live in the Rockaways took a school bus provided by the Department of Education from the entrance of Scholars' Academy to their new location. O'Connell said he rode the bus with students to make them feel comfortable.
The Scholars students spent the day in the auditorium mostly talking about their experiences during the storm.
Ahead of students' arrival, Sabrina Fleming, the principal of P.S. 13, studied the building's floor plan and highlighted areas where she could make space for the visiting students. In addition to the auditorium, she looked at the library, closets and the parent coordinator's room. A parent who owns a party and catering company donated tables and folding chairs, which made it possible to fit more students in classrooms, she said.
"We were just working as one family," said Fleming. "You wouldn't know there was an extra 700 students in the building."
But there were signs of the re-located school, including welcome posters and a Scholars' Academy banner in the halls to greet the community. There also were small groupings of chairs -- with a box of tissues at each station -- for counseling sessions.
Eventually, the plan is to move the high schoolers down the street to W. H. Maxwell Career and Technical Education High School.
"We went there, toured it, met with the principal, took photographs," said O'Connell of Maxwell. Then he said he talked to his high school students to see if they were amenable to the idea of having classes there.
"I had to get their buy-in," O'Connell said. "If students don't want to go to a school, they're not going to go."