SchoolBook
Students Compete for a Shot at the Golden Pi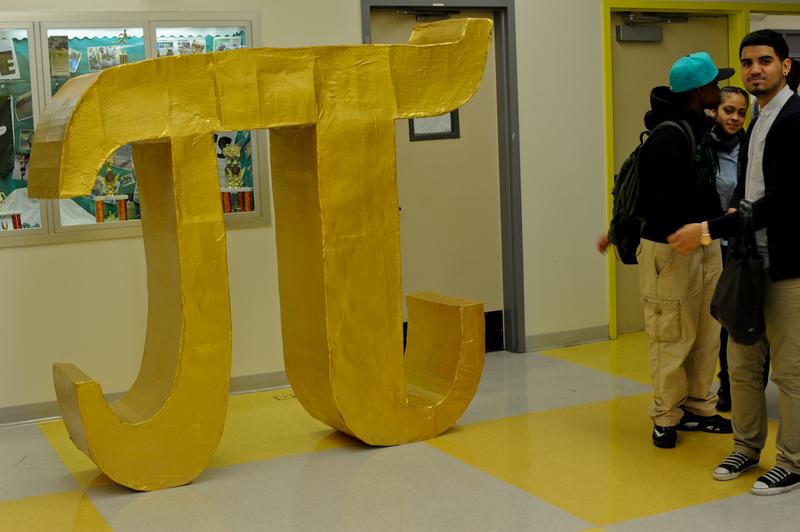 Nearly 1,000 New York City middle school students from across the five boroughs will spend their Saturday competing with each other for a chance to be crowned the city's best mathletes at the Pi 5 NY Math Tournament.
The competition, now in its seventh year, is hosted by the Urban Assembly School for Applied Math and Science in the Bronx. It will take place at the Fort Washington Armory in Washington Heights.
The tournament started in 2006 with about 200 students and now averages close to 1,000 participants a year.
Teams are divided by grade level and categorized into varsity and junior varsity divisions. During the competition, students work in teams of five, and have 45 minutes to solve as many questions as possible. They then run their answers up to judges, who check for accuracy.
The winning team gets a golden Pi trophy and the chance to bust open a 6-foot Pi piñata.
Rachel Auraz, a seventh grader at Urban Assembly, competed last year and plans to participate on Saturday.
"There was a triangle problem we had to solve, finding the missing side without using the Pythagorean theorum," she said. "It's noisy and there is a lot of music while we're trying to solve problems, so I have to try and not get distracted by the music."
Another seventh grader from the school, Nicole Diaz, will participate for the first time this weekend after auditioning for a spot.
"I waited all year to audition," she said. "I love math. Numbers come easy to me, so I like the challenge."
Nicole said that the tournament is also a chance to see kids from other schools who share her interests.
Kim Melgar, a math teacher at Urban Assembly, said the tournament is not just for whizzes, and can boost student confidence.
"This is an arena where they can do math and be successful in an area where they are not always successful," she said. "For me, it's great because it offers kids who don't always feel good about themselves a chance to feel good about math, and enjoy and feel like it's not out of their league."