SchoolBook
Sharing School Space Starts Without Incident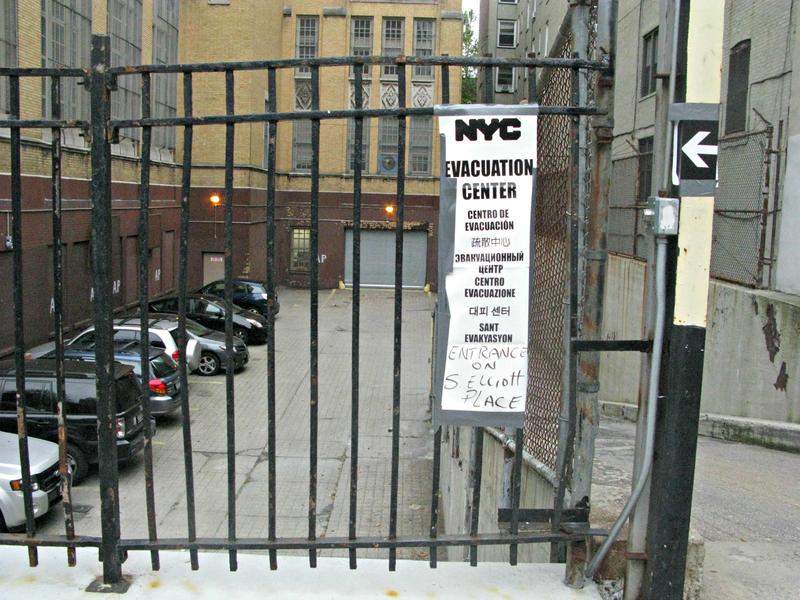 3:48 p.m. | Updated This article has been updated to reflect the announcement that on Thursday the city will open three school buildings -- Franklin Delano Roosevelt High School, George Washington Educational Campus, and John Jay Educational Campus -- to students after using them exclusively as emergency shelters for people displaced by Sandy. FDR and George Washington will continue to house evacuees. John Jay will not.
At Brooklyn Technical High School on Wednesday morning, a small group of evacuees from the storm sparked by Hurricane Sandy emerged from a side door and filed quietly across the street to smoke, escorted by volunteers wearing orange vests. Meanwhile teachers clutched cups of coffee and messenger bags and strode into the main entrance of the building, ready to welcome nearly 5,500 students for their first day back to school since Oct. 26.
Brooklyn Tech, along with Hillcrest High School in Queens, Susan E. Wagner High School on Staten Island and Tottenville High School on Staten Island, are continuing to serve as shelter sites while also opening doors to students, a new reality that, at least on the first morning, both sides seemed to accept without complaint.
"For this few days, everyone's just trying to be accommodating," said Brooklyn Tech teacher Christina Massie. "We understand that these people lost their homes, and that they are suffering."
About 12 students and teachers who spoke to SchoolBook outside the downtown Brooklyn school said they did not have serious concerns about shelter residents sharing their building.
Brooklyn Tech's seventh and eighth floors have been designated shelter space. Extra security were to be posted at doors on the seventh floor to ensure the two populations do not mingle, teachers said. City officials said they are working to find other sites to serve as shelters for evacuees, and have not specified how long schools and shelters would share space.
As of Tuesday evening, Tottenville had no evacuees but remained open as a shelter.
Meanwhile, John Jay Educational Campus in Park Slope, Brooklyn officially closed as a shelter Tuesday to undergo a thorough cleaning before it re-opens its doors to students on Thursday.