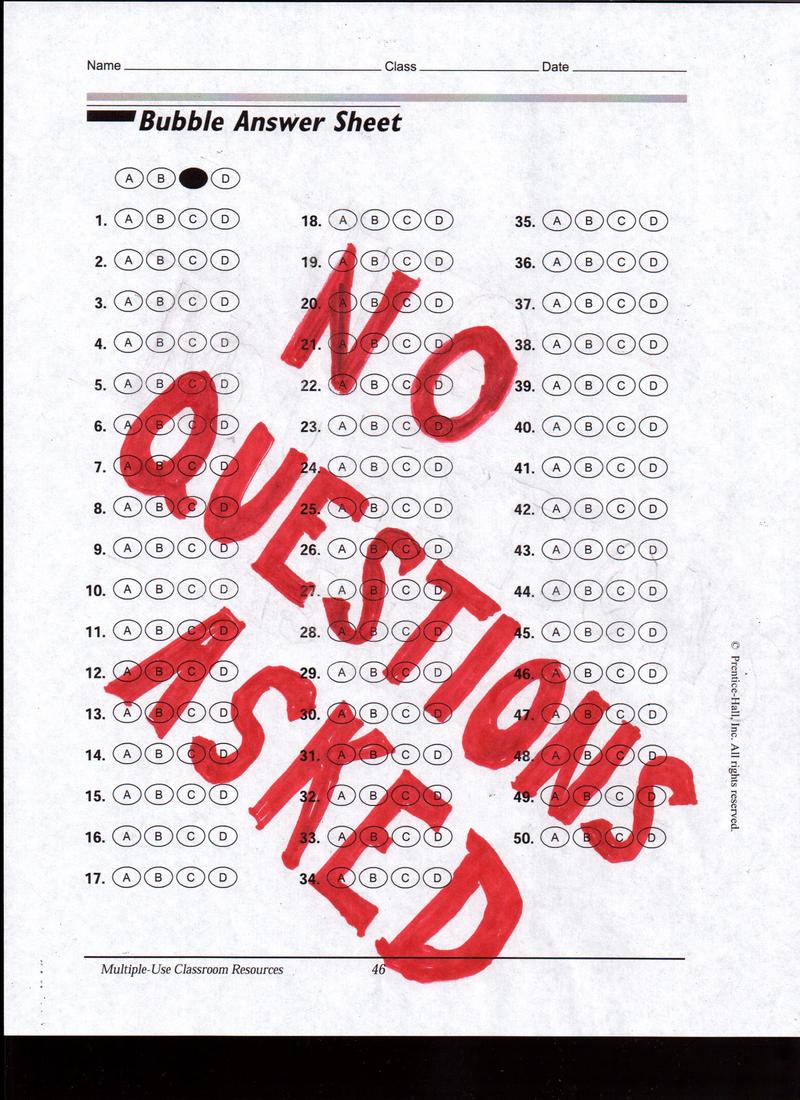 As one of the parents who decided to have their children "opt-out " of this year's standardized high-stakes testing, I am most struck by the lack of empowerment that parents have in the education of their own children. When we try to explain the reasons behind our protest, we are met with bland bureaucratic platitudes, and even attempts at subtle intimidation.
On the first day of the English Language Arts exams, I brought my son into his elementary school in Astoria, Queens, after the testing period was finished.
I was told that, "according to Legal," if he entered the building at any time at all he was "required" to take the test.
Never mind that I was in contact with other opt-out parents from different districts whose principals had tried to accommodate the parents' wishes while their official response was sorted out (the city's chief academic officer, Shael Polakow-Suransky, told one parent at a Brooklyn meeting he did not have a "clear answer" as to the consequences of a child not taking the test).
Our principal seemed confused by my opposition to the test, wondering if I was simply against all testing.
To be clear, I'm not against my kid taking tests; he takes a lot of them.
What I am against is taking a test that is used as a partial determinant in the future careers of the adults who are responsible for teaching and administering the test. Doesn't that fundamentally change the relationship between a teacher and the children she teaches?
Or what about the fact that if enough children score poorly, their very school might be in jeopardy? That's a lot to put on a kid, no? Her response: "Oh my gosh, so are you from the union? You sound as if you're making an argument for the teacher's union!"
I spoke to her about the possible consequences for my son of "opting-out" and she indicated that he might "have to attend summer school."
My son made the honor roll; he reads at a fourth-grade level (he's in third grade); and he just won a science project award. He's not an academic star by any means, but summer school because we refused to allow him to take an increasingly discredited bubble test? (Three times this year his homework assignment was to fill out a bubble answer sheet. No questions at all: just bubble-filling.)
Over the course of the next two school weeks, to avoid having our son deemed "truant," it was arranged that he would sit down to the test at the beginning of the period and open it, flipping through to the end. My wife would then take him off school property, which we learned legally invalidated that portion of the test. He could then return to school after the test period ended.
We did this for every subsequent test-day. We've been told that he will be judged for promotion on a portfolio of his work for the whole year, to be provided by his teachers, along with a separate assessment test. This is reasonable.
In addition to a very real feeling of anxiety that the tests create in my son's school, I resent the amount of resources that might be better spent in actually teaching the children. If the school weren't so focused on preparing for the tests, there might be more musical instruments, more frequent gym classes and more teachers!
I informed the principal that recently my son had come home with two glossy test-prep books that I calculate must have cost around $12 apiece; along with the home booklets was a note from his teachers, beseeching parents to donate "baby wipes, hand soap and glue sticks." The principal said she saw no problem with that, which is, to my mind, the very heart of the problem.
In addition to the materials, she had authorized Title 1 funds to pay for after-school tutoring for the test. To be fair, I'm sure she felt she acted in the best interest of her school, given Mayor Michael R. Bloomberg's insatiable desire to shut down public schools if they fail to "make the grade."
But it's no wonder our kids are getting lost: our politicians starve our schools of desperately needed resources (while the Pearson corporation vacuums up $32 million in taxpayer money), ignore the voices of parents, students and concerned administrators (see the New York State Principals' Letter), and then have the gall to blame the teachers.
Mr. Bloomberg may be a wonderful businessman, but he's no educator. The arrogance of a powerful few in the Education Department when it comes to addressing parental concerns is insulting and condescending.
I have heard Meryl Tisch of the Board of Regents speak of the "scientific" validity of such value-added, high-stakes testing, but this is provably wrong. Her "science" as practiced on our children will one day be revealed for what it is: statistical phrenology, all in the service of a buck.