SchoolBook
Frustration with DOE Boils Over at Hearing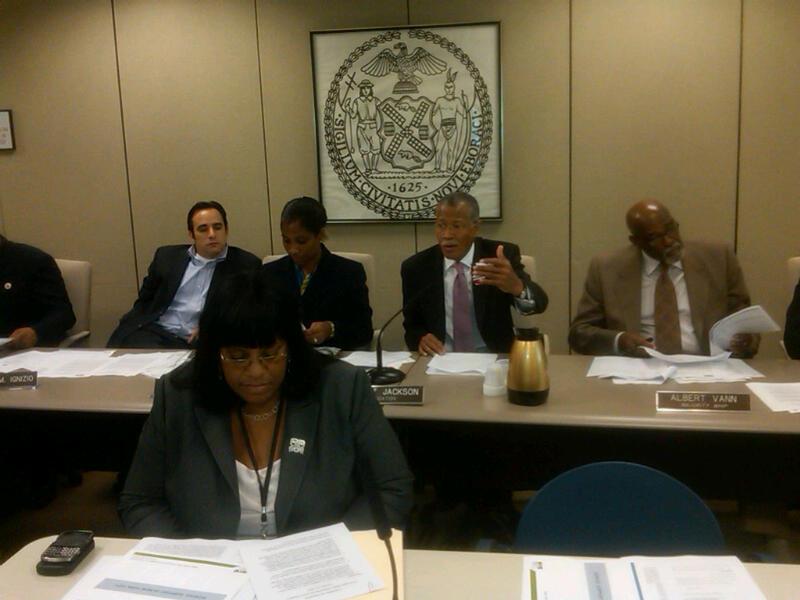 A City Council hearing on the nitty-gritty issue of how the Education Department organizes its 1,750 schools erupted into accusations that the Bloomberg administration is withholding information that could help parents navigate the immense bureaucracy.
The hearing focused on the 55 networks that are each responsible for supporting dozens of schools. The Council's education committee chairman Robert Jackson, of Washington Heights, told D.O.E.'s chief academic officer Shael Polakow-Suransky that he was frustrated by a lack of transparency.
The confrontation revealed the deep frustration among many elected officials over the Bloomberg administration's management of the public schools.
Pointing to a 13-page directory of the networks and their organizational structure that he eventually got from a principal, Jackson asked Suransky, "Is this a confidential document? And if it's not, why wasn't it given to us when we asked for it?"
Suransky said the document wasn't a secret and that his staff had provided a lot of information to the council in advance of Thursday's hearing. But he conceded they could have shared even more. "The point is taken that we haven't done a great job," he said.
As Jackson continued to criticize the chief academic officer for not making the information available earlier, or posting it on the D.O.E.'s website, Suransky tersely replied, "Duly noted."
"You're getting me a little annoyed, here, let me tell you," Jackson responded.
"Likewise," said Suransky.
After persuading Albany to give him control of the city schools in 2002, Mayor Michael Bloomberg reorganized the system of 32 community school districts into 10 regions. By 2007 the regions were replaced by networks.
Schools are no longer clustered according to geography. Instead, they elect to join networks organized around an instructional philosophy or particular area of expertise. As a result, schools in Manhattan may find themselves in the same network as schools in Brooklyn and Queens. But some do form geographic networks.
Suransky was joined at the hearing by a network leader with 33 schools, Alison Sheehan, and the Manhattan high school superintendent Tamika Matheson, who explained how they worked together to replace a weak principal and give the school more professional development. Each praised the system for being responsive to the needs of schools.
Suransky said the networks had also saved $32 million since 2006, partly by absorbing budget cuts that otherwise would have hurt the schools. And he pointed to surveys of principals showing 90 percent say they're satisfied with the overall quality of support from their networks.
Polakow wrote in a Schoolbook Viewpoint column earlier this week that the networks strengthened the support given to principals.
But council leaders weren't impressed. They questioned how much time network leaders spend in transit visiting schools scattered far and wide (Sheehan said her longest commute, from Brownsville to Washington Heights, takes an hour by subway). Brooklyn Councilman Lewis Fidler compared the change from districts to regions to networks to "rearranging the deck chairs on the Titanic," while Queens Councilman Mark Weprin said "the emperor has no clothes, here."
Mayoral control of the schools doesn't come up for renewal by Albany until 2015, but with a mayoral election next year elected officials are already looking at how to change the system.
Weprin said he knows many principals who "desperately" miss the old districts. "Those school districts were our families and our neighborhoods," he said. "The principals supported each other. The parents had a place to go to have a complaint," calling the current system a "bureaucratic nightmare."
The group Advocates for Children of New York submitted testimony saying networks create further confusion for parents when they're looking for help.
Some council members also questioned how network leaders work with the superintendents, who are technically responsible for hiring principals. Several members worried the networks were getting involved in those decisions, a potential conflict of interest since principals decide which networks they want to join. Suransky assured them that wasn't a problem.
But Michael Mulgrew, president of the United Federation of Teachers, accused the D.O.E. of using the networks to buffer the central administration from direct responsibility. "It's a clever ruse for an entire system built around placing all responsibility at the principal's office door - or inside the classroom at the feet of teachers."
Suransky assured the council members that networks are held accountable, noting that five of them were phased out when the D.O.E. determined they weren't working. He also said he created a single network just to help schools that are being phased-out for poor performance.