SchoolBook
Student Leaders Offer Presidential Candidates Words of Wisdom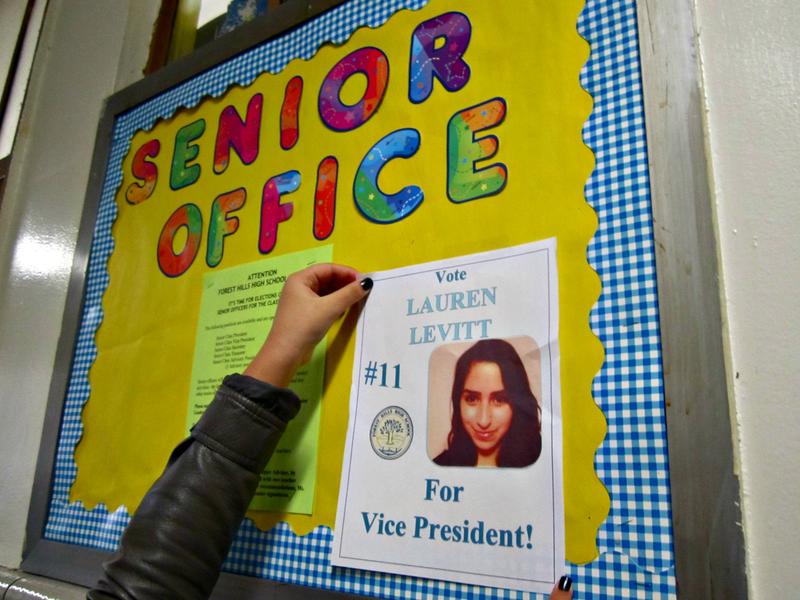 Student reporters Ashley Brady, Alexander Mildener and Dylan Wong co-reported this story.
As the presidential candidates vie for the electorate -- holding campaign rallies, making promises, defending their positions -- student leaders in the New York City schools say they have similar experiences under their belts, albeit on a smaller scale, and have learned some lessons about holding positions of power.
"The most challenging thing about being class president is getting everyone to agree on something," said Rita Cinquemani, a junior at World Journalism Preparatory in Flushing.
Cinquemani said she gets student input for school functions, like dances, by creating electronic surveys.
"That way everyone's voice is heard," she said.
Likewise, Maria Iskaros, president of the student organization at Benjamin N. Cardozo High School in Bayside, said she is always looking for ways to balance the needs of the students she represents -- and it is "always going to be work to keep up."
"When things start to get hectic and when there are a lot of things to handle, it's always important to stay grounded and keep cool," said Iskaros.
And Abdul Moontarin, senior class vice president at Hillcrest High School in Jamaica Hills, said one of the best qualities of a leader is to be honest. He said anyone wanting to be a class officer should "just be themselves" and "don't give false answers."
He added that he noticed when people run for president of the United States, "they tend to lie."
Student leaders have a range of responsibilities, from planning class trips and dances, to organizing fundraisers for community groups, to serving as liaisons between students and administrators.
At Hillcrest, students do not run for these positions. Rather, anyone wishing to become involved in student government must go through a lengthy application process, Moontarin said, and students can only do so after taking a class on leadership.
But more often than not, student leaders must be elected by their peers and will run election campaigns with speeches, posters, candy and social media messaging.
When Georgia Linaris campaigned for student body president at Frank Sinatra School of the Arts High School in Astoria, she said she did not make any promises she could not keep.
"I kept it real in order to stay true to myself and the people I was going to be representing," she said.
Lauren Levitt, a senior at Forest Hills High School, ran for vice president of her class earlier this year. She made flyers, visited classrooms to introduce herself to students and took to Facebook to get out the word about her candidacy. She also handed out candy with her name on it.
"Taffy and Nerds and Willy Wonka stuff, pretty much," said Levitt. She said candidates were only allowed to campaign for two days, so they had to make it count.
"I would go into a classroom and I would say, 'Hi, my name is Lauren Levitt. I'm running for senior council vice president. You should vote for me because you want someone on the senior government who wants to be there," as opposed to someone who just wants to put the title on college applications, she said.
Levitt was not ultimately successful in her campaign, but she said she is not deterred from staying involved in senior class activities and pitching in to help plan.
In this vein, student leaders talked about wanting to be a part of student government out of a sense of both altruism and duty.
"I wanted to run to help my school become the best it could possibly be," said Linaris.
Cinquemani said she wanted to "make a difference in her school and community," and was fed up with other students not taking the initiative to do so.
"For years people have treated the job as a popularity contest where the winner gets crowned like some person of royalty and does nothing," she said. "I wanted to change that perspective for the better, and get things done."
Ashley Brady reports for "The Bennett" at Frank Sinatra School of the Arts High School; Alexander Mildener reports for "The Blazer" at World Journalism Preparatory School; and Dylan Wong reports for "The Cardozo Verdict" at Benjamin N. Cardozo High School.

Correction: A previous version of this article incorrectly stated the high school for Lauren Levitt. She attends Forest Hills High School, not Flushing High School.