SchoolBook
Duncan Emphasizes Teacher Quality Over Class Sizes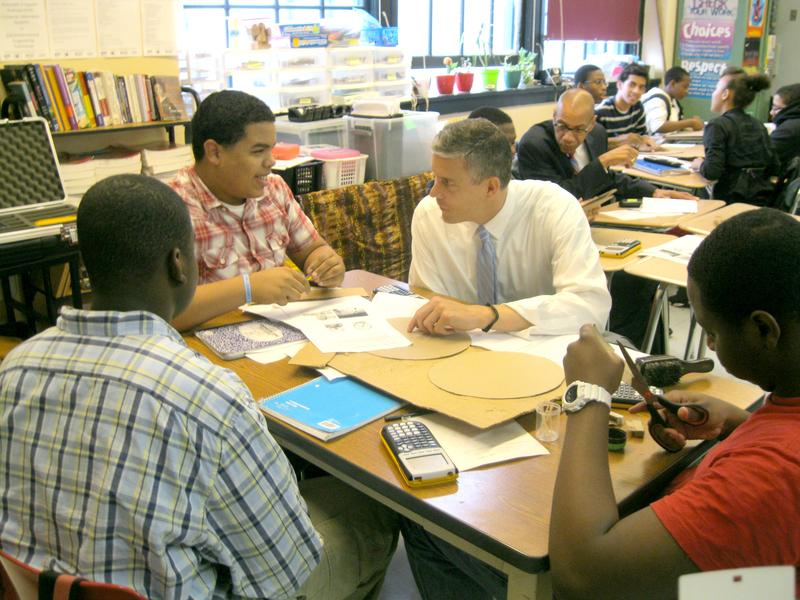 When asked to rank the importance of class size among criteria for improving education, U.S. Education Secretary Arne Duncan put it behind teacher quality although he said "in an ideal world" class sizes would be smaller.
"I have yet to go to a great school that doesn't have a great principal; you need a great teacher in every single classroom," Duncan said during a tour of Pathways in Technology Early College High School (P-Tech) in Brooklyn.
In the final presidential debate before next month's election, President Obama said to Governor Romney, "When you were asked about reduced class sizes, you said class sizes don't make a difference. But I tell you, if you talk to teachers, they will tell you it does make a difference."
Duncan said that smaller classes may be most important for students in younger grades.
"If you can shrink class size to get those students off to a good start in life and have them reading on grade level in third- and fourth- and fifth-grade, then you've set them up to be successful," he said.
Duncan and city Schools Chancellor Dennis Walcott visited P-Tech ahead of a panel discussion on linking education and jobs. P-Tech opened last school year under a partnership with IBM. Students graduate with both a high school diploma and an associate's degree, and the school prepares students for entry-level jobs at IBM. Class sizes at the school average between 22 to 25 students.
P-Tech's principal Rashid Davis has been a regular contributor to SchoolBook and you can read his posts here.