SchoolBook
Brooklyn Latin Students Say Diversity Improves School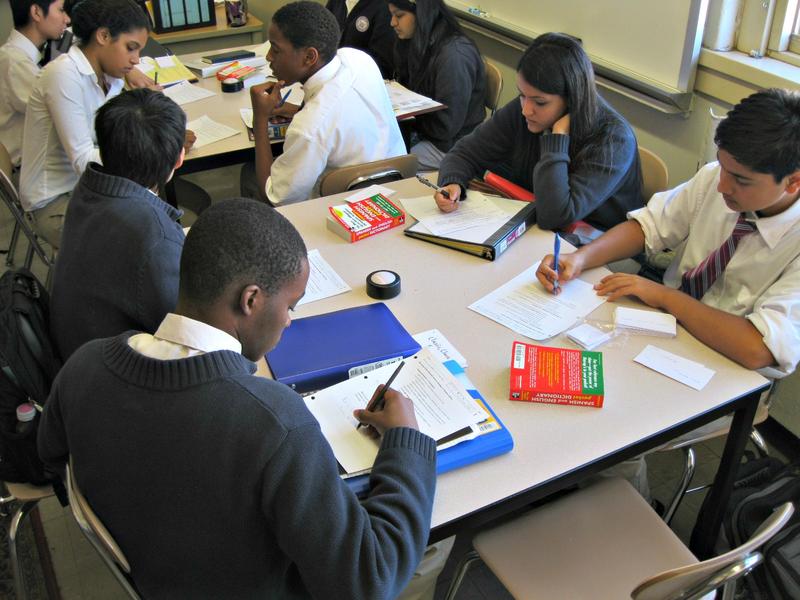 The poor representation of black and Latino students in some of the city's top schools has focused on a small group of the nine specialized high schools, namely Stuyvesant High School and Bronx High School of Science. But there are a few in this elite group that boast a heterogeneous population, and argue that their diversity improves their educational environment.
SchoolBook spoke to a group of students from The Brooklyn Latin School, which has the highest percentage of black and Latino students of all the specialized high schools. Students tout the school's racial mix, but some also take it for granted.
"I grew up in Williamsburg and I was always going to schools that were very diverse," said Gabriela Donofrio, a 10th grader at Brooklyn Latin.
In a city where more than 70 percent of students are black and Latino, the statistics at the top schools are glaring. Stuyvesant last year enrolled nearly 3,300 students. Of those, 1.2 percent were black and 2.4 percent were Latino. More than 72 percent of students were Asian and nearly 24 percent white.
Brooklyn Latin enrolled fewer than 500 students last year. Almost 27 percent percent of students were black; 17.9 percent were Latino; 14.5 percent were white and 36.8 percent were Asian.
This is the context for the recent legal complaint filed by civil rights organizations. The complaint questions the admissions policy to the city's specialized high schools, which is based solely on how students perform on the specialized high school admissions test. Under this policy, the complaint states, black and Latino students are being left out.
Grace Paré, a freshman, listed Brooklyn Latin as her first choice when applying to school. She decided not to follow her sister to Brooklyn Technical High School, because she preferred a smaller environment. She particularly appreciates the racial diversity of Brooklyn Latin, she said, because she is of mixed race herself -- Asian and white.
"People say I look like an Asian with curly hair, which is weird," said Paré. "So I'm glad I'm here because I've noticed that even if people ask me what I am they're not, like, 'Oh, that's weird.' They're like, 'Oh, that's really awesome.'"
Ijeoma Uzoukwu, an 11th grader, said she did not consciously seek out diversity when choosing a high school, "but now looking back on it, I actually feel really lucky that there's so much diversity here." Elijah Dixon Owens agreed. A sophomore at the school, Owens said he has more exposure to students of Hispanic and Arab descent than in the Prospect Heights neighborhood where he lives.
"And they're all really cool," said Owens. "I met the first Republican person in New York City that I've ever known."
The students at Brooklyn Latin interact constantly. The school has a liberal arts focus, and classes often take on the form of seminars. Students sit in a circle to discuss literature or even a math problem. In other classes, desks are arranged in small groups rather than in rows so that students work together. For these reasons, principal Jason Griffiths called the school's diversity an asset in the classroom.
"You'll see 25 to 30 students sitting around and having a dialogue and discussion -- where the teacher may be guiding it, but it's dependent on student voice," he said. "If those 25 to 30 students were all the same background it wouldn't be nearly as interesting and I don't think they would learn nearly as much."
Diversity derives from more than racial makeup, Griffiths said. Even within Brooklyn Latin's racially diverse student body there are students of various religions; students who are immigrants and the children of immigrants; students of differing economic backgrounds. Likewise, a more homogeneous racial make-up at another school does not tell the full story of the student experience.
But the Brooklyn Latin students who spoke to SchoolBook were aware of race at their specialized high school, and the lack of diversity at others.
Perhaps Brooklyn Latin's location, on the Williamburg-Bushwick line, helped the school attract more black and Latino students, offered ninth grader Sakeenah Hussain. Ali Khan, also a freshman, said the school's smaller size may attract a different group of students, compared to the much larger student populations at the top three schools -- Stuyvesant, Brooklyn Tech and Bronx Science. Owens acknowledged that Brooklyn Latin is not in as high demand as the top three, and therefore would not require as high a test score.
Donofrio said the school's curriculum might play a role in attracting certain students, while keeping others, such as those seeking more science and math, at bay.
"I came here because it's focused on humanities," she said. "There are kids who make the trip here from the Bronx, and it's a 2-hour trip and they have to wake up at 4:30 am. But they do it because this is a place where they want to come everyday and they want to learn because they care about the things that they're learning. Diversity might be influenced by neighborhood, but it also depends on who likes what subjects the specialized high schools are offering."