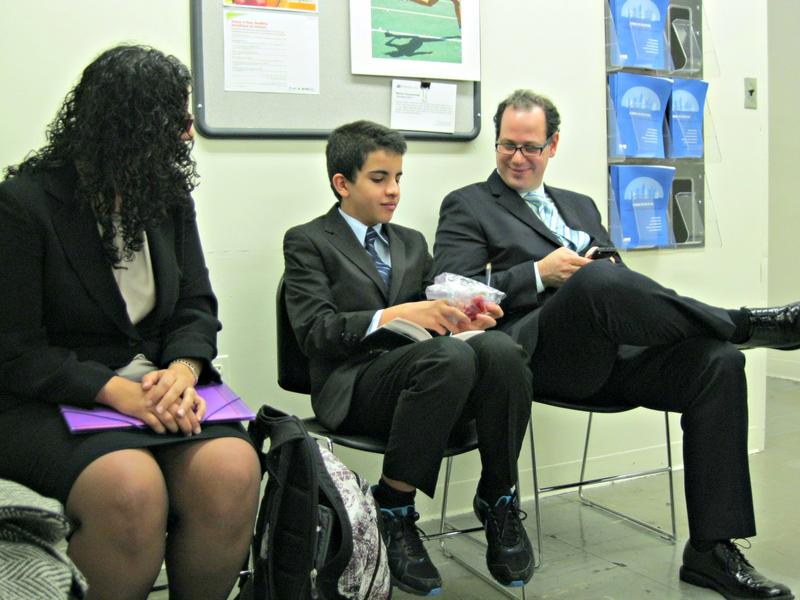 The Department of Education will begin taking public comment this week on ways to revise the school discipline code. Thursday's hearing comes at a time when suspensions are down for the second year in a row, according to early data released in March.
This decline is a new trend, after suspensions more than doubled during the Bloomberg administration. They reached a peak of nearly 74,000 suspensions in the 2008-2009 school year. Last school year, there were fewer than 70,000 suspensions.
The Department of Education credits the reversal to a focus on creating positive school environments and introducing more holistic approaches to discipline, such as counseling or mentoring.
"I think we've been very successful in changing school culture, so that people feel comfortable responding to some of these difficult situations without a suspension," said Deputy Chancellor Kathleen Grimm at a City Council hearing on school safety in April.
The D.O.E. revised the discipline code last year so that certain one-time infractions, such as insubordination, were no longer grounds for suspension. This year's version of the code also lists, for the first time, a range of guidance interventions alongside possible disciplinary responses.
Still, no guidance interventions are required as a first step before a suspension. And advocates have raised alarms about persistent trends in suspension numbers: Black students are suspended at disproportionately high rates, as are students who receive special education services. These disparities mirror national data.
"Even though the required zero tolerance suspensions have now been pushed back a little bit, the problem is that culture persists," said Johanna Miller, the interim advocacy director at the New York Civil Liberties Union. "Suspensions are pretty expedient, pretty simple, don't require a lot of resource at the school level."
Mark Cannizzaro, executive vice president of the principals' union and a former middle school principal, said he does not believe there is a "culture" of suspensions in the New York City schools. The reasons why principals may choose to suspend a student are extremely complex, he said.
"Schools have to make decisions based on circumstances," he said. "They have to make sure they're protecting everyone's rights. You have the right of the child who is possibly being suspended who is called in for some sort of discipline. But you also have the right of the teacher to be able to teach and you have the right of all the other children to be able to learn."
The issue of suspensions was brought to the forefront recently by Judge Judith Kaye, the former chief judge for New York, who led a task force on school suspensions and arrests, and just released a report last week.
She called suspensions in New York City a "serious problem," given the long-term consequences that suspensions and school arrests can have on students. The disciplinary measures significantly increase the likelihood of students dropping out of school, she said, and coming in contact with the criminal justice system.
Kaye spoke on WNYC's The Brian Lehrer Show on Monday. You can hear the segment below.
In the case of Justin Bonanno, featured in the radio story at the top of the page, suspensions raised another issue: that they can create a communication divide between the family and the school.
Justin's seven-day suspension, for using a laser pointer in the classroom and pointing it toward another student's eyes, left his parents deflated and Justin uncertain about whether or not the school wanted him there.
Click play above to hear his story.