SchoolBook
Bronx Students Learn Their Search and Seizure Rights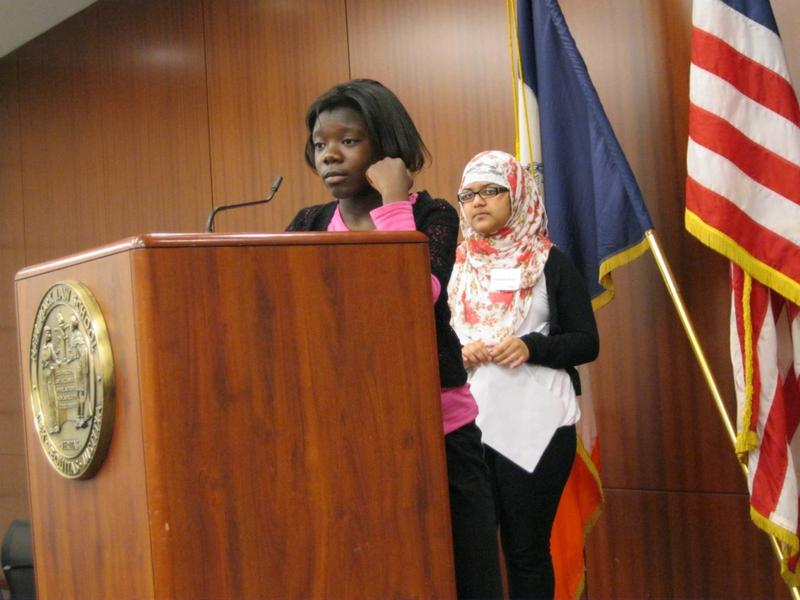 All dressed up, with legal arguments in hand, dozens of seventh graders recently analyzed the Fourth Amendment to the U.S. Constitution in a competition overseen by a panel of three judges.
The middle schoolers from Junior High School 22 Jordan L. Mott in the South Bronx have been learning their rights under the Fourth Amendment -- which protects against unlawful searches and seizures -- from students at New York Law School.
Their 10 weekly lessons culminated in a moot court competition on Friday. They debated points related to various school-based scenarios, such as when a principal has the right to search a student's backpack or locker, or when a teacher has probable cause to ask a student to empty his or her pockets. But many of them have had plenty of exposure to these issues outside of school as well.
"Up in the South Bronx, kids get stopped for no reason," said Katherine Smelas, a third-year law student who has been running the program at M.S. 22 for the past two years. "You get stopped because you are standing on the wrong street corner in the middle of the day. They get stopped because they look a certain way. It's not necessarily the cops' fault, it's not the kids' fault. It's just the way that it is right now."
Ms. Smelas said that law student mentors are not teaching seventh graders to resist instructions from police. But she said it is empowering for students to at least know their rights under the law.
"I learned the Miranda rights, and I learned that police cannot go to your house without a warrant," said Lisette Guerrero, 12.
Another student, Ana Siera, 13, added that she learned that a police officer who questions a student most likely is trying to keep her neighborhood safe.
"I know that I have the right to remain silent," she said. "And if I would be interrogated right now, I would be way more comfortable, because now I know that he is trying to help us even though it seems a little scary."
This is the third year the program called Street Law is in the school, thanks to its assistant principal Joshua Brookstein. He discovered it when he was taking law classes at night.
"I want to connect them with engaging law students," said Mr. Brookstein. "But I also want them to build their critical thinking, reading, writing and speaking habits."
Students took to the podium and read from their crafted legal arguments. They then answered questions from the judges, who were New York Law School professors. Students in the audience gave their classmates a round of applause after each group of presenters.
"At first I was nervous," said Ms. Guerrero. "But I took a deep breath and just tried my best. I think I did pretty good."
Above, listen to Salice Obosu, Lisette Guerrero, Tianna Covington and Jodi Rivera share their thoughts on the moot court competition and learning about the Fourth Amendment.