Schoolbook
Parents Ask Walcott for More Seats for Gifted and Talented Students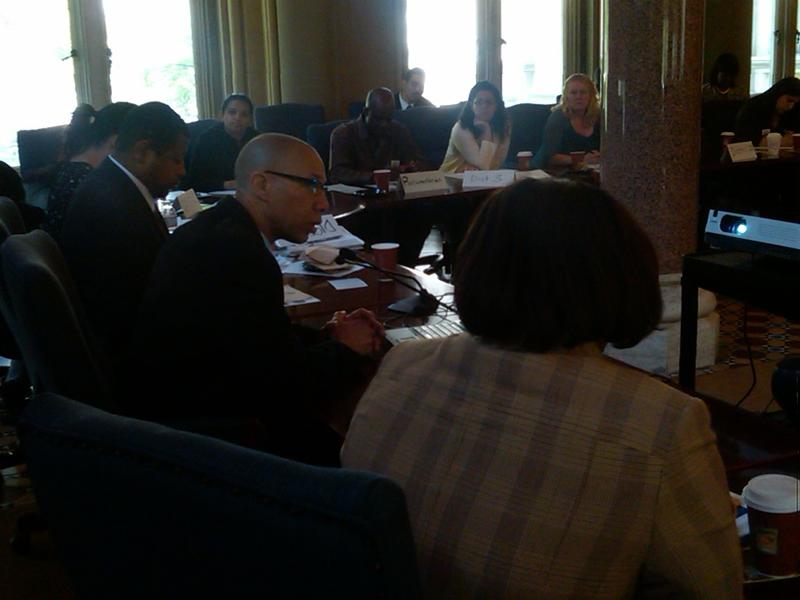 Schools Chancellor Dennis M. Walcott told parents that the city would try to create more seats to accommodate almost 5,000 students who tested into the gifted and talented programs in the fall, but he said he could not make any guarantees.
More than half of those who scored into the program qualified for the five most selective schools, which have fewer than 400 kindergarten seats.
Mr. Walcott acknowledged that the city was "basically restricted" in its ability to add more of those seats.
The rest of the 4,912 will be able to apply to one of the dozens of gifted programs throughout the city, and in the past many of those children have been told there is not enough room for them. Mr. Walcott said on Thursday that he could try to add more of those seats, within limits.
"We have to be very conscious of the capacity of a school to handle it, or where those schools will be located, and not having kindergarteners travel across the city," Mr. Walcott told reporters, after the monthly meeting of the Chancellor's Parent Advisory Council, where the subject was raised. "So there may not be the capacity within a particular district."
Friday is the deadline for parents of eligible children to apply to different gifted and talented programs. The number of children who qualified for gifted and talented increased by 22 percent from the year before, but the overwhelming number of applications -- and eligible children -- come from Manhattan and parts of Brooklyn and Queens. Only six students were eligible in District 7 of the South Bronx, not even enough to fill a class.
One parent, Katy Stokes, Manhattan's District 1 representative to the advisory council, asked Mr. Walcott about the growing demand for gifted and talented programs in her district during the meeting at the Education Department's headquarters. "Where there's a high demand we will work hard to meet the demand in the district," he told her.
Representatives from the city's 32 community school districts, as well as the high schools and groups representing children with special needs, also pushed for more specialized programs in middle schools.
Celia Blackman, who represents District 75 families of students with special needs, voiced concerns that some students are not getting proper services as the city reforms its delivery of special education programs.
Mr. Walcott said he would look into complaints and assured parents there would be a smooth transition for the new deputy chancellor for special education and English Language Learners, Corinne Rello-Anselmi, who was named this week.
But the parents used most of their time with the chancellor to grill him about tensions surrounding co-locations of multiple schools in one building, as the total number of city schools continues to grow, reaching almost 1,800 in the fall, with the Bloomberg administration's focus on opening new schools and charters.
Carlos Ruiz, who represents Manhattan high school parents, pressed Mr. Walcott on why more charter schools were being allowed to open in spite of opposition from Upper West Side and Harlem parents.
The chancellor told him there was growing demand for great schools, "whether charter or noncharter," adding that the number of applications to charters is "off the charts." He noted that the new Success Academy charter in Cobble Hill in Brooklyn received more than 1,400 applications for 170 seats in kindergarten and first grade.
Claudia Tedeschi Sheiman, the representative from District 31 on Staten Island, was applauded by her fellow representatives when she asked the chancellor about complaints that students in regular public schools feel like "second-class citizens" when they share their buildings with charter schools. She said charters often get got paint jobs and supplies.
Mr. Walcott responded that principals were free to make choices within their budgets, but that the city was required to make sure the same amount of investment is taking place in a district school when a charter or any other new school opens on site. "I will not tolerate second class citizenship for any child," he said.