SchoolBook
Fury Continues over Regents Scoring Problems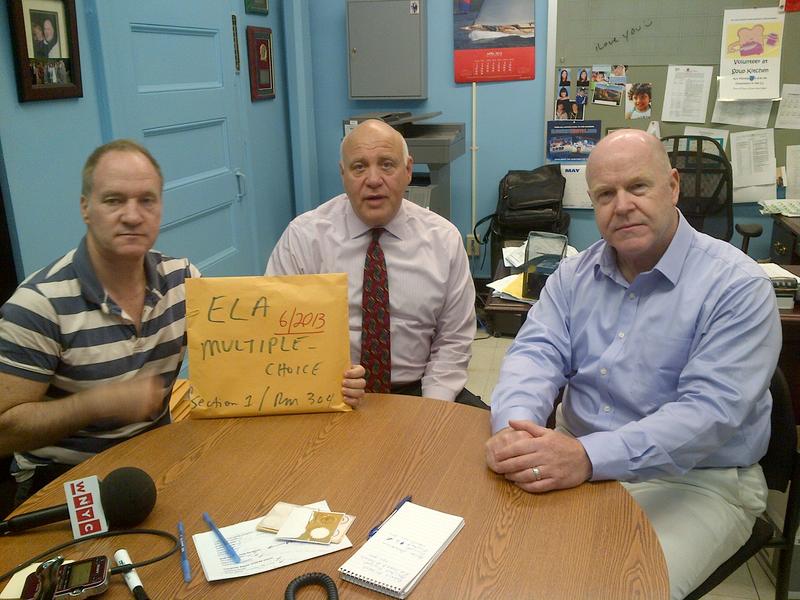 Principal Brian Rosenbloom was furious. Hours before Friday's graduation ceremony for Chelsea Career and Technical Education High School, he was preparing to give empty diploma cases to three of his 74 graduating seniors. This was because of the scoring delays affecting tens of thousands of high school students across the city.
"I'm quite confident all three will graduate, however we can't give them anything because the city has failed those students," said Rosenbloom.
All week city teachers and principals have been decrying the glitches in the city's new program that involves hiring an outside company to scan many of the June Regents exams. Taking the state rule that prevents teachers from scoring their own students' exams a step further, the city has taken about half of the 545,000 Regents exams out of the schools altogether.
Under a contract with McGraw-Hill, the essay questions were transported to an office in Connecticut, where students' written answers were scanned and then downloaded to computers at scoring sites around the city. Teachers assigned to scoring spent hours waiting for the exams to arrive on their screens because of delays in the transmission process. (The exams' multiple-choice questions were still scanned and scored at the schools.)
McGraw-Hill has apologized for the problems, and the Department of Education said the test company will pay for teachers to work over the weekend so that scoring would be finished by Monday.
Chief Academic Officer Shael Polakow-Suransky acknowledged the process is going slower than expected but he said he was confident all the exams would be done on time. "Part of putting a new system in is working through things like this," he explained.
"It is a little bit anxiety provoking, but let's not overstate what's happening here."
Those assurances have done little to calm the waters, especially given the nearly $10 million price tag for the three-year contract with McGraw-Hill.
Michael Morrison, who teaches government and politics at Chelsea high school, said he spent five days at his designated scoring center at Brooklyn Technical High School waiting for exams to arrive.
"I was flabbergasted," he recalled. "I'm supportive of technology. I was ready, willing and able to go there and work from 8 o'clock, when we were told to start, until 2:15 in the afternoon and grade these exams. And on Monday, Tuesday and Wednesday by 1 o'clock there were no more tests to grade."
Morrison said there was also confusion about the scoring process. In some cases, students would start their essays on a different page than the scorers expected. Having seen this error in many answer booklets before, over the years, he said he warned the other teachers to keep looking. But he said he was worried that some might have given students a zero if they couldn't immediately find the right page.
Morrison and his colleagues at Chelsea are also angry because a box of about 80 English Regents is missing. The exams were picked up last week, and the city has said it is still looking for them. No graduating seniors are affected by the missing exams, but 11th grade English teacher Jan Scott said she wants answers.
"To have students the day of the exam, June 11, come out of the exam excited, 'Ms. Scott I did well. This is what I did!' What is the state going to do?" she asked. "I want to know. If the state says they have to take it over that's unfair."
Suransky said it is not unusual for boxes to get misplaced after the state's elementary and middle school exams, only to turn up later, but he said the city would talk to the state if Chelsea's English Regents are not found.
Still, United Federation of Teachers president Michael Mulgrew said he couldn't understand the rationale for sending nearly 300,000 exams out of the city to be scanned and downloaded. He noted that the city avoids having elementary and middle school teachers grade their students' state English and math exams by sending them to regional scoring centers; there is no need for them to be scanned and sent to computers.
"Just think about the size of the school system," he said. "Collecting all the high school Regents, correcting them, identifying them by boxes, loading them into boxes and shipping them to Connecticut. Right there, someone should've said 'maybe that's not a good idea.'"
But Suransky defended the process because it will be more efficient in the long term.
"What we found in the pilot is that this approach, when the scanning is working, is two to three times faster because it means that teachers don't have to be involved at the scoring sites in packing and unpacking boxes, and organizing them and passing them out," he said. "And the whole process is managed online."
He also noted that the state's elementary and middle school exams will eventually include more essay questions, so it makes sense to come up with a faster way for teachers to score them.
But Ernest Logan, president of the Council of School Supervisors and Administrators, wondered why the city decided to roll out the new system this spring. "June is the heaviest time of the year for Regents," he said.