SchoolBook
Union Calls on Next Mayor to Put Less Emphasis on Test Scores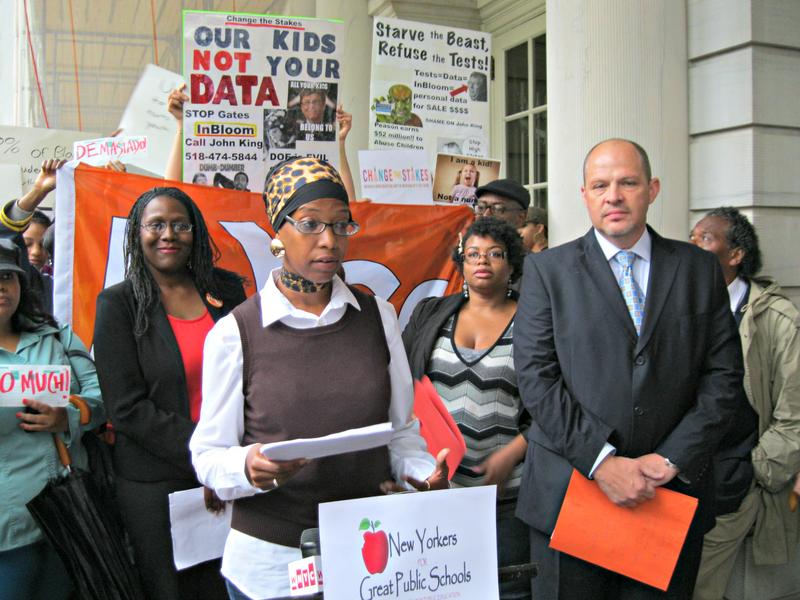 With the teachers' union getting ready to endorse a mayoral candidate next week, United Federation of Teachers president Michael Mulgrew and the coalition New Yorkers for Great Public Schools said they want to "redesign" the Education Department's accountability system under the next administration, and it didn't take long to get a response. Five of the Democratic mayoral hopefuls have already endorsed their plan, and one of them even appeared at a press conference with the union president.
"History is not going to judge Mayor Bloomberg kindly on this topic," said Public Advocate and mayoral candidate Bill de Blasio, outside City Hall Thursday. "There's going to be a clear understanding that this was government by hype, by superficiality -- not a deep effort to figure out what would be the best way to teach."
Former City Comptroller Bill Thompson, considered along with de Blasio to be a frontrunner for the union's endorsement, echoed criticisms directed at the mayor's current policies.
"The Mayor's obsession with test scores is preventing teachers from teaching and driving innovation out of the classroom," Thompson said in a written statement.
The proposal put forward by New Yorkers for Great Public Schools and Mulgrew calls for less reliance on standardized testing for the city's annual A-F school progress reports, and in high school and middle school admissions. It also criticizes the use of standardized tests as entry to the city's specialized high schools and gifted and talented programs.
"The new mayor should seize every opportunity to eliminate the high-stakes consequences of standardized testing," said Zakiyah Ansari, spokeswoman for New Yorkers for Great Public Schools. The coalition of left-leaning education advocacy groups includes the teachers union.
Ansari singled out the city's policy of using test scores to determine whether or not a student should be promoted to the next grade.
"Using the tests for promotion decisions places enormous pressure on teachers to teach to the test," she said.
The group's full proposal can be viewed here.
New Yorkers for Great Public Schools and the teachers' union, both outspoken critics of Mayor Michael Bloomberg's education policies, specifically directed their new plan toward the mayoral hopefuls. City Comptroller John Liu, City Council Speaker Christine Quinn and former City Councilman Sal Albanese also issued statements in support of the proposal.
By late Thursday there was still no word from Democrat Anthony Weiner on whether or not he would support the plan. A spokeswoman for Joe Lhota, one of the Republican candidates, said he was reading through the plan and was not ready to comment. Lhota has not said much about standardized testing, but he has called for merit pay for teachers and generally supports many of Mayor Bloomberg's education reforms.
The city's Department of Education, for its part, defended its testing and accountability measures.
"Today, our schools are operating from a strong foundation of clear accountability and meaningful support," said Devon Puglia, a department spokesman, in a statement.
"Schools, teachers, and parents have more information about school quality and student performance than ever before. But as curriculum and instruction transition to align to the new, more rigorous Common Core standards, our systems for assessment and accountability system need to evolve too. That's why we've strengthened our assessment and accountability measures, including many of the steps that New Yorkers for Great Public Schools suggests, such as expanding the use of performance-based assessment and broadening the range of information available to parents and used to prioritize support for struggling schools."