SchoolBook
Before Classes Begin, Students Must Enroll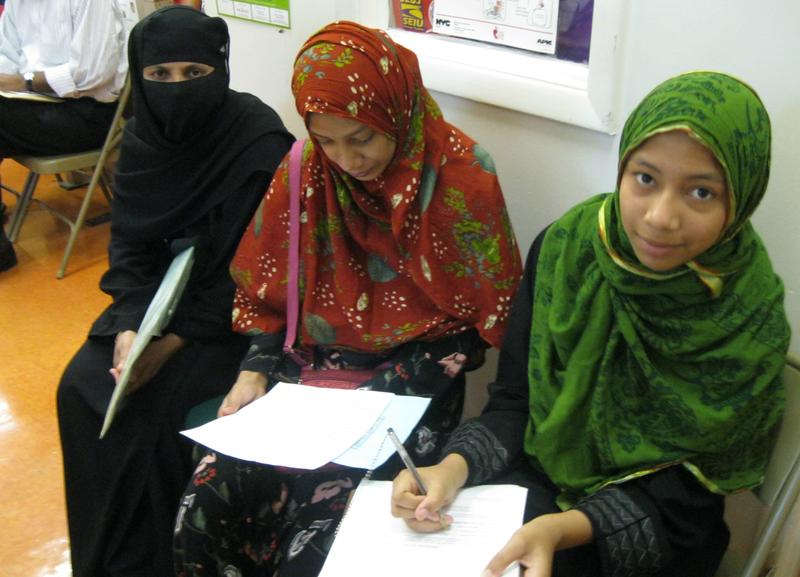 While Thursday marks the official start to the 2012-13 public school year in New York City, plenty of students are still figuring out where they are going to report for their first day of classes.
They may be students enrolling for the first time, or transferring from one school to another. Although most of the city's more than one million students enrolled months ago, there are thousands still sorting out the details during the "over-the-counter" registration period from late August to the end of September. The city opened 10 registration centers last week for the express purpose of helping families enroll.
Late registration is particularly intense at "zoned" schools, such as Hillcrest High School in Jamaica Hills, Queens. It's one of the city's largest high schools, with more than 3,000 students and no cap on enrollment. Stephen Duch, who's starting his 17th year as Hillcrest's principal, said the school's open-door requirement means it must accept last-minute students who live in the school's zone.
One morning last week, Jeffrey Casseus, a rising 11th grader, waited with his mother in the Hillcrest auditorium to fill out more enrollment paperwork. He wants to transfer to Hillcrest, his zoned school, from Martin Van Buren High School in Bellerose. He said it takes 1.5 hours to get to Martin Van Buren each morning, whereas it will take 10 to 15 minutes to get from his house to Hillcrest.
Plus, he said he wants a fresh start academically.
"I just keep thinking about getting my grades together," Casseus said. "And if they have a ball team I want to play basketball over here too."
Like other students waiting at Hillcrest to enroll, Casseus had to visit one of the city's registration centers first. He brought the required proof of residence, a birth certificate or passport and an immunization record, among other paperwork. Because of his long commute he was able to obtain what's known as a "hardship transfer" from the registration center, which will allow him to enroll at Hillcrest.
Another student, Habiba Riva, waits with her mother and sister, gripping her zippered plastic folder of documents. As a new student in the New York City school system, she obtained a letter of enrollment from one of the city's registration centers before coming to Hillcrest. Arriving from Bangladesh just two months ago, Riva said she is nervous about starting the school year because she is not fluent in English.
Duch says he expects Riva will adjust to life quickly at Hillcrest where there is a specialized program for recent immigrants called "Newcomers."
"She'll be getting intensive support in ESL and intensive support in her other classes," he said.
Hillcrest administrators said the school will typically enroll about 200 students in these fall weeks. They said the process extends well into September often because students forget certain pieces of documentation, come to Hillcrest without a parent or guardian or show up on the first day of school thinking they had already enrolled at the city's registration center.