SchoolBook
Where Math Teachers Go to Get Energized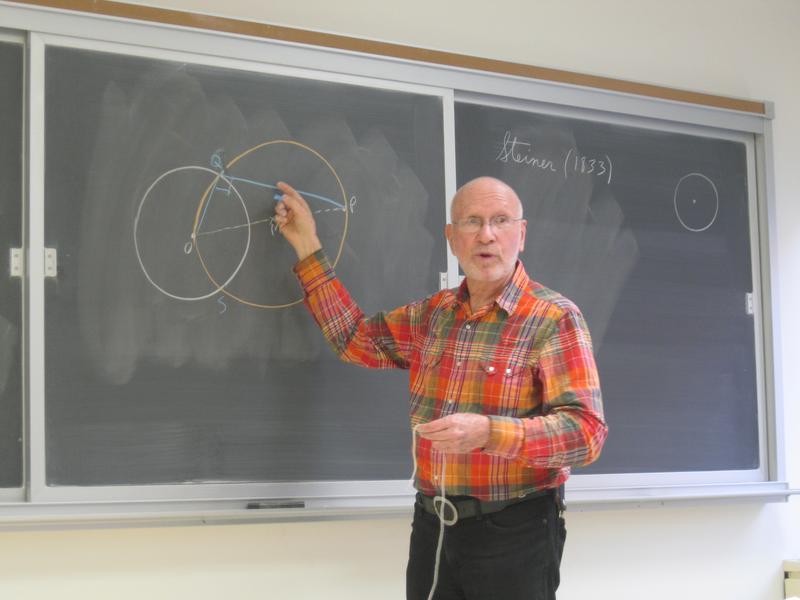 Gil Kessler, self-described math enthusiast, always carries a four-color ballpoint pen. A former math teacher, he has found the pen to be a helpful tool in channeling his love for numbers and symbols.
"I tell the kids at the very beginning, 'Anything we do, you can write in your notebooks in black or blue,'" he said. "'But if it's really interesting, use red. And if it's unbelievably interesting, then use green.'"
Mr. Kessler taught math in New York City schools for 30 years, first at Seward Park High School on the Lower East Side, then at South Shore High School in Canarsie, Brooklyn, and finally at Canarsie High School. All the schools are now closed.
At 75, he is now retired. And when he's not making up new math problems, playing classical piano or square dancing -- one of his hobbies -- he conducts math workshops for fellow teachers as part of the New York Math Circle, a non-profit organization that holds courses for both teachers and students. Most classes are held at the Courant Institute of Mathematical Sciences at New York University.
Kessler led a four-session course this month for about 10 teachers who decided that, once a week, they would like to unwind at the end of their workdays by learning new geometry proofs and theorem applications.
"I wish I could find more time to solve complicated problems," said Evanthia Basias, who also puts herself in the math enthusiast category. "I just don't have enough time in the day. But I'm sure that once I retire, that's what I'll be doing."
Ms. Basias has taught math at Hunter College High School for 32 years. She has taken several courses with the New York Math Circle, she said, and even uses the Gil Kessler method of color-coded note-taking.
Participants are in the course for fun and to pick up new ideas for their classes. They are not receiving professional development credit that goes toward their salaries.
"I don't want to stagnate," said Sarah McCoy, who teaches geometry, trigonometry and algebra at Port Richmond High School on Staten Island.
"You are teaching the same basic content over and over again. It changes in some ways. But, you know, I need to get fresh perspectives."
Ms. McCoy said her students can sense when she is excited about a particular math problem she is trying to explain.
Valerie Sarris, a math teacher at Bard High School Early College II in Queens, said the course helped her preserve her excitement and passion about math, which comes through in her classes.
"Every once in a while, I discover a wonderful problem I can show the students," she said, "and they're excited, too."