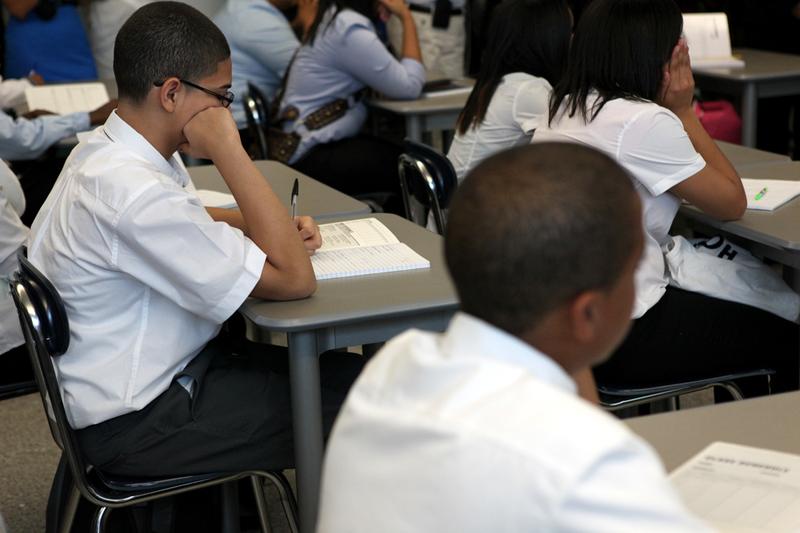 It took three years, acrimonious negotiations and a loss of millions in state aid, but on June 1 the New York City school district got a new system to evaluate its more than 75,000 teachers and 1,700 principals, a major overhaul that will give teachers a voice in their own evaluations but also make it easier to remove a teacher who fails to improve.
The plan comes by way of the commissioner of the State Education Department, John King, who said the compromise deal would "help improve teaching and learning." The state imposed the evaluation deal after the Bloomberg administration and the unions representing city teachers and principals could not reach an agreement on their own.
"Over the past 15 months, the real purpose of this evaluation reform has been lost at times in the drama surrounding the negotiations," said King in a weekend telephone call with reporters. "At the end of the day, I want to emphasize again that this is about helping teachers teach better so that our students can learn more and become better prepared for college and careers."
The specifics of the evaluation plan are posted online.
Mayor Michael Bloomberg applauded the final agreement.
"Commissioner King sided with the children on nearly every major point of disagreement that we had with the UFT's leadership," he said on Sunday, speaking at the Israel Day parade.
"That includes creating an effective framework for principals to observe teachers in the classroom, empower principals to have the final say on key student achievement metrics, and creating a streamlined appeals process for teachers who are rated as not effective."
In a letter to teachers released Saturday, the president of the United Federation of Teachers, Michael Mulgrew, called the plan "professional and fair" and said that it was designed to help teachers improve.
"It offers teachers a professional voice in the measures that their supervisors will use to rate them," said Mulgrew. "And despite Mayor Bloomberg's desire for a 'gotcha' system, the new system puts in place stronger due process rights to protect teachers from harassment and from principals who don't follow the rules."
Forty percent of the evaluation will be based on measures of student learning, including how students perform on state tests, and up to 60 percent will be based on classroom observations. For teachers in grades three through 12, the state's plan calls for student surveys to count for 5 percent of the evaluation starting in the 2014-2015 school year.
Teachers at individual schools will have input on their evaluations through new school-based teams which will include four members selected by the principal and four members selected by the teachers' union. They will suggest measures of student learning for portions of the evaluations where state test scores do not apply. Principals will have final say on whether or not to accept the input.
Teachers can also choose between two options when it comes to observations: A minimum of one formal observation and three informal; or a minimum of six informal observations. In both cases, at least one observation must be unannounced.
Schools Chancellor Dennis Walcott called the plan a "major victory" for both students and staff.
"It incorporates a number of the recommendations that we had put forward to the commissioner and that we had been advocating for all along," he said, adding the new evaluation plan replaces a "calcified" and "antiquated" system in place since the 1930s.
"We're now finally rid of a system that has been dysfunctional for generations -- an evaluation system that did not serve the benefit of our teachers," Walcott said.
King said the key to plan's success will be its implementation which relies on proper training and educator support. New York City began training principals this spring, with information and training sessions scheduled for teachers in June, July and August.
The new plan officially takes effect September 1. According to state law, it will remain intact unless a modified version is agreed upon by unions and city officials and approved by the state's education commissioner.
Ernest Logan, president of the union representing principals, called the evaluation plan for his members "consistent and reliable, as it preserves many of the same tools our principals are accustomed to while at the same time substantially improving our due process protections and safeguards."
Unlike the teachers' union, the city and the principals reached an agreement on the plan to evaluate principals by the end of the hearings process last week.
Regarding the fact that New York City was the only district in the state that failed to negotiate an evaluation system with its teachers, Bloomberg was without remorse.
He continued to blame the UFT leadership for obstructionism – just as the unions blamed City Hall for the failed talks earlier this spring – but, he added, the end result was worth waiting for.
"If I said we were going to have this when I came into office 11 and a half years ago, you probably would have started thinking about laughing," he said.
"When I came into office back then it was next to impossible to remove bad teachers from the classroom. We didn't even have measures in place to determine who was succeeding and who wasn't."