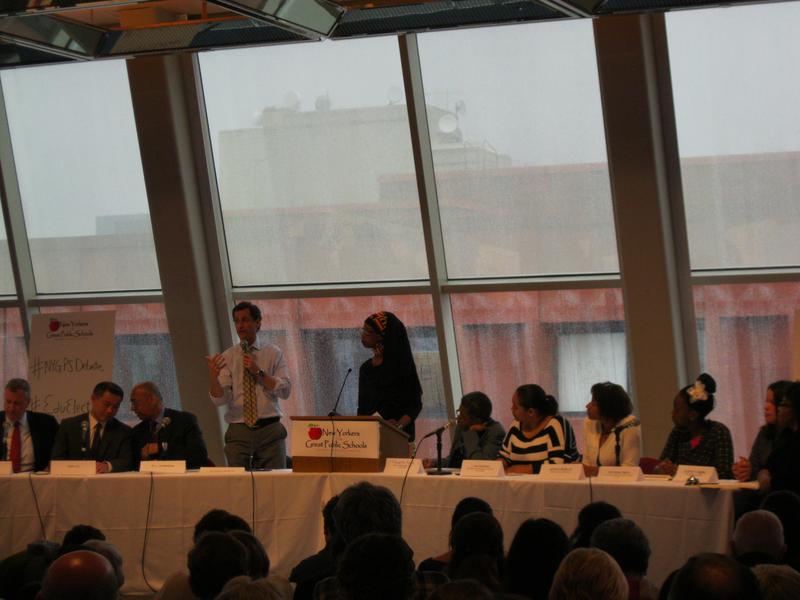 It was billed as the first debate among the Democratic candidates about education, but Tuesday's event was more notable for the absence of City Council Speaker and mayoral candidate Christine Quinn and the presence of newly minted contender Anthony Weiner than the actual positions argued.
The former congressman, who left office because of a sexting scandal, was swarmed by photographers as he took his seat. He seemed to relish the attention, opting to stand while answering questions and making sweeping gestures as though he was holding court at a town meeting instead of laying out an education agenda to a modest group of parents, teachers and policy wonks at New York University.
Weiner chose to stake out territory somewhat to the political right of his fellow Democrats during the forum organized by a coalition of liberal education groups called New Yorkers for Great Public Schools, which also includes the teachers union.
"We have to say we are going to reward the best teachers for taking those tough jobs and it might mean that I have to push back against the union to get some bonuses, but that's the dynamic I want to have created," he said.
Weiner has drawn fire already for saying he wants to put more focus on student discipline, and the very first question of the debate concerned this issue. Cheyanne Smith, a 16-year-old junior at the Bushwick School for Social Justice, asked Weiner why he focused on making it easier to suspend students instead of using alternative disciplinary methods.
Weiner, who repeatedly mentioned that his mother was a retired public school teacher, said he wanted to protect the rights of children in classrooms who wanted to learn.
In contrast, Public Advocate Bill de Blasio called suspensions a "cheap way out" of dealing with discipline and said they are overused.
Quinn drew attention by her absence. Her campaign said it notified debate organizers last week that she was not able to attend, but the group disputed this.
As the newest candidate in the ring, Weiner seemed more comfortable at times with his trademark wit and pugilistic style than with the finer details of education policy. He often looked at his notes, and at one point was caught without an opinion when all of the candidates were asked if former City Council member Eva Moskowitz had been given too much license by the Bloomberg administration to open her Success Academy charter schools in district school buildings.
"I have no bloody idea," he said, before adding with a laugh, "sure, seems to be the answer of the day."
For his part, Weiner said he would support moving charters into school buildings with space, but he also said he would give communities a chance to decide whether they would prefer a gifted and talented program or a new laboratory, for example.
"We have to change this fundamental notion that the mayor has imbued enough that this is a competition," he stated. "If you're good enough, you're going to survive. If you're not good enough you're not going to survive."
He also pointed out that fewer than 60,000 students attend privately managed charter schools. "We need to stop being so obsessed with this tiny, tiny fraction of a fraction" of students, he said.
But Weiner agreed with the other Democrats more than he disagreed. All of the candidates said they would reduce the city's reliance on standardized testing for measuring teachers and schools.
"We need to bring comprehension and critical thinking back, not memorization," said Bill Thompson, a former city comptroller who ran for mayor four years ago.
All the candidates said the newer specialized high schools should stop accepting students based solely on the results of a single test.