SchoolBook
Schools Proceed with Teacher Eval Training Before Final Deal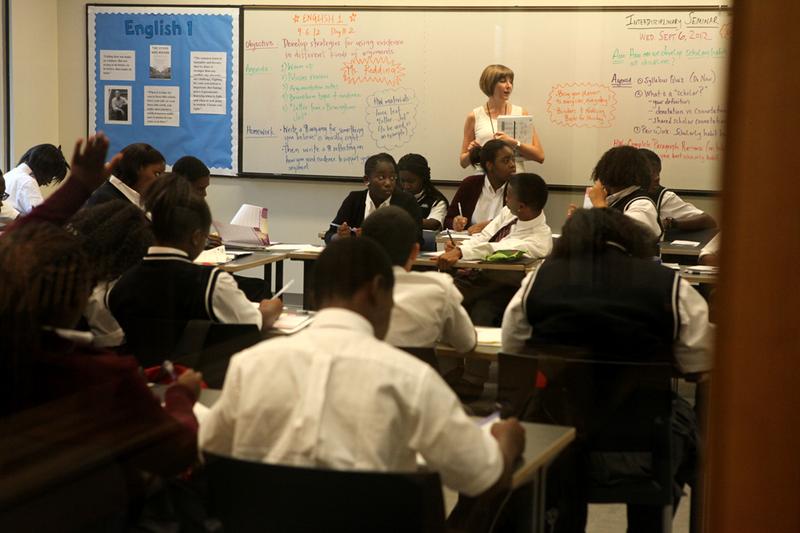 On June 1, if not sooner, State Education Commissioner John King will impose a new plan to evaluate teachers and principals in New York City. The new evaluation system will replace the simplistic "satisfactory/unsatisfactory" scale that has been used to judge teachers for decades.
The plan comes by way of an intervention by state officials because Mayor Michael Bloomberg and unions failed to reach an agreement in January, or come up with any final agreement in subsequent months.
But even without a final plan, schools have begun to prepare for the evaluation system that must officially take effect in September. The system will rate teachers on a four-tiered scale: Highly Effective, Effective, Developing and Ineffective. The new system will hold teachers accountable for student progress and performance, including growth on standardized tests, and will involve multiple classroom observations.
Preparation for the new system began in earnest this spring with visits by "talent coaches," Department of Education employees and former teachers who serve as experts in the Danielson framework, which New York City selected as the rubric to follow in order to measure how well teachers teach.
"My role is to meet them where they are and help develop their skills essentially -- because this is a skill," said Fred Walsh. He is one of about 30 coaches hired by the D.O.E. to provide training to every school with two visits between March and June.
Walsh has been helping principals and assistant principals hone "low-inference" note-taking, where school leaders learn to write down only what they see and hear during a teacher's lesson.
"It's essentially clinical in its nature," said Walsh, "so you are not making judgments in the moment. You're just recording what you observe."
Much the way that teachers "normed" themselves to rubrics when scoring standardized tests, principals are norming themselves to the Danielson rubric with the idea that observations must be consistent across classrooms and schools system-wide.
Making sure the process is standardized is one challenge, said Eva Irizarry, a first-year principal at Brooklyn Arbor Elementary School, a new elementary school in Williamsburg. And finding the time to meet the demand of these observations will be another challenge, she said, even for the most organized principals.
Irizarry said that one full observation, which includes the classroom visit, notes and feedback session, could take about an hour.
"As a school leader you have all of these competing priorities," she said, like parent meetings, discipline issues or planning professional development. "Even with an air-tight schedule, things come up."
Making sure administrators have calibrated their approach to classroom observations will be especially important at large schools, said Stephen Duch, principal of Hillcrest High School in Queens. With a student population of about 3,200, the school has 12 assistant principals, in addition to Duch, who will all carry out classroom observations.
Duch said the largest shift in practice for his school has been the emphasis on "highly effective" lesson plans, with details on how teachers have planned for different types of learners in the class.
"They're moving away more or less from what we kind of call doorknob planning -- that they're planning their questions when they're opening the classroom door -- to having spent time making purposeful decisions as to why they're asking specific questions," said Duch.
Both unions representing teachers and principals have previously criticized the D.O.E. for its training plans, saying the D.O.E. did not plan adequately for the roll out of a new evaluation system or for training specific to the Danielson rubric. The State Education Department also chastised the D.O.E. in January, saying it failed to lay the groundwork for a new evaluation system. (Education officials refuted the state's criticism.)
"Previously, the training around Danielson seemed diluted and uneven," said Chiara Coletti, chief spokeswoman for the Council of School Supervisors and Administrators. She said that the training taking place this spring appears to be an improvement.
"At least we know they're trying to ensure consistent methodology so all school leaders are working off the same page," she said.
Both Irizarry and Duch said they have benefited from the training and visits by talent coaches.
But Michael Mulgrew, president of the United Federation of Teachers, said he did not have confidence that the training taking place would lead to supporting and developing teacher practice.
"I actually walked in on some of the training where they said teacher eval is first and foremost about collecting evidence," said Mulgrew. "What does that say to a teacher? Evidence for what?"
Teachers will receive training beginning with information sessions in each district starting June 10, according to the D.O.E., once the details of the evaluation plan are released. Teachers will also be able to attend training sessions in July and August.
While schools proceed with some level of training, administrators are waiting for final details such as exactly how many classroom observations will be required or what computer system, if any, principals will have to use to document their observations.
"I'm just concerned that the infrastructure that they are creating will be user-friendly and will be able to support all of the schools," Duch said.
The main goal, he said, is ensuring the new evaluation system does not take educators away from their students.