SchoolBook
School Lunch Tables, as Art, Coming to City Parks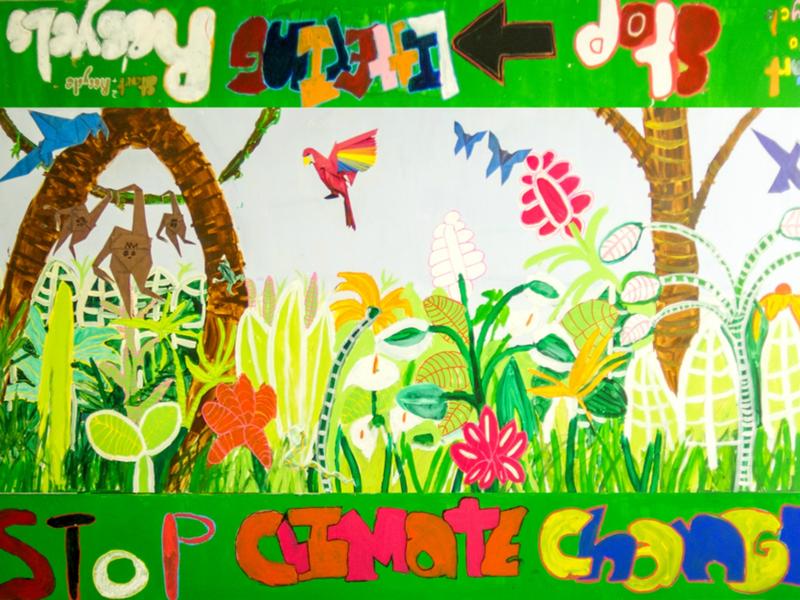 Beginning in June, visitors to several New York City parks can take a rest or make a picnic on a school cafeteria table and gain some insight into the minds of public school students. The tables -- those recognizable, 12-foot long constructions that fold in the middle -- have been turned into works of art with messages on issues like teen pregnancy, bullying and climate change.
The art works are part of an exhibition in city parks that will run through August. To see images from each table, view the slideshow below.
"The idea behind the program is that kids are part of our communities and experience all of the same things that we do," said Alexandra Leff, creator and director of the public art program for the non-profit organization LeAP, which teamed up with the New York City Department of Parks & Recreation for the exhibit.
Ten parks across the five boroughs will each get a table from 10 different schools. With the help of teaching artists, the students worked to hone in on a single topic.
"We came up with 'stop the violence, stop the bullying,'" said Demetrius Fraizer, a sixth grader at P.S. M169 Robert F. Kennedy on the Upper East Side. Students from the school created a mosaic of ceramic tiles individually made by students, then pieced together and placed with cement.
Demetrius Fraizer, Thomas Mobley and Dayquan Vallejo
Thomas Mobley, a fifth grader, explained that the table has messages about bullying that students learn in school. "Like if you're in school and somebody's bullying you and stuff, get an adult. Walk away," he said.
Their table will be placed in Central Park, close to the school.
Dayquan Vallejo, also a sixth grader, said he hoped people who see P.S. 169's table will take time to read it and understand the students' message.
"I think people should learn how to stop bullying," he said. "I want to know why they're bullying. They probably just bullying just to think they cool."
Dayquan helped to mix the cement and lay out the tiles -- new skills that he learned, he said. Mobley said he learned how to draw better.
"It's fun to make art so you can become creative and do more art, be famous," added Demetrius.
The school previously focused on issues of homelessness and the environment. Last year's table is now in the P.S. 169's school yard.
Prominent themes this year included Hurricane Sandy and gun violence. All 10 tables will be unveiled together on Thursday morning at Union Square Park, before making their way to new temporary homes.
The other participating schools are P.S. 9 in Queens; Robert E. Peary School in Queens; PS/IS 25 on Staten Island; I.S. 51 Edwin Markham on Staten Island; P.S. K53 in Brooklyn; Mark Twain I.S. 239 for the Gifted & Talented in Brooklyn; M.S. 45/S.T.A.R.S. Prep Academy in Manhattan; I.S. 219 New Venture School in the Bronx; and International School for Liberal Arts in the Bronx.