SchoolBook
Pay to the Order of Public School X ...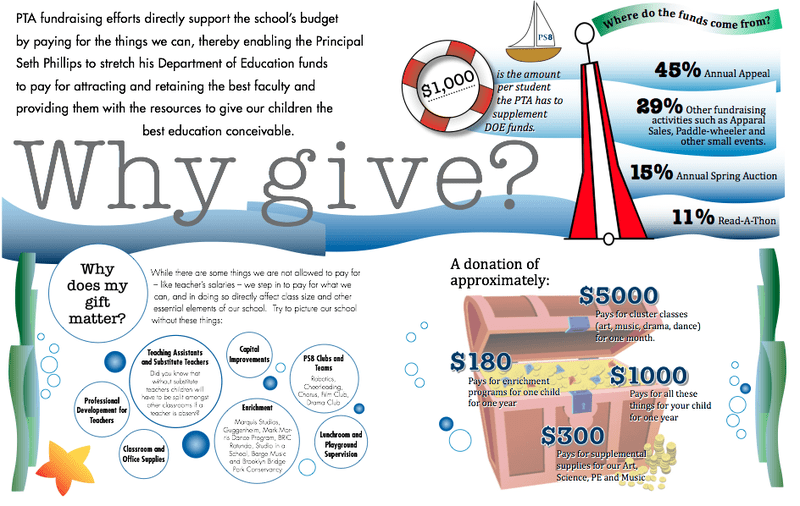 At Public School 6 Lillie D. Blake on the Upper East Side, the parents association posted an urgent and direct call for donations on the school's Web site. "For the first time in years, the PTA is 'in the red,'" it said. The group has a $10,000 operating deficit and is $65,000 below its budget projection, donation rates are down, and costs are up. And so the parents association is turning to families and asking them to give what they can. The recommended donation is $1,000 -- roughly what the PTA spends each year per child.
"Why does my gift matter?" asks Public School 8 Robert Fulton in Brooklyn's fund-raising Web site, which has a nautical theme in which dollar amounts hover over an opened treasure chest. A $5,000 donation covers art, music, drama and dance classes for one month; $1,000 pays for a single child's costs; $300 goes to supplies. A collection of underwater bubbles that appear to be rising out of sea vegetation remind readers that without parental support, the school might not have substitute teachers, clubs or enrichment programs.
It is the season of asking in New York City's public school system -- a time of year when parents associations solicit donations, advertise spring fund-raising galas and remind everyone just how much money has been lost to budget cuts and remains to be filled in.
New York City public schools have endured budget cuts the last five years, and that has placed more pressure on parents associations to fill in the gaps.
But how much are parents being asked to give -- and spend -- on school-related items? And how do the costs vary across the city and from borough to borough? How does your school compare?
To learn more about the fiscal state of city schools and how expensive it can be to send a child to one of them, SchoolBook and WNYC's journalists are asking readers this week to look through checkbooks and answer the question: How much money have you spent so far this school year to support your child's school and school-related activities?
We want to know how much field trips, supplies, food and fund-raisers cost, and whether this has been a hardship for families. We are relying on crowdsourcing, a way of collecting readers' experiences and observations on a larger scale and turning them into journalism.
While some schools suggest a specific dollar figure -- like at M.S. 255 Salk School of Science in Gramercy Park, Manhattan, which recommends $600, or P.S. 212 Midtown West, which asks for $750 -- others list all the things money can buy.
"Without PTA support, class size in our lowest three grades (K-2) would be nearly 20% higher than it is now," reads the fund-raising page for Public School 321 William Penn in Park Slope, Brooklyn.
"We've been very clear at P.S. 321 not to ask families to contribute a specific amount, as we don't want anyone to feel that what they can contribute isn't enough," Emma Murphy, the school's fund-raising chairwoman, wrote in an e-mail. "No amount is too small."
But "family giving," as some schools call it, is not the only cause that has parents opening their checkbooks. As most parents quickly learn, a public school education is not free -- between buying tickets to the middle school's fall play and paying for a senior's class trip, it can cost thousands of dollars.
At Midwood High School in Brooklyn, senior dues, which include the cap and gown, came to $125 this school year. And at P.S. 114 Belle Harbor in Far Rockaway, Queens, a parent could easily spend more than $100 outfitting a student in the school's recommended Lands' End uniform.
Add in yearbooks, school pictures, T-shirts for fund-raisers, after-school clubs and programs, and weekend trips for competitions and organizations like Model U.N., and the dollars mount.
How much has your child's public school education cost you so far this year? Help us report this story, and respond to the query below.