SchoolBook
Candidates Answer to Cobble Hill Parents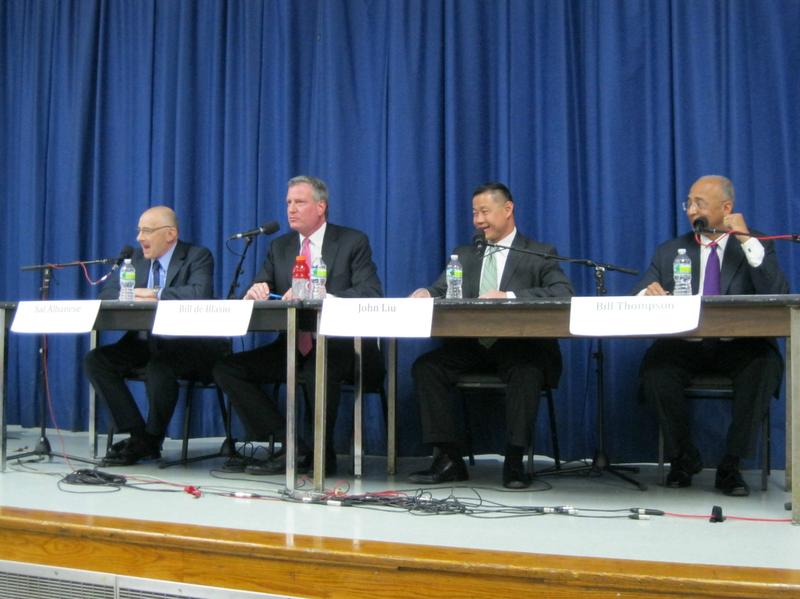 In a campaign season heavily scheduled with forums, a group of public school parents got their chance to pose education-related questions to many of the mayoral candidates hoping to succeed Mayor Michael Bloomberg on Thursday night.
Parent Voices New York and the Alliance for Quality Education organized the event held at P.S. 29 in the Cobble Hill neighborhood of Brooklyn. Both groups are critical of some of the more high-profile education policies supported by the Bloomberg administration, including school closings and tying student performance on state tests to teacher evaluations.
Four mayoral candidates -- all democrats -- participated in the discussion: former City Council member Sal Albanese; Public Advocate Bill De Blasio; city comptroller John Liu; and former city comptroller Bill Thompson. The fifth democratic candidate, City Council Speaker Christine Quinn, did not attend, citing a scheduling issue.
The candidates often echoed each other, showing a like-mindedness among themselves as well as the parents in the room.
They all criticized the policy of closing schools, saying that the Education Department did not do enough to help struggling schools succeed. They denounced the use of standardized tests to measure teacher and school performance. And they all said they would not continue Bloomberg's 'A' through 'F' system of rating schools.
"I don't usually subscribe to conspiracy theories," said Thompson, "but when you have this many schools that are closed that you haven't worked to turn around then there has to be a reason behind it. It is clear that they are letting schools fail so they can close them."
De Blasio said "the Bloomberg administration does not have a school improvement strategy," and that it was demoralizing for communities.
"We as parents, we put a huge amount of value on the schools that our kids go to," he said.
Rhonda Keyser, P.T.A. co-president at P.S. 29, said she knew the forum would overlap with previous discussions among the candidates on education, but that it was important for working parents to have an event like this "in their backyard," she said.
Alexis Demopoulos, who has two children at P.S. 29, said he wanted to hear how the candidates would lead the public schools because, he admitted, many parents in the neighborhood have the means to send their children to private school if they chose to do so.
"But we sort of choose to keep them in the public school because we have a sense that the community is based around the school and that we should be participating members of the community," he said.
Another parent, Elisa Wallman Jacques, said she was concerned about the focus on standardized testing.
"How is it affecting people who we recruit as teachers?" she said, and added that educational leaders must think about "the things that we need to do to balance the importance of evaluating our educational system with not making kids and teachers and schools on the defensive."
She said her children, in fourth and seventh grade at P.S. 261 Philip Livingston, are both in "big testing years," since scores could affect their middle school and high school choices.
The forum came the same week that another parent group, Families for Excellent Schools, held a town hall style meeting to identify "key areas to focus on" during the mayoral campaign, according to a press release. The group, whose members include a majority charter school parents, is planning another event in June.
Shamona Kirkland attended the town hall and said she is generally looking for a "great education in a safe environment" for her two children. Kirkland has son in eighth grade at I.S. 171 Abraham Lincoln in Brooklyn and a daughter in second grade at Achievement First Apollo. She is quite happy with her daughter's experience at Achievement First, she said, but her son struggles at I.S. 171.
"When Bloomberg got into office some years ago, I wasn't even voting," she said, because she did not think her vote would have any effect on issues she cared about, like housing or education.
She said she would like to see some changes moving forward in the way the mayor works to improve the school system.
"Maybe being more transparent about what the next steps are," she said. "Maybe being a little bit more engaging with the community to find out what the community wants for themselves. And let there be more accountability without blame."
Diane Ravitch, a harsh critic of the school reform movement, moderated Thursday's discussion at P.S. 29. She said class size was one of the top concerns of parents who submitted questions.