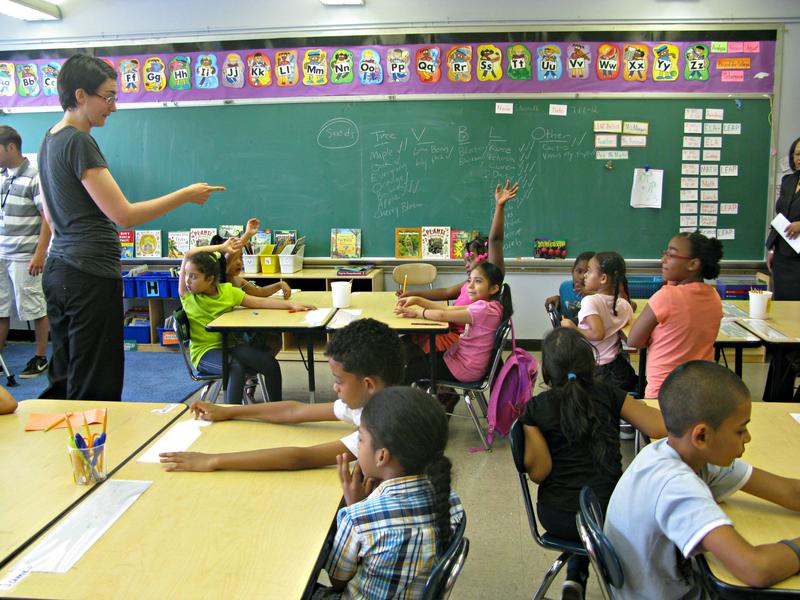 It's known as the "summer slide," and all students experience it. Forgetting certain academic skills and information is part of summer and usually is overcome quickly in the fall. But research has shown that for more vulnerable students, summer learning loss plays a significant role in falling behind, permanently, and has prompted the city to try to stem the slide.
"The research shows that all kids lose up to two months of math skills over the summer," said Jeff Smink, a policy analyst with the National Summer Learning Association. The differences show up most on reading skills. Mr. Smink said higher-income children tended to gain skills in reading during the summer months, while children from lower-income families fall one to three months behind.
"One of the findings was that by ninth grade, two-thirds of the achievement gap in reading could be traced to what happens during the summer," he said.
To counter this trend, New York City has begun a three-year pilot project in the South Bronx, called Summer Quest, that is trying to maintain and improve math and reading skills among elementary and middle school students in some of the poorest neighborhoods in the city.
So, what leads to the disparity in summer learning loss?
The answer is not that students who are better-off financially are in school during the summer, said David Krulwich, assistant principal at the Urban Assembly School for Applied Math and Science, one of 13 Summer Quest sites.
Rather, he said, students from middle- and higher-income families tend to read more on their own. They have more opportunities to go to camps, visit museums, travel and spend time in nature.
"I think all of those things are intellectual, and they do teach kids how to think about things," Mr. Krulwich said. "They give you opportunities to interact with adults about things that make you smarter."
Summer Quest, run by both the city's Department of Education and Department of Youth and Community Development, combines academics with enrichment, like field trips and classes in the arts. The Fund for Public Schools, a nonprofit organization, raised private money for the pilot, which costs about $2.4 million for this first year. The pilot is serving nearly 1,200 elementary and middle school students.
In contrast to the city's traditional summer school program, which is meant for students who need to make up a course or who have not advanced to the next grade, students enrolled in Summer Quest have met the requirements to move on and are attending voluntarily. But the large majority of students were recruited for the program because they are vulnerable to falling behind academically.
A smaller group of just over 40 rising eighth graders is taking part in a Summer Quest program called the "Dream Big Academy." These students received high scores on their math and English language arts state assessments and are getting leadership skills and testing strategies for the Specialized High School Admissions Test.
Mr. Krulwich said parents responded enthusiastically when he called to recruit students for the program, and word about the program spread. He received unsolicited calls from families who wanted to enroll their children, and some parents from the neighborhood have walked in off the street asking if there was any more space in the program. He said he had been able to accommodate most families, but had to turn away some parents whose children were not actually current or entering students at the school.
The pilot project keeps students occupied for more than nine hours each weekday over five weeks. Participants get two meals and an afternoon snack every day.
At the Urban Assembly School for Applied Math and Science, the academic aspects of the program also have a summer bent. Instead of math class, Mr. Krulwich said, students may take on a project to plan a trip across the country. They have to learn how to measure distances on a map and calculate the amount of gas needed, he said.
Similarly, an English class is presented as a blogging workshop where students learn how to set up a blog and write about their own experiences.
Every student also starts the day with 30 minutes of silent reading, said Mr. Krulwich.
Jasmin Randolph, 13, and a rising eighth grader at the Urban Assembly School for Applied Math and Science, said she didn't mind the long day. She takes hip-hop dance, a step class and piano as her electives, which makes the day more fun than during the regular school year, she said.
"When I get home from school, I'm tired. But when I get home from camp, I'm not that tired," she said.
Students participating in the pilot project will take a test in September to see if their skills improved when compared with students who did not take part in the program, said Dorita Gibson, deputy chancellor of equity and access.
If, after three years, the data show that the program helped to mitigate summer learning loss then it may be expanded, Ms. Gibson said, adding that the program's best practices will help the city upgrade its traditional summer school as soon as next year.
Here are links to additional research on summer learning loss:
— Mr. Smink cites an ongoing research study, started in 1982, at Johns Hopkins University that documents the cumulative effect of summer learning loss among children in Baltimore.
— Researchers at RAND and the Wallace Foundation have also documented the effect of the summer slide.