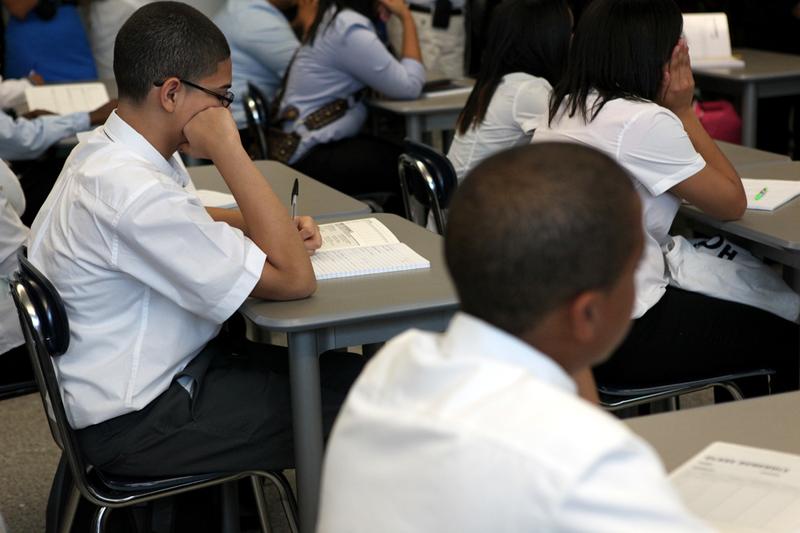 Starting tomorrow, third through eighth grade students will open their test booklets for the English Language Arts exam, followed by math next week. The state tests are expected to be quite different this year because they are based on the new Common Core learning standards, guidelines that set tougher goals for student performance, with a focus on critical thinking and abstract reasoning.
There's been lots of conversation and media coverage lately about how schools are shifting instruction to the Common Core, the fact that teachers have not had a curriculum to follow this year and the work by education officials to get the message out about the harder tests and expected lower scores.
If you want loads of SchoolBook stories related to the Common Core, click here.
A day ahead of the test, we thought we'd offer information on what's new and different this year. Here's our roundup of key points:
Did we mention the tests are harder?
This has been the mantra of late from city and state education officials. The Common Core standards require more writing, more reading of non-fiction, more multi-step math problems. If you want the nitty-gritty, read the full standards for English and math.
Because the standards require more complex thinking, the tests are expected to be more difficult.
Here's an example of the type of question a fifth-grader might find on the English Language Arts test. The state developed these sample questions based off of a passage from Heidi.
Here is a sample math question using fractions, which requires multiple steps.
5th Grade Sample Math Question
The state has developed and posted sample questions for all grade levels on its website.
No Pineapples (Hopefully)
Last year, there was much contention raised over a fable and subsequent questions about a pineapple and a hare. Some students and educators said the passage and questions did not make any sense.
This year, the test developer, Pearson, is only using "authentic text," meaning that they are using published stories and non-fiction passages rather than commissioning a story for the sole purposes of the test. State education officials said they do not expect another "pineapple" situation, because they believe the quality of the passages and subsequent questions is higher than on previous tests.
According to the state education department, every test question was designed from scratch to measure the new learning standards. Each question was also field tested and reviewed by teachers.
Opting Out
There is a growing movement among parents who are frustrated by the amount of testing and test prep in schools, and we expect to be hearing from them over the course of the exam period.
New York 1 reported last week on parents who plan to boycott the tests in an effort to "stop high-stakes testing." The parents who will opt out are in a small minority, even if there is broad concern among parents about a culture of high-stakes testing in the schools.
The reality is that New York requires all students to take the test, and there is actually no provision to allow parents to refuse. The state education department sent a memo to school superintendents about this in January.
Technically, schools must have at least 95 percent participation on the state tests.
How the Scores Will Affect Students
The city's Department of Education has made it clear that it is changing the way test scores will factor into promotional criteria. In the past, most general education students who received 1's and 2's on the test did not automatically advance to the next grade.
In a memo to parents, schools chancellor Dennis Walcott said schools would still use the tests to help identify the lowest-performing students by looking at how many questions each student got right. He said that "students with the lowest scores will be recommended for summer school."
Speaking last week on WNYC's The Brian Lehrer Show, Shael Polakow-Suransky said he understood the stress on the part of parents and students, but that the tests are part of a broader process.
"I would urge parents as they talk to kids to let them know that they should do their best on this, but it's okay if they don't do well at first."
Parents have also raised concerns about how the new scores will affect seventh graders applying to high school next year. Suransky pointed out that most high schools do not have an academic screen and, for those that do, all seventh graders are in the same boat. Admission to the screened schools is based on students who earn the highest scores, even if those scores are lower than in previous years.
You can listen to the full Brian Lehrer interview with Suransky below:
How the Scores Will Affect Teachers and Schools
Test scores will factor into teacher evaluations in districts where there are teacher evaluation systems in place. So, that means New York City teachers will not be affected by scores this year.
For other New York State teachers, the state education department said it will look at a student's test score from last year as well as the test score from this year, and compare the scores to students of similar demographic backgrounds (poverty, disability, English language learners).
Test scores will, of course, be factored into school progress reports in New York City. In a memo to principals, Walcott said schools who get overall lower test scores can still receive high grades on their progress report "if their students' performance and progress are higher relative to other schools, particularly schools serving similar students."
There is a set distribution of elementary and middle school progress report grades, so there will not be an increase in schools that receive low grades, Walcott said.
The New Scores and Scale
State education officials are going to bring together 100 educators to Troy, N.Y., over the summer and put them in a room for five days to determine what exactly the cut scores will be to determine who gets 1's, 2's, 3's and 4's. This, according to the state, is standard industry practice.
The scale for these new tests will be different from previous years, ranging from 100 to up 320 or 350. Education officials have yet to finalize this.
Once the scale is finalized, and the cut scores are determined, students will be assigned to a level based on these categories:
Level 4: Student excels in standards for this grade level

Level 3: Student is proficient in standards for this grade level

Level 2: Student is not proficient for this grade level (demonstrates partial but insufficient knowledge and skills for this grade level)

Level 1: Student does not demonstrate knowledge and skills for this grade level
What's Happening In Other States
So far, 46 states have adopted the Common Core learning standards and are all moving toward Common Core-aligned tests. (This number includes Minnesota, which has adopted the new standards for ELA only.) Some states are transitioning to Common Core assessments more gradually than others. New York adopted the standards in 2010 and is one of the first states to create and administer a test aligned fully with the new standards.
The only state to have administered Common Core tests so far is Kentucky. The number of students who scored 'proficient' or better in reading in math dropped by a third or more depending on grade level.