SchoolBook
City Hits Peak of More Than 1,800 Public Schools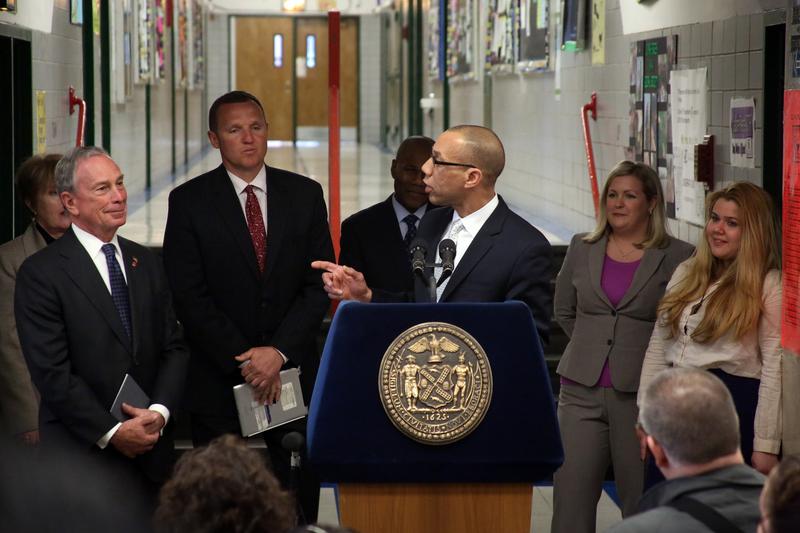 New York City will open 78 new schools in the fall, bringing the number opened under Mayor Michael Bloomberg to 656 and the total number of schools to more than 1,800 across the city.
"It is the greatest number of new schools created by any administration in the city's history," Bloomberg said Tuesday. He touted the new statistics while visiting I.S. 204 Oliver W. Holmes in Long Island City where a new career and technical education school will open in September.
The new schools opening in September 2013 will enroll 10,000 students initially and serve more than 32,000 students once the schools grow. They will, in most cases, share space with other schools, some of which are phasing out or will begin to phase out next school year.
Bloomberg trumpeted the changes he's overseen as the first mayor with control over the school system. He said the process of closing and opening schools is one that should continue, perhaps indefinitely.
"You should always close those that are at the bottom," he said. "You want to work with them to make them better, but there's always going to be a bottom 10 percent. And why should we settle for that?" he said.
His critics, including at least three of the democrats hoping to replace him, have said the current system is too unstable to absorb more closures in the near future.
Also part of Tuesday's announcement was the launch of seven new Career and Technical Education schools, bringing the total number C.T.E. schools to 46 in New York City. More than half of them opened under the Bloomberg administration.
Schools Chancellor Dennis Walcott said that, while incoming ninth graders may not yet know which career path they want to take, C.T.E. schools "whet the appetites of our students so that they become engaged and have options."
Two of the career and technical schools will offer six year programs to students who want to earn an associate's degree on top of their high school diploma: Health, Education and Research Occupations (HERO) High School and Energy Tech High School.
Hope Barter, the proposed principal for Energy Tech, said that as she thinks about recruiting for her incoming class she is making a concerted effort to attract girls, who are underrepresented in science and technology careers.
"I think one of the major barriers to getting more young women in the field is students being able to visualize what the work looks like and to connect and to see how they might be successful in that kind of a model," she said.
Barter said the school will give students "a very deep and broad understanding of the energy industry," with workplace visits and guest speakers. The school is partnering with the utilities National Grid and Con Edison for that purpose.
Here are some more nuts and bolts about the new schools:
—52 are traditional district schools; 26 are charter schools
—30 of the new schools will open in Brooklyn; 20 in the Bronx; 15 in Queens; 11 in Manhattan; two on Staten Island
—The city will open 18 new school buildings in September
—51 of the new schools are either elementary schools or schools that combine elementary and middle school grades; 27 of the new schools are either high schools or combine middle and high school grades
—The city will have opened 61 new middle schools between the new schools set to open in September and the new schools opened this year