SchoolBook
Most Eighth Graders Matched to a High School of Their Choice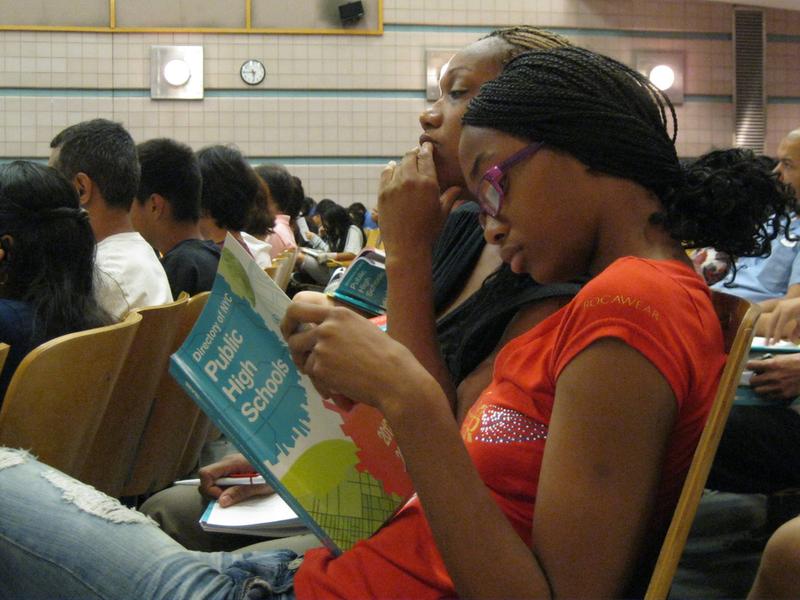 It's match day in New York City, when eighth grade hearts beat a little faster as they find out if they got into their first choice high school, or, in a minority of cases, one at all.
Of the 63,658 students who submitted an application to a public school, 90 percent received a match. Eighty-four percent of students matched to one of their top five ranked schools, while nearly half, 47 percent, matched to their top choice. These numbers are similar to last year's match results.
New York City students submitted applications in December by choosing up to 12 schools and ranking them in order of preference. The Department of Education relies on a matching system similar to the one that connects medical students to residency programs nationally. The system was designed by Alvin Roth, who won the Nobel Prize for Economics.
Students received their matches a couple of weeks later this year than last school year, "because of Sandy and its incredible impact on the city," said Devon Puglia, a department spokesman.
Students who took the specialized high school admissions test (SHSAT) also found out today whether or not they received an offer of admission to one of eight schools. Education officials said about 28,000 took the test and a total of 5,229 students received admission based on their test scores.
SchoolBook reported this week on the single-test admissions policy at these schools, along with the test prep programs meant to prepare students for the exam.
The one-test admissions policy is the subject of a legal complaint, which argues that not enough black and Latino students gain admission to the specialized schools -- particularly Stuyvesant High School, Bronx High School of Science and Brooklyn Technical High School which are the most competitive.
This year, the racial breakdown of admission offers at these three schools looks like this (race and ethnicity data were not available for all test-takers):
—Stuyvesant offered admission to 9 black students; 24 Latino students; 177 white students; and 620 students who identify as Asian.
—Bronx Science offered admission to 25 black students; 54 Latino students; 239 white students; 489 Asian students; and 3 American Indian/Alaskan Native students.
—Brooklyn Tech offered admission to 110 black students; 134 Latino students; 451 white students; 960 Asian students; and 5 American Indian/Alaskan Native students.
A ninth specialized high school, Fiorello H. LaGuardia High School of Music & Art and Performing Arts, offered admission to 984 students based on an audition and review of academic records.
There are several thousand students, however, who are left without a high school match. They, along with other applicants unhappy with their matched school, can apply in a second round of admissions. The D.O.E. will host a Round 2 fair on April 6 and April 7 at the Martin Luther King, Jr. Educational Campus in Manhattan.
Students must submit their Round 2 applications by April 12 to their guidance counselors. Education officials said that students will receive offers in late May.