SchoolBook
Pre-K, Aligned to Common Core, Still Pretty Fun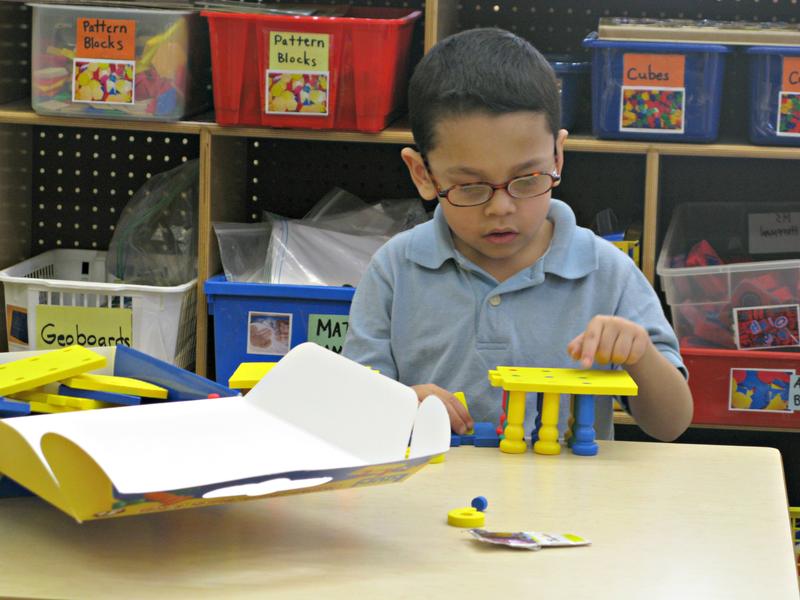 With the pre-kindergarten application season officially underway, Schools Chancellor Dennis Walcott was touting the early childhood program as an important first step in molding students under the Common Core learning standards. The key, he said, is fostering independence in the classroom at a young age.
The youngest students at P.S. 147 Isaac Remsen demonstrated some of this self-reliance when Walcott visited their pre-K classes at the Bushwick school on Tuesday.
"Let me show you something," Walcott said to reporters, and walked over to the classroom's "choice chart," which allowed students to put their picture next to the activity that they wanted to take part in during unstructured time, such as playing with puppets or experimenting in the classroom's science center.
Students had to make a decision about how they wanted to spend their time and make sure there were not too many other students already taking part in the activity, Walcott noted.
Sandra Noyola, the school's principal, agreed that the new learning standards, which promoted higher-order thinking skills, must take a foothold in younger grades.
"The pre-K classroom is aligned to the Common Core very seamlessly in the sense that children are engaged in hands-on learning," she said. "Our teachers work very hard to provide those real-life experiences," she said, such as taking field trips.
P.S. 147 will add a third pre-K class to its roster starting in September as part of the city's plan to add 4,000 full-day pre-K seats, bringing the total number of full-day seats provided by the D.O.E. to about 20,000. (Other early childhood programs, such as Head Start and those run by the Administration for Children's Services, also provide full-day programs.)
The added pre-K slots will be concentrated in high-need neighborhoods city-wide, education officials said. About one-third of the seats will spread out in 54 public schools, while the other two-thirds will be part of programs run by community-based organizations.
Noyola said that P.S. 147's school staff, including administrators and the school's parent coordinator, have been working to get the word out about the increased full-day seats and the added class at her school. She said they have visited local daycare centers to introduce themselves to parents and talk about pre-K at the school.
Despite the widely-regarded merits of pre-K -- which President Barack Obama touted in his State of the Union address -- not all children enroll and, for those who do, there aren't enough full-day programs in the neighborhoods that need them.
The city has estimated that about 7,500 students enter kindergarten without a year of pre-K. City officials have said that working families may be deterred from enrolling their children if half-day pre-K, which runs 2.5 hours, is the only option available in their neighborhood.
The D.O.E. is holding information sessions in the coming days for families to learn about pre-K programs and admissions. The deadline to apply for September enrollment is April 5.