SchoolBook
City, Union Prefer to Negotiate Their Own Teacher Evaluation Plan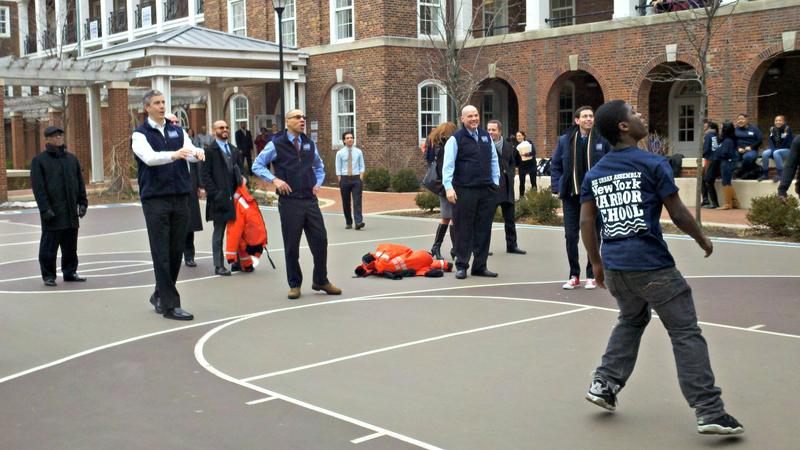 There were hints of collaboration on Friday as both Schools Chancellor Dennis Walcott and Michael Mulgrew, the president of the city teachers' union, said they would like to work together on a teacher evaluation agreement.
At least, they will try.
The two men said so while accompanying the U.S. Secretary of Education, Arne Duncan, on a visit to the The Urban Assembly New York Harbor School, where they viewed demonstrations of student work and shot some hoops in the school yard. Their demeanor was pleasant and positive. And they wore matching Harbor School vests.
Both Walcott and Mulgrew said that this time, unlike last month, there is a back-up plan on evaluations. If they fail to reach an agreement before June 1st, then Gov. Andrew Cuomo will step in and impose a plan of his own, which will spare the city from losing another round of state education aid.
"Mr. Mulgrew and I and our teams continue to talk," Walcott said, adding that they have not met recently but will continue to do so. "We'll try to negotiate and see what happens, but then the governor has put in a back-stop basically."
Mulgrew said he thought the governor's threat to step in would push the city and teachers' union toward an agreement.
"Because then at least both sides, if they agree on it, have control over it," Mulgrew said. "If not, it's going to that binding arbitration process where both sides will give up control."
But Mulgrew has said that the union would be comfortable with binding arbitration, and a state-imposed plan, if push comes to shove.
Duncan, for his part, said he had "a lot of confidence" in the leadership in New York City.
"I just think it's important for all of the adults to work together," he said.