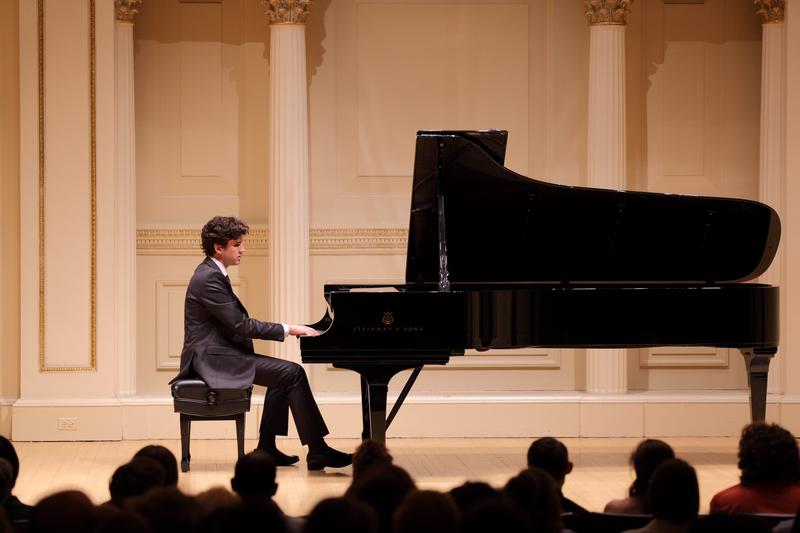 Daniel Gillen, who is graduating Monday from Beacon High School on the Upper West Side, says he has vision, "lots of it." He just happens to not be able to see.
Daniel has been blind since he was an infant, a roadblock but a surmountable one when it came to excelling at school and music. On Monday night the city will honor Daniel, along with 193 other high school graduates, with the chancellor's Remarkable Achievement Award.
The honor is for seniors who have overcome what Chancellor Dennis M. Walcott calls "remarkable obstacles" to earn their diplomas.
"That resiliency that we look for in our students -- these students have resiliency plus," Mr. Walcott said.
Daniel began playing the piano at age 6. He eventually learned to play pieces by some of his favorite composers -- like Claude Debussy and Johannes Brahms -- by reading Braille music and then memorizing each note, rhythm and harmony.
Daniel performed Debussy's "Premier Arabesque" at the Young Musician's Concert at Carnegie Hall in May. And he recorded a CD of eight pieces this year to give as a "thank you" to his teachers.
Daniel applied the same focus to academics as he did to music, said his father, Roger Gillen.
Mr. Gillen gives the example of Daniel's penchant for geography from an early age.
"He would make tactile maps -- he was very much interested in maps -- and he made a map of the world across our bedroom wall with these little Wikki Stix. And it was quite remarkable, because we weren't exactly sure how Daniel learned the actual physical outlay of countries," he said.
In looking back on his school years, Daniel's proudest accomplishment, he said, was mastering a mainstream school environment.
Daniel made the jump from an elementary school in a vision program, learning alongside others with vision impairments, to mainstream classes full time in sixth grade.
"I don't know how to describe it, but it was a great feeling to be integrated for the first time and to feel that I can learn just what everybody else is learning, provided I have accessible materials," like Braille and digital textbooks, he said.
Still, Daniel knows that his lack of sight influenced aspects of high school life.
At Beacon he learned that, as classmates' voices changed, he would sometimes have a difficult time recognizing people that he had not interacted with for months. He navigated around school with the help of others and by making a "mental map" of the building. And even though he could exercise a certain independence within the school's walls, traveling to school from his apartment in Midtown always required assistance.
"Outside, I can't cross streets by myself," he said. "My mom would say that it's a 'rock concert,' with the amount of chaotic traffic flow."
Daniel will attend Haverford College in September, where he says he looks forward to studying physics and music, and to traversing the campus with more freedom.