SchoolBook
Yellow Bus Bids Include Dozens of New Companies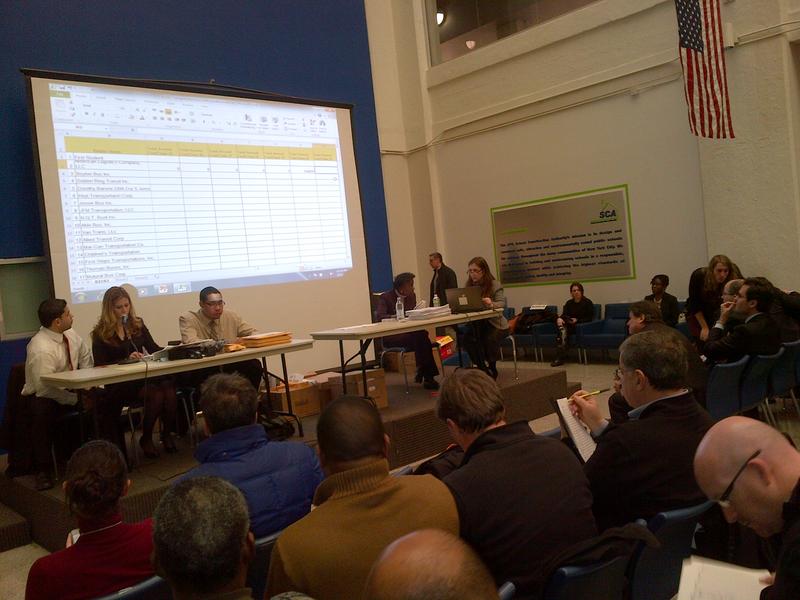 City officials invited reporters Tuesday to an event that normally occurs beyond the glare of news cameras and curious members of the media: the opening of bids for school bus routes. As the bus strike continues, they apparently wanted to demonstrate the possibility for savings on a service which currently costs taxpayers over a billion dollars a year.
A total of 67 transportation companies bid on 1100 special education routes. About half of them were new to the city. Their bids were opened and entered into a spreadsheet at the School Construction Authority's headquarters in Long Island City. In the room were dozens of transportation industry representatives, consultants, managers, as well as the striking union members who sat in the back after protesting in front of the building.
Hoyt Transportation in Brooklyn bid $15.6 million for a batch of routes known as "Class 22," compared to $9.5 million by the company Golden Ring, also based in Brooklyn. Hoyt employs union workers with employee protections. Golden Ring does not. It currently has a contract with the city for pre-kindergarten bus routes. An employee said this was the first year Golden Ring bid on all the other routes.
As each envelope was opened, an official read off how much money the bidding vendor expected to be paid for transporting students according to "classes," a type of bus with routes within a geographic area. Industry members in the audience eagerly took notes, watching for which companies had the lowest bids for a given class.
Union members were intrigued by the new vendors. Steve LaVergne, who said he's been driving a bus for 30 years, said some of the lower bids came from companies that don't use union workers.
"They're going to be paying their drivers anywhere from $10.50 to $14.50 an hour six hours a day," he said, compared to companies with union drivers that pay up to $29 an hour for their most experienced workers. The bus companies claim labor accounts for 80 percent of their revenue.
Schools Chancellor Dennis Walcott said the competitive bidding shows the city is "open for business."
At least two of the bus companies that submitted bids recently opened shop: J.F.M. Transportation was incorporated in December, and Jessie Bus incorporated last week. A call to a representative was not returned as of publication time.
It's impossible to make a precise comparison between the bids and current contracts for these 1100 routes, which cost $185 million annually, according to the Department of Education. Each bus route is different and the city is now allowing vendors to include new vehicles in the mix. The complex regulations are outlined here.
And, observers at the SCA said, the bids are not precise.
"Just because the prices come out lower on the screen this morning doesn't mean that those will in fact be the true prices that take effect in September," said Neil Hoffman, a manager at Careful Bus which currently has a contract with the city. He said the companies have to pass a stringent evaluation process, which includes coming up with an insurance bond to guarantee the whole first year of the contract.
Some skeptics wondered if the city would save any money at all in the end. Rob Leahy, who described himself as a consultant who's worked in the industry since the 1970's, predicted that eliminating employee protections would lead to only marginal savings because the union would apply pressure to new bus companies.
"Even if you're a non-union company now and you bid on this, come September when you try to operate they will be outside your door handing out cards to your employees," he said. He also said the routes are very costly because they're not always efficient, with about 400 buses carrying fewer than five children.
Leahy recalls the bus strike of 1979, when the city said removing employee protections would save money. But the union struck for three months and the protections were put back into the contracts.
"I heard the same story," he said, of the attempt to rein in costs. "It didn't work out that way."
Walcott said some of the 1,100 contracts will be awarded as soon as March for routes that are still affected by the strike. The remaining 6,600 bus routes will be put out for bid as they expire, most of them in 2015.