SchoolBook
Queens Students Use Break to Test Science and Music App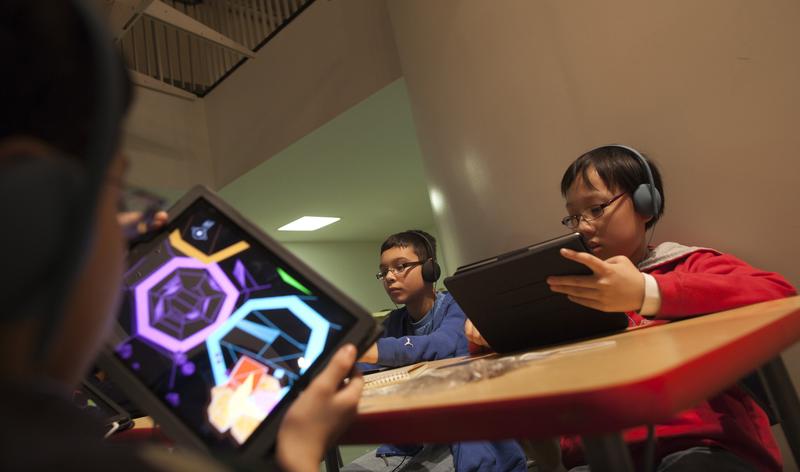 The term "biophilia" means an appreciation of the natural world. The Icelandic pop star Bjork has a new album of the same name that explores the theme with songs about the earth's inner core, thunderbolts, the moon and crystals.
She brought the album's themes to life for students over the February break through an iPad app, with the help of the New York Hall of Science.
"It's been a dream of Bjork since she was 8 years old to do some kind of a music school or some kind of a music teaching project," said Curver Thoroddsen, a fellow musician as well as the director of the Biophilia Education Program. In a music school, he said, you learn everything before creating your own music, but "she wanted to reverse it so you start creating from the start."
When Bjork performed in New York recently, Mr. Thoroddsen set up his program at the science museum in Queens. He spent this week working with 25 students on holiday break from Junior High School 185 Edward Bleeker in Flushing. He waived the regular download fee for the multimedia applications.
For children weaned on video games, the applications were easy to use. They used their fingers to break apart the songs into flexible animated segments and were shown how to create their own music. With the song "Crystalline," animated crystals in orange, blue, red and green tumbled across the screen and students manipulated them to make re-assembled compositions. Museum staff members also showed them crystals of dry ice to enhance the science piece of the program.
The sixth through eighth graders at the weeklong session hadn't heard of Bjork before. She's too avant-garde for the middle-school set and doesn't get much radio play these days. A video of her wearing a gigantic orange wig was very child-friendly, though, and the students seemed intrigued by her music.
"She's cool," said a long-haired girl named Samantha, who was excited to use an iPad for the first time. A boy named Samuel called her "original" and said she "reminds me of Lady Gaga."
Assistant Principal Theresa Mshar also hadn't heard of Bjork. But Junior High School 185 is a magnet school for art and science and it's done several programs with the Hall of Science.
"When they take ownership of their own learning, that's when they get the most out of what they're doing," she said.
As the students themselves acknowledged, if they weren't spending their week at the Hall of Science they'd probably just be home playing video games.