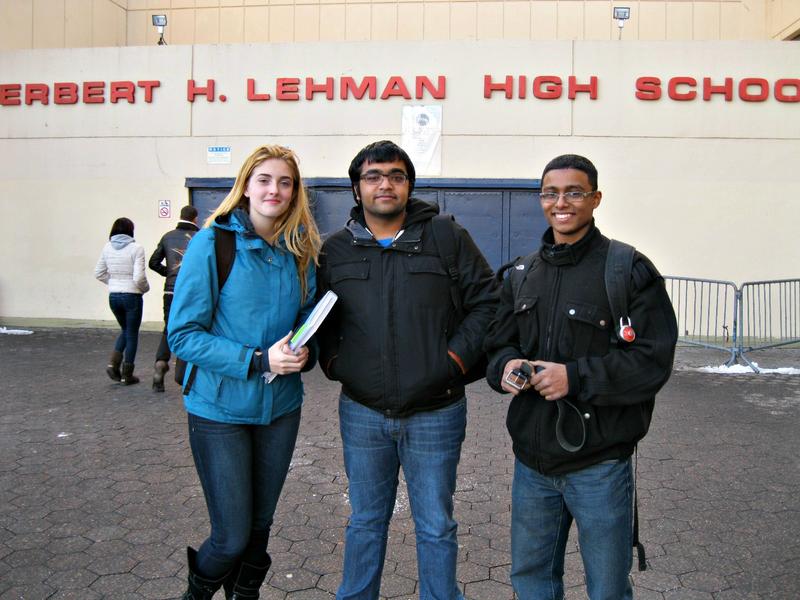 As the city prepares for another round of school closure hearings this month, presumably the last under Mayor Michael Bloomberg, community leaders in some of the affected neighborhoods have questioned how the Department of Education identified this list of schools, and what exactly they could have done to keep a school off the list. The school closure process has, at times, shuttered schools that were showing progress and kept open persistently low-performing ones, leaving those outside the Department of Education to consider "early engagement," the phase before possibly closing a school, an opaque process at best.
This school year, 60 struggling schools were identified for early engagement because they had low markers of achievement, such as low graduation rates, poor test scores or little student progress on those tests from year to year. They also may have had safety issues or declining enrollment. Of that 60, 24 were targeted for closure and two will shed some grades.
"Unfortunately, there's no real consistency to the way the Department of Education handles the early engagement process," said David Goldsmith, president of the Community Education Council for District 13 in Brooklyn and the parent of a high school student. He advocated successfully on behalf of P.S. 67 Charles A. Dorsey in Fort Greene after it was flagged for early engagement this school year.
"From our point of view," he said, "there are schools where it's so very obvious that early engagement is not genuine."
The Case of P.S. 67
For the record, Goldsmith does believe there is a time and place for school closures in rare cases. Some schools, he said, have been dysfunctional for so long that it would be difficult to bring them back. But not enough schools are given the chance to turn around, he said, even when a school has new leadership and is obviously making strides.
To understand Goldsmith's thinking, and the Community Education Council's fight for P.S. 67, it's necessary to go back to the previous school year. That is when the D.O.E. flagged a middle school in Clinton Hill, called Satellite Three, for early engagement.
The school had a long period of low achievement, Goldsmith said, after having some initial success when the school opened about 15 years ago. In the spring of 2011, the D.O.E. installed a new principal, Beatrice Thompson, who started making changes. But then, just a few moths later, the school was put on the list for early engagement.
"All of the information on the ground was she was doing an amazing job," said Goldsmith, like pulling the staff together and setting new goals for the school. At the early engagement public hearing, he said, "you could feel the energy in the building. The school was coming back." The school community wanted the new principal to have a chance to turn around the school. Instead, Satellite Three is phasing out.
Based on his experience with Satellite Three, Goldsmith decided he should be more pro-active during the early engagement process for P.S. 67. The school has received a D grade on its progress report for the past two years, and a C grade before that. Like Satellite Three, P.S. 67 had a brand new principal. The D.O.E. hired Temica Francis at the start of the 2011-2012 year. The school was on the early engagement list in October.
Before Francis became the new principal, Goldsmith said, "there wasn't anything about that school that was well put together." One example: P.S. 67 had one functioning bathroom in the back of the cafeteria that served all 250 pre-K through fifth-grade students. Other bathrooms were being used as storage closets.
Teachers had not received professional development on curriculum, how to give assessments, or how to analyze their students' data to monitor their growth. Teachers across different grade levels were not on the same page so third-grade teachers, for example, did not know what their fourth-grade counterparts expected from students at the beginning of the year.
Francis, who had no previous experience as a principal, reached out to her superintendent for support and received help. She hired a new school support network. She fixed the bathroom problem. She brought in professional development and began making connections to get more resources for the school, such as a new media center for students and iPads for teachers.
"We tried to make known to the point where they could just not deny that they knew the great work that was going on in the building," said Goldsmith of the D.O.E. He and other Community Education Council members also organized a "before and after" binder of documentation about P.S. 67 to present to education officials as proof.
The D.O.E. spared P.S. 67 this year.
D.O.E. Criteria for Struggling Schools
"Proposals for phase-out are the culmination of a thoughtful and thorough process," said Devon Puglia, a department spokesperson, and school closures are a last resort.
Schools get on a watch list when they receive a grade of D, F or a third consecutive C on the annual school progress reports. A school also gets flagged for early engagement when it receives a poor rating on its quality review, a qualitative evaluation of how well the school supports student achievement, or if it is listed as a low-performing "priority school" by the state education department.
To get off the list, the D.O.E. said, it applies other criteria. A school that earns the highest rating on its quality review, even if it receives a low progress report grade, would likely escape the early engagement list. Or if a school's graduation rates or proficiency test scores were higher than the citywide average it would more likely be removed from the early engagement list.
If none of those criteria fall in the school's favor and the city proposes it for closure, then the decision is explained in reports posted on the D.O.E. website.
"Every child deserves a great education, and the decision to phase out a school is one of the most difficult we make," said Puglia.
Instances of Collaboration
Education officials said they only propose schools for phasing out or closure if they believe the school cannot turn around quickly. But many parent activists like Goldsmith said not enough schools were given a chance, or the resources, to do what they needed to do. Also, the community opposition to closure has to be coordinated and intense in order for it to work, leaving some communities more equipped to advocate for their schools than others.
P.S. 67 was an example where the D.O.E. listened to pleas from community members. It's not the only one. City Council members and state legislators regularly have stepped in to fight for the schools in their districts.
"I try to go to the mat for any school in my district that is on the closure list because I don't believe that the policy is correct," said City Councilman Lew Fidler, who represents District 46 in Brooklyn. He fought for P.S. 114 Ryder Elementary in Canarsie when it was threatened with closure two years ago.
The school's record of low-performance, Fidler said, was due to inaction by the D.O.E.
"The circumstances at 114 were so egregious. They had left a principal in the school despite the fact that parents and the teachers had asked D.O.E. to replace her," Fidler said, citing poor budget management and the principal forgetting to schedule a graduation one year.
Then-chancellor Cathie Black responded, Fidler said, and took responsibility for the poor administration. He gave credit to Shael Polakow-Suransky, the chief academic officer and deputy chancellor, for listening to teachers and parents. P.S. 114 was spared that year.
"It just shows that when people get together," said Fidler, "the D.O.E. cooperates - and they have been cooperating at 114 - that you can turn around the school." It is a better system, he said, than demoralizing faculty, staff and a neighborhood of parents to repair a school.
Clearly, collaboration with education officials has spared some schools from closure. Other examples include Assemblywoman Cathy Nolan's support for her alma mater, Grover Cleveland High School in Queens, as well as Dewitt Clinton High School in the Bronx and Boys and Girls High School in Brooklyn, which both have strong alumni networks and deeply rooted community support.
Yet, it seems to some communities that each school is on its own fighting the same battles over again when the annual closure list comes out. Herbert H. Lehman High School in the Bronx was on this year's list. Its story will sound familiar. Like P.S. 67, the school had a relatively new principal, Rose LoBianco, who started last year. Some of the school's 3,000 students have been rallying around her.
LoBianco began implementing reforms and programmatic changes this past September, said Ubayed Muhith, a senior at Lehman and a member of the school's leadership team. He said he does not understand why the D.O.E. would hire a new principal and not allow time for her changes to take hold.
Muhith started a Facebook page, Lehman United, to try to centralize support around the school, but has not been as successful as others during the early engagement process at organizing a rallying cry. He also said there is not a strong alumni network, like at Dewitt Clinton.
Kimberly Cionca, also a senior, said she viewed the school's proposed phase-out as highly political, having more to do with Bloomberg's record of closing large high schools. She made a video explaining her views for a student documentary contest for C-SPAN.
Lehman shares a building with two other schools, including a new high school, Westchester Square Academy which opened this school year with plans to expand. The D.O.E. said it already had plans for three more small schools in the building if Lehman's closure is approved.