Schoolbook
Harlem Students Celebrate Obama's Second Inauguration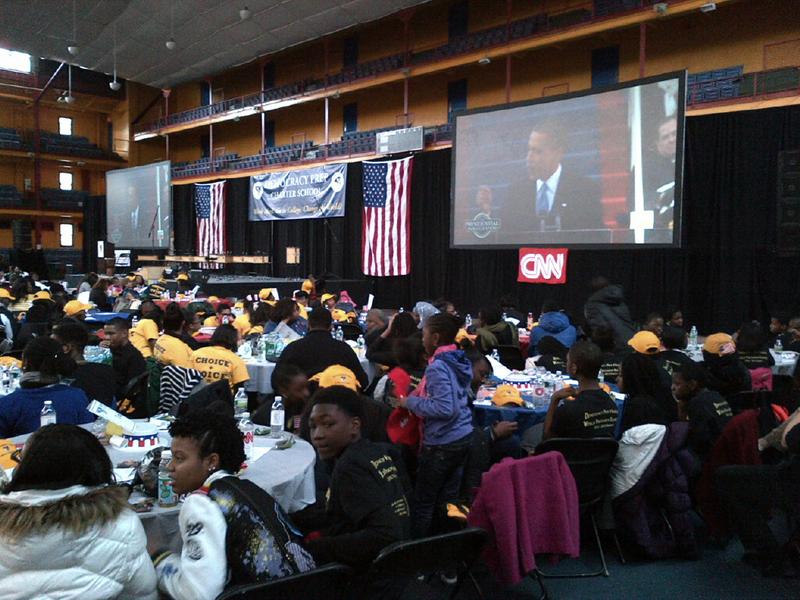 A percussion band, a choir, and over a thousand students, parents and teachers celebrated President Barack Obama's second oath of office, in what was billed as the city's largest inauguration party.
The event at the 369th Regiment Armory in Harlem was organized by Democracy Prep Public Schools, a network of six K-12 charter schools that puts an emphasis on civics. Many in the audience wore yellow T-shirts bearing the phrase "CHOICE + VOICE = DEMOCRACY", and hats that said "CHANGE THE WORLD."
But it wasn't so much the nuts and bolts of democracy as the power of an inspirational figure that seemed to move kids in the audience.
"It doesn't matter about your skin color or anything. You can go beyond and achieve whatever you want," said Salimatou Sowe, an eighth grader, after listening to the President's address.
This is the second time Democracy Prep has hosted an Inauguration Day event. Alice Maggin, Democracy Prep's communications director, conceded turnout was much lower the seven to eight thousand students who attended four years ago, from charter schools and regular district schools. Maggin said one factor was the Martin Luther King, Jr. federal holiday, giving students the day off.
She also said the event's intent was not so much to celebrate Barack Obama the man as to observe the workings of government.
"If Romney had won, we would have done this too," she said.
The nation's first African-American president is a powerful symbol at public schools throughout the city. Just as images of the Reverend Martin Luther King, Jr. and his quotes are frequently displayed in principals' offices and in hallway murals, so too are illustrations and photos of Obama. Volunteers painted an Obama Hope mural in a hallway at P.S. 161 in Harlem. Teachers often post Obama photos on bulletin boards.
At times during Monday's inauguration, the pomp and lofty rhetoric seemed to lose some in the audience. "I'm half listening," said Ashley Eton, an eighth grader who shared a set of earbuds with a friend, to listen to music.
But when Beyonce sang the national anthem, the audience watching on two projector screens seemed to fall silent. And when the singer finished, people stood up from their seats and cheered.