SchoolBook
Student Navigates Alternate Routes to School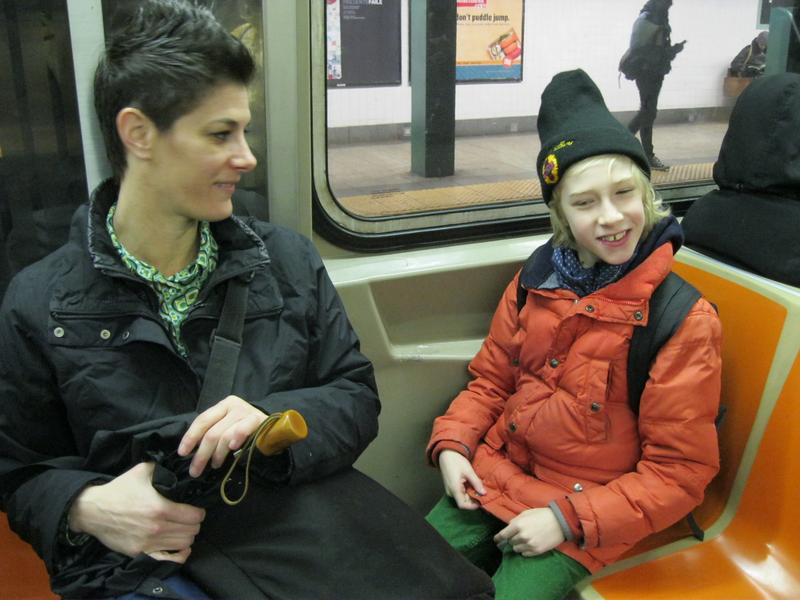 Jack Podvesker Hoffard is a lanky fifth grader who had both parents helping him get ready for school on Wednesday. He usually needs help but this was an unusual morning; because of the school bus strike Jack would take the subway.
Normally, Jack took a yellow school bus from the door of his Clinton Hill home to school at P.S. K77, a school for children with special needs. He has cerebral palsy, including cognitive delays and a lack of language skills.
"Jack is a colorful guy, and talks in a combination of both words and signs and a device," said his mom Lori Podvesker.
Podvesker, who also works as an advocate and policy analyst for the organization Resources for Children with Special Needs, bounded out the door with Jack to catch the G train a few blocks away.
Podvesker and Hoffard said they are sympathetic to the striking drivers because they've relied on their sensitivity and competence to care for their son in transit. Hoffard said Jack had a driver last year he still asks about, and misses.
At the same time, they said, the bus strike has caused a major disruption to Jack's routine, a highly scheduled day of services, like speech and physical therapies.
"Jack interacts with about 10 different people during the course of the day from his therapist to his teacher to the bus matron to his therapist after school," said Podvesker.
Facing a protracted strike, Jack's parents said they will juggle his schedule with their own work demands as well as the various caretakers and friends they will ask to help. They'll have to alert school who will be picking up Jack each day. And if they choose to take a taxi or car service, they'll need to keep track of receipts for reimbursement.
But, on Wednesday morning, Jack was visibly excited for the subway adventure. He loved taking the train, and he arrived at school excited for the day.
"Today, this was a total new experience for Jack and he did really well," said Podvesker. "But what we have seen in the past -- with any kid special needs or not -- you know, it might be cool, today, tomorrow and the next day. But it's going to get old."