SchoolBook
Teens Say Online Shaming is a Familiar But Confusing Issue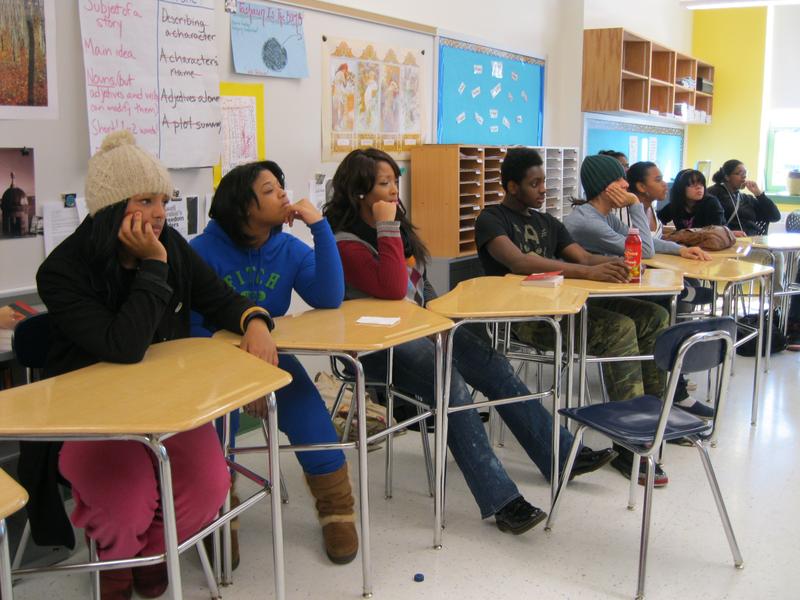 At the Academy for Young Writers in East New York, Brooklyn, a 10th grade class spent an hour Tuesday afternoon debating what constitutes sexual cyberbullying. But one thing wasn't up fr debate: the prevalence of sexually explicit material on the social media sites they use.
Justianna Kubersky, a teacher at Young Writers, organized the discussion for her advisory students following a WNYC Radio Rookies report. The report, by Temitayo Fagbenle, exposed how teenagers post sexually explicit photos and videos of fellow students to Facebook and other social media with the purpose of "slut shaming" fellow students.
Tuesday's discussion centered around a live webchat on the issue hosted by Fagbenle and Radio Rookies.
Kubersky's class read some of the comments on the chat, like these, before adding their own and jumping into a class-wide discussion:
@noel sometimes it's not obvious that people are being recorded, MANY times people's privacy is violated with the use of hidden cameras

Most of the videos I've seen on the internet, The female in the video is out in the open and is willing to be recorded. by yulissa&naianni;

You are children. As much as you think that you are adults, you are on your way but that is all. You may come to regret your behavior on either side of this argument. Try not to judge. Unfortunately, everything you say and do lives out there in a crazy cyberworld. You don't get too many chances to screw up like we did in my day. You have no choice but to be even more conservative. Be safe. by westchester mom

@Imani Often times, people will blame the victim and forget that it was both a boy AND a girl involved. Why do you think girls are shamed and boys are praised.

its not always girls that get exposed either. and usually its the people that think they are in "love" so much that they can trust the other person with a picture that intense. it happened to me when my ex put up a picture in a gay chat room after we broke up and ever since then ive had gay people sending me friend request like everyday because they think i have sex with every man that inboxes me.
"This is the biggest issue that our kids face," said Kubersky, especially for young women. She noted that more than two thirds of the student body at Young Writers is female. Some of her students said they had friends who made it onto a "slut" or "smut" list posted online or who were shamed with an online post of an explicit photo.
"Some girls know what they're getting into," said Arabia Miles, meaning some girls are seeking out attention. She said that she feels that making and posting a "smut list" is immature. But, at the same time, she feels that some people "do need to be exposed."
"As a girl, as a young lady, you're supposed to carry yourself a certain way," she said.
The class erupted in a loud discussion over the idea that there is more tolerance for promiscuity from boys over girls, even though girls create and post "lists" of boys too, such as ranking boys according to penis sizes, the students said.
One student offered that a girl may naively send a boy a photo thinking she can trust him. Another said some girls may be sexually active or willing to share videos or photos of themselves because they desperately want a boyfriend.
Students in general were quicker to negatively judge the person in explicit material, rather than the person posting it. Still, Ajia Stone said she could not believe that "there are people who take time out of their day" to cavalierly post sexually explicit material about fellow students.
"I could never do something like that," she said.
She added the audience who is reading it should be blamed for this culture of cyberbullying too.
One overarching theme to come out of the discussion was just how routine it is find sexually explicit content of teenagers on social media sites.
"The surprise thing for me was that everyone just feels like this is normal behavior," said Kubersky.