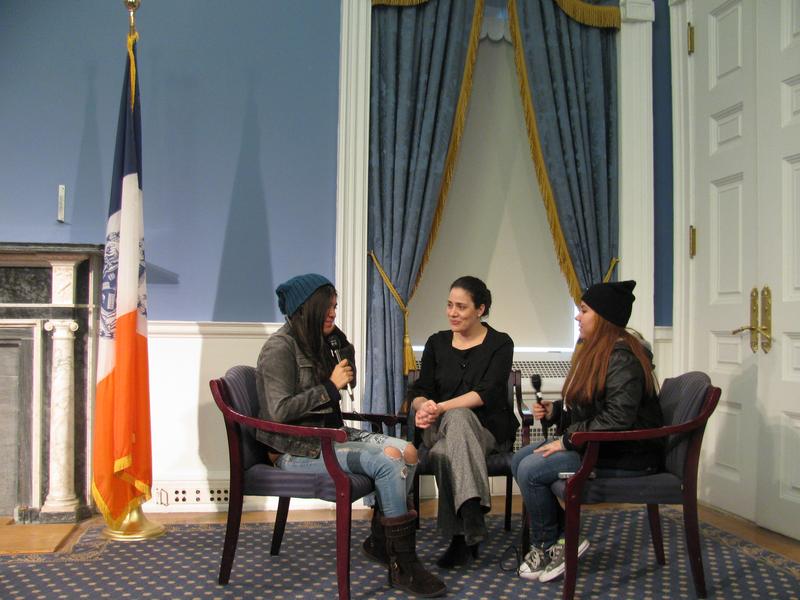 April 2013 —
After several sessions of brainstorming ideas for story topics, the current cohort of Neighborhood to Neighborhood Radio Rookies have settled into their groups based on their topic preferences and interests.  The student reporters are now delving into one of the most important stages of the process -- conducting interviews. 
To prepare, Rookies participated in a workshop session that included both technical training and strategies for conducting successful interviews. For example, open-ended questions tend to lead to the most interesting answers, and eye contact is a great way to make an interviewee feel more comfortable.
Armed with these strategies, students tackled preliminary interviews with family, friends, and members of the public. Arguably one of the most challenging parts of the program, conducting interviews — especially with strangers on the street -- requires patience and the ability to handle rejection. "I enjoy talking to people," says Chris, a student at East Side Community High School. "The hardest part is who to interview...because some people won't stop for you. Some will keep walking. Some may get disrespectful. To cope with them -- that's the hardest part for me, personally."
To add depth to the stories, students also interview experts in a field related to their chosen topic. The girls of Essex Street Academy chose language-learning among immigrants in New York City as their topic, exploring whether or not immigrant residents should have to learn English to live in the city. 
This past week, three of the girls had the opportunity to interview an immigration expert: Fatima Shama, Commissioner of the NYC Mayor's Office of Immigrant Affairs. Before the interview, the Rookies met with their producer to do some research. Grisel, a member of the group, explains, "...we read about her and her life and her sons and then we thought of questions to ask her." After refining their questions, they headed down to City Hall. After being welcomed by Commissioner Shama, they were escorted to the Blue Room -- the same room that Mayor Bloomberg uses for official press conferences.
One of the girls in the group, Grisel, recorded the interview with a video camera, while Samantha and Aura conducted the interview. Commissioner Shama, who speaks seven languages, responded from both personal and professional perspectives, and toward the end, asked Grisel, Samantha and Aura to share their own reasons for choosing their topic. Looking over the footage, the girls agreed that Commissioner Shama's insights into the subject would prove invaluable to their story, and returned to their project not only with renewed focus, but also with a memory that will be difficult to forget.