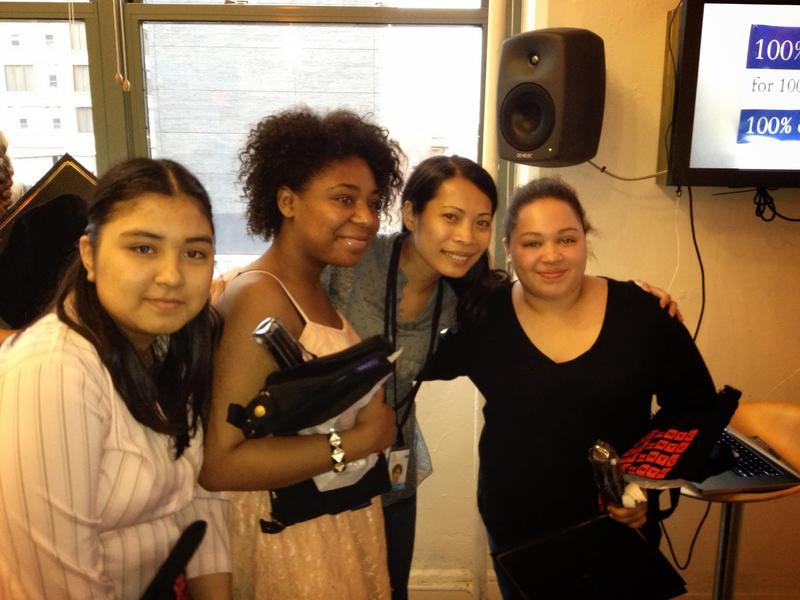 June 2013 —
"Every time I say something, it doesn't sound right.  It sounds like gibberish, random words put together," Radio Rookie Aura Briceno narrates in her co-reported story Losing Language,  "but I'm trying now, for my grandmother."  While Aura's Chilean parents spoke to her in English growing up, fellow Rookie Reporter Grisel Isidor spoke Spanish at home, English in school, and now slips easily between the two. Aura and Grisel's story was one of five pieces celebrated at the Radio Rookies listening party and graduation on Tuesday, July 18th at WNYC. 
Over quesadillas and too-rich-even-for-dessert red velvet cake, 50 people including the Rookies themselves, their families, classmates and teachers, listened to the stories by the most recent graduating class of the Neighborhood to Neighborhood workshops (a collaboration with Facing History and Ourselves).  After each story aired, the Rookies walked up to accept a graduation certificate and some very cool WNYC swag (and, no, they didn't even have to pledge!).  The stories covered everything from how to turn a homophobe into an accepting person to the wonderful world of "sneakerheads."  Links to all five stories coming soon! 
Funding for this project was provided by The Hive Digital Media Learning Fund in The New York Community Trust.