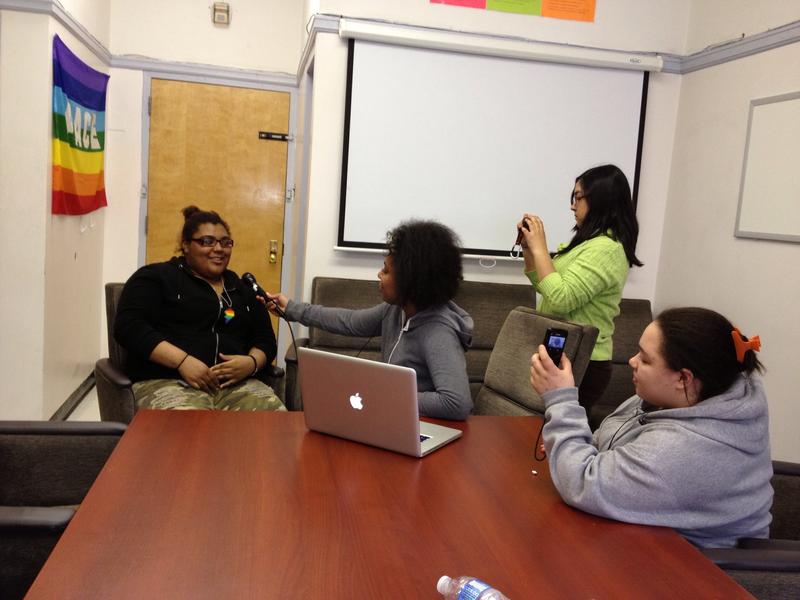 May 2013 —
We have rough drafts of the stories!  It's always satisfying after all the interviews and logging audio, to have something in a rough form, something to respond to and shape.
For the first round of edits, Rookies producers send their rough cuts and a script to Senior Producer Kaari Pitkin, who then returns the scripts with a lot of notes in caps (such as, WHY DOES HE SAY THAT?  ANY OTHER TAPE THAT CAN HELP WITH THIS TRANSITION?) and then comes to workshop to sit down with the Rookies to ask them questions, talk about their stories and make suggestions.   At the Essex Street Academy, for example, one of the groups has decided to break into two groups and cover two different angles on a similar topic (language and immigration), so one of our challenges is to make sure the pieces complement each other and don't have too much overlap.  Right now, one of the stories is shaping up to be about anti-Mexican bias and how that influences whether or not kids want to learn Spanish from their parents.  The other story is about what happens when Latino kids lose their Spanish, or never learn it at all. 
Over at East Side Community High School, Alicia is working away on a story about art as a way to deal with violence in her life, while Winnie, Jackson, Keshla and Alesha, have logged many hours interviewing people about homophobia.  The specific angles on both the stories are still in flux, so stay tuned!