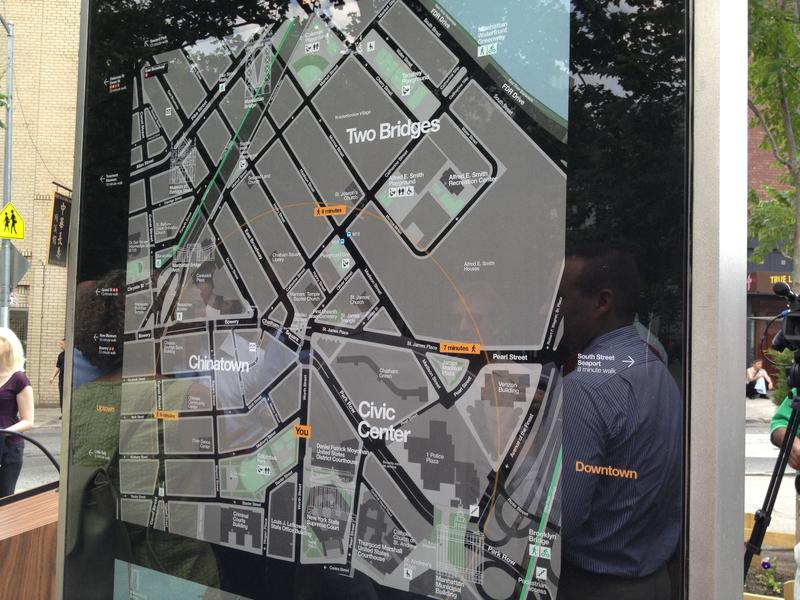 Even the locals get confused. According to research, ten percent of New Yorkers are lost at any given time. Now, the city is installing new pedestrian signage to point them in the right direction -- and get them to open their wallets en route.
The New York City Department of Transportation unveiled the first of its new wayfinding signs on Monday at the corner of Worth and Mulberry Streets in Manhattan's Chinatown -- a neighborhood possessing neither the grid system nor numbered streets. Compound that with large numbers of tourists and jurors spilling out from nearby courthouses, and you've got a good place to plunk down a WalkNYC sign.
The signage is the result of research conducted by the NYC DOT, which asked hundreds of pedestrians questions such as, "Which way is north?" and, "What neighborhood are you in right now?"
The results, said NYC DOT commissioner Janette Sadik-Khan, point to a glaring need for signage. "One out of three New Yorkers didn't know which way was north," she said. "We also found out that at any given time, ten percent of New Yorkers were lost."
And those are just the ones who'd admit it.
(The DOT's research also showed 27% of visitors couldn't name the borough they were in, and 24% of visitors didn't know how to get to their next destination.)
One hundred WalkNYC signs will be installed this summer in high-volume locations in Manhattan, Brooklyn, and Queens, with plans to expand to all five boroughs next year. The DOT is also working with the MTA to install them in subway stations and along Select Bus Service routes.
Photo by Kate Hinds
Much in the same way it has trumpeted the economic benefits of street redesign projects such as bike lanes, pedestrian plazas, and select bus service, the DOT says the signage will spur spending.
"When people know where they're headed, they're much more likely to explore the city -- with their wallets," said Sadik-Khan, adding that wayfinding is "great for the economy." She said, "Pedestrians spend 42 percent more (money) than drivers when they know their way around."
She said 31 percent of all trips in New York City are made by foot -- and the wayfinding system could spur even more walking.
Queens Council member Jimmy Van Bremer said the signage would encourage people to explore the museums and restaurants of Long Island City. "It is so important that people are able to see where they are," he said. "One of things that I believe is that someone may think they know  where something is -- (but) they think it's further than it actually is, and that may actually inhibit them." He added: "If they see that they can walk it, then they're going to pass restaurants and shops...and they're going to spend money."
The WalkNYC signs are eight-and-a-half feet high and range in width from 18 to 50 inches. They show neighborhood names, landmarks like parks and museums, and the locations of subway stations. They also ballpark walk times. The maps are oriented in the direction the pedestrian is facing. "You no longer have to worry about what's north, what's south, what's east and what's west," said Sadik-Khan.
And it may look familiar to Citi Bike users: similar maps already adorn the 300-plus bike share kiosks in Manhattan and Brooklyn.
Sadik-Khan said each signs cost $15,000 to install, and that the program is budgeted at $6 million. The federal government is picking up 80 percent of the tab.
Janette Sadik-Khan/Photo by Kate Hinds