A Summer Music Festival Without Boundaries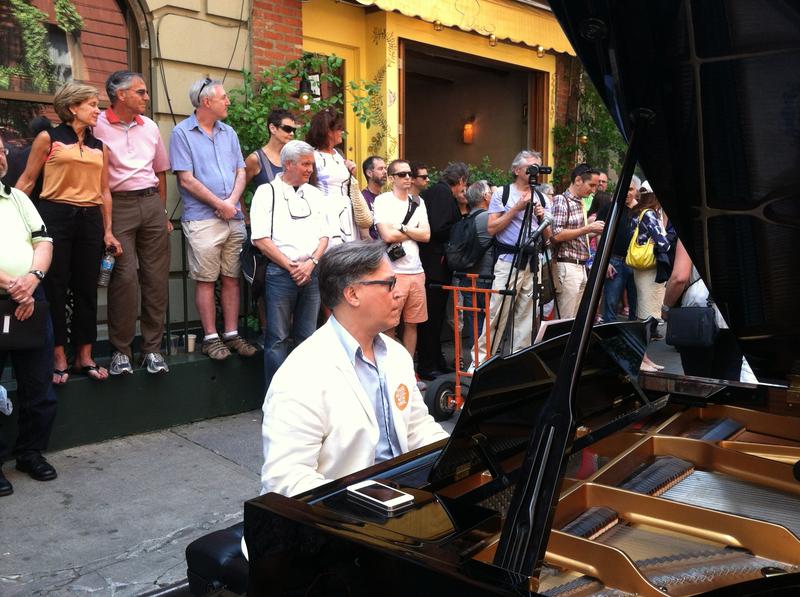 On the first day of summer, there was music in the air across New York City. It was the annual Make Music New York festival, which brought free, live performances to spots across the five boroughs.
There were singers on rowboats in Central Park and a group "hum-a-long" in DUMBO. Punk bands played all day on Coast Guard Pier on Staten Island — known for the day as "Punk Island." 
Before noon, 175 keyboardists played Pachelbel's Canon on Cornelia Street in the West Village. Together, they broke a world record for largest keyboard ensemble. 
Some of the keyboard players were from Bell Academy in Queens. Among them was middle-schooler Carla Carangue, who was shocked by the size of the event.
 "I think it's the biggest performance I've ever seen, considering we're breaking the record," Carangue said. 
"Block party!" another student shouted.
But just like their instruments, the students had to go back to class after breaking the record.
The musicians were dubbed "The Mighty Cornelia Street Keyboard Ensemble" by that event's conductor, Jed Distler. He composed a piece called "Broken Record" for the event. 
While dozens tapped away at the keyboards, Rainbow Connection was rocking out just across 6th Avenue. They were one of five bands that played outside sandwich restaurant Peanut Butter & Co. throughout the day. 
Adam Shapiro stood at a table outside handing out peanut butter samples.  He says hosting bands for Make Music New York brings people into the shop, "but it really is about the art at the end of the day."
Downtown, Jazz enthusiast Elliott Hurwitt sat in Zuccotti Park during his lunch break. He listened intently to Sharel Cassity's alto saxophone as it filled the crowded park with music.
"This kind of thing, free or not, is the reason to live in New York." Hurwitt said. "The quality of, especially classical and jazz music, particularly in the summers in the parks, is unparalleled."