TN MOVING STORIES: Transpo News Links from Around the Web
Friday, June 21, 2013 - 07:17 AM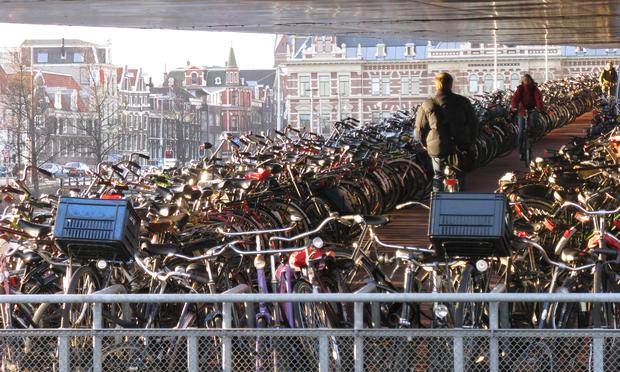 (rgs/flickr)
TN MOVING STORIES is available by email. Signup here. 
TOP STORIES ON TN:
Prendergast Confirmed As Chairman and CEO of New York's MTA (link)
Distracted Walking's Bruising Toll by the Numbers (link)
You hate my job: Giving out parking tickets (link)
LINKS FROM ELSEWHERE:
Get ready to rumble: the House will begin holding hearings to begin considering a new Passenger Rail Investment and Improvement Act -- meaning funding for Amtrak. (The Hill)
The Federal Aviation Administration is expected to relax its ban on using some electronic devices at low altitudes. (Wall Street Journal)
Amsterdam has more bicycles than people, and more parking is desperately needed as "the city is trying to keep its hordes of bikes under control." (New York Times)
Despite transit fare concessions by the government, protests are spreading across Brazil. (New York Times)
Tweet by Michael Kimmelman: As elsewhere, Brazil uprising began w issue of equity in public realm (bus fares): 21c revolutions not about ideology but daily life.
L.A. has begun locking turnstiles on its Metro in an effort to crack down on fare evaders. "Riders will need a TAP card (Transit Access Pass) -- with the $1.50 fare loaded onto it -- to gain access the subway." (Los Angeles Times)
Minnesota's first BRT line opens tomorrow in the Twin Cities. (Star Tribune)
Congressman John Mica (R-FL) is still unhappy about the cost of a new food program on Amtrak. "Taxpayers would choke if they knew the costs of these gourmet meals," he said. (Washington Post)
Flooding and mudslides have closed parts of the Trans-Canada Highway. (City News Toronto)
Honolulu may put a bike path underneath the elevated tracks of its future rail line. (Pacific Business News)
Things we no longer see on airplanes: table-side meat carving, pianos, and hot pants on flight attendants. (Mental Floss)
Kate Hinds covers transportation for WNYC News.