New York, the Vertical City, Kept Rising Under Bloomberg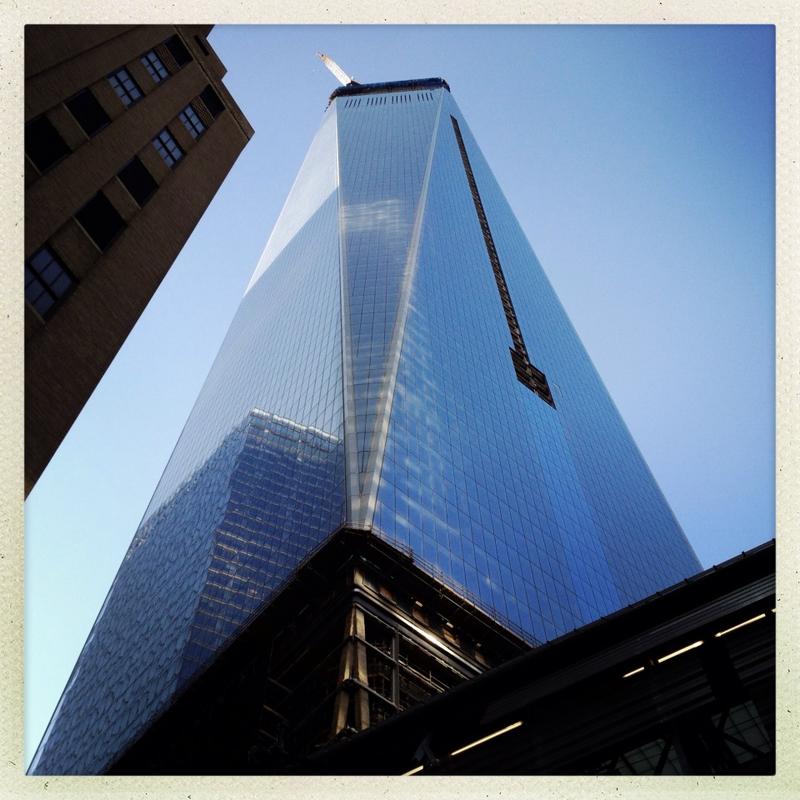 Mayor Michael Bloomberg took office less than four months after the city's tallest two buildings collapsed in the Sept. 11 attacks. He will leave, in December, as construction of the tallest tower on the continent - 1 World Trade Center - nears completion at the same location. In between, more than 214,000 housing units have been built, and seven of the 20 tallest skyscrapers in the city went up.
In short, building boomed during the Bloomberg years, both in terms of sheer numbers and in terms of height. And that is not counting what is yet to come after the mayor leaves office: the millions of square feet of office towers on Manhattan's far West Side, more high rises along the Greenpoint-Williamsburg waterfront, and the other development in areas throughout the city that can now be built due to the mayor's zoning actions.
As part of our series, New York Remade: The Bloomberg Years, WNYC is taking a look at the outsized mark Mayor Michael Bloomberg has had on our physical landscape and the increasingly vertical city in which we all live.
While other large cities around the world are also headed in an upwardly direction, helped by the vogue in luxury high rise apartment towers,  New York City took a particularly dramatic turn. Twelve years ago, it was the victim of the September 11th attacks. Today, the city's popularity is making it hard for many long-time residents to keep up with the rent. And Bloomberg himself appears to have played a major role in that transformation.
Some of that influence was direct, some more subtle.
Those seven tall buildings constructed in the past 12 years were generally built with as-of-right zoning, meaning that those edifices reached their neck-bending heights without the help of Bloomberg appointees on the City Planning Commission. But city agencies allocated Liberty Bonds - a type of low-interest bond authorized by Congress after the 2001 attacks - to two of them: One Bryant Park (the Bank of America building at Sixth Avenue and 42nd Street) and New York by Gehry (also known as 8 Spruce Street or Beekman Tower). And while the city's zoning laws do not govern what could be built at the World Trade Center site (it is owned by the Port Authority of New York and New Jersey), Bloomberg also intervened in negotiations between the Port Authority and developer Larry Silverstein, which facilitated a modified construction plan there.
Real estate developers say the biggest reason they built bigger and taller was because Mayor Bloomberg projected the sense that the city had a future, and that the future looked bright (at least to them and the people able to afford the 360-degree views from atop their towers).
"There was clearly concern after 9-11: would the city be safe? What would we do about terrorism?" recalled Steve Spinola, the president of the Real Estate Board of New York, a group of developers and property owners. "And there was a concern with Giuliani stepping down, was crime going to go up? And point by point, Bloomberg dealt with all of those issues."
In his first State of the City address in January 2002, Bloomberg outlined an aggressive agenda: The city would pursue the Olympics, both the Democratic and Republican national conventions for 2004, a joint session of Congress . . . and a major rezoning of Manhattan's far West Side. Only two out of those five ideas came to pass: the 2004 Republican National Convention and the West Side rezoning. But having those aspirations sent a signal to the world that New York would not slink away in cowardice after the attacks.
"He has planned, whether that be zoning, whether that be environmental issues, whether that be where to put the garbage," Spinola explained. "Each one combines to give you a sense that this is not a city that is dealing with an issue each time it comes up."
Building heights increased, not just in Manhattan but in the boroughs as well. In research conducted for WNYC, NYU's Furman Center for Real Estate and Urban Policy determined that new buildings constructed between 2000 and 2010 were taller - in terms of the number of floors - than those built during the previous decade - in all but six of the city's 59 community boards. Those increases can be found in areas where zoning rules had been changed to accommodate taller buildings, such as downtown Brooklyn, as well as areas that saw no rezonings, such as Washington Heights and Inwood, where developers took advantage of old zoning rules that allow buildings to be much bigger than they were.
In fact, the housing supply well outpaced the city's population growth, as it has in the past several decades. The number of housing units increased 5.3 percent between 2000 and 2010, while population rose just 2.1 percent, according to the Furman Center. But greater supply has not reduced the percentage of income that people spend on housing: in 2002, renters spent 28 percent of their income on housing; seven years later, they spent 34 percent, according to surveys taken by the U.S. Census Bureau.
It would require more analysis to determine why greater supply has not reduced prices, and to what extent the new apartments have reduced overcrowding among poor families, instead of serving smaller and smaller middle- and upper-class households.
Dan Doctoroff, Mayor Bloomberg's first deputy mayor of economic development, said in a recent interview that the rationale for rezoning places such as Manhattan's West Side and downtown Brooklyn came from a sense that the city would need to grow in order to stay fiscally healthy. The idea, he explained, was to create what he calls a "virtuous cycle of the successful city."
"Growth is good," Doctoroff said, "because the marginal revenues from the additional resident, additional visitor, additional job, produce additional revenues, which can be reinvested, hopefully smartly, into the quality of life."
In other words, a growing population spins off more tax revenues, and that money can be used to make more parks, better schools, or better transportation, which in turn will attract even more people to come live here.
Doctoroff acknowledged that making the city more attractive has also made it less affordable. That was why, he said, the Bloomberg administration crafted an affordable housing program early on, though he added, "It's not a perfect answer."
(Doctoroff is now the chief executive of the mayor's financial information company, Bloomberg L.P., which, by the way, occupies one of those seven tallest buildings in the city constructed since 2002.)
He said the Bloomberg administration has rezoned about 40 percent of the city's land mass. Many of the rezonings limited the density of the neighborhoods, impairing development, while others permitted high-rise residential towers on former manufacturing land. But, all in all, NYU's Furman Center calculated that approximately 310,000 more people will be able to live in the city if the areas rezoned between 2002 and 2009 are fully built out.
Francis Morrone, an architectural historian and author of the forthcoming Guide to New York City Urban Landscapes, said he appreciates that Bloomberg is trying to keep pace with London and Shanghai in the competition for global companies. But Morrone said the mayor's growth agenda also has a major downside. He cited a 2009 study by the Center for an Urban Future that argued that tens of thousands of middle-class New Yorkers were leaving the city because of the high cost of living.
"The city is going to survive. The city is going to thrive," Morrone said. "Not all the people in the city are going to thrive, or even continue living here."