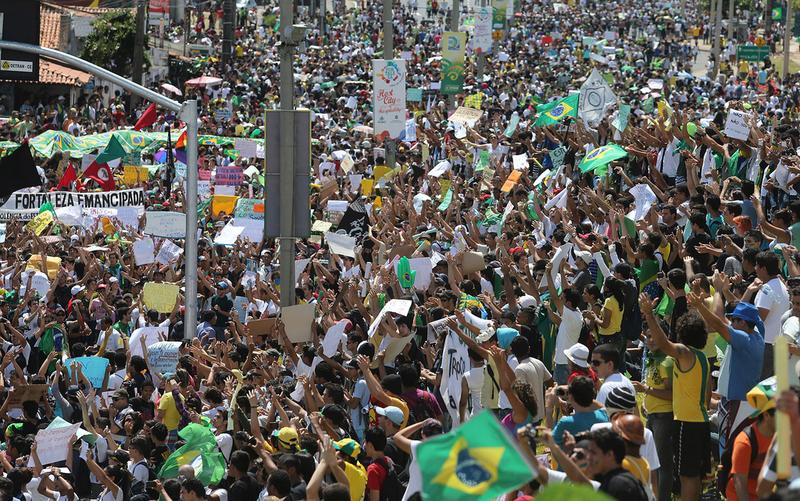 A wave of mass protests have swept across Brazil for six straight days bringing hundreds of thousands of demonstrators to the streets in opposition to transportation fare increases. And it worked. 
The mayor of São Paulo, Fernando Haddad, and the governor of São Paulo state, Geraldo Alckmin, announced on Wednesday afternoon that the bus and subway fare will go back to $3.00 reais from $3.20 reais an increase roughly equivalent to 10 U.S. cents, raising fares from US$1.36 to US$1.46.
The mayor of Rio de Janeiro is expected to announce a similar move this evening cutting the bus fare there from $2.95 to $2.75 reais, according to Brazilian news reports. Other Brazilian cities are following suit, including Presidente Prudente, in Sao Paulo, which cut the bus fare from $2.60 reais to $2.50 reais. 
The protests began in opposition to a plan to raise bus fares but quickly turned into a broad movement against the poor quality of public services, the high cost of living, and huge public spending for the World Cup and the Olympics. It was an unusually swift and powerful show of discontent from a nation better known for taking government graft and mismanagement with sanguine civility. These protests are the largest Brazil has seen since the military dictatorship ended in the 1980s.  
While demonstrators and thrifty commuters are celebrating the news of the fare rollbacks, some Brazilian observers are reacting with caution. Gilberto Gimenstein, columnist of Sao Paulo leading paper Folha de S. Paulo, said the decision created a trap. "From now on, it's official: the idea that a popular mobilization is capable of scaring the authorities." So what will the people protest next?