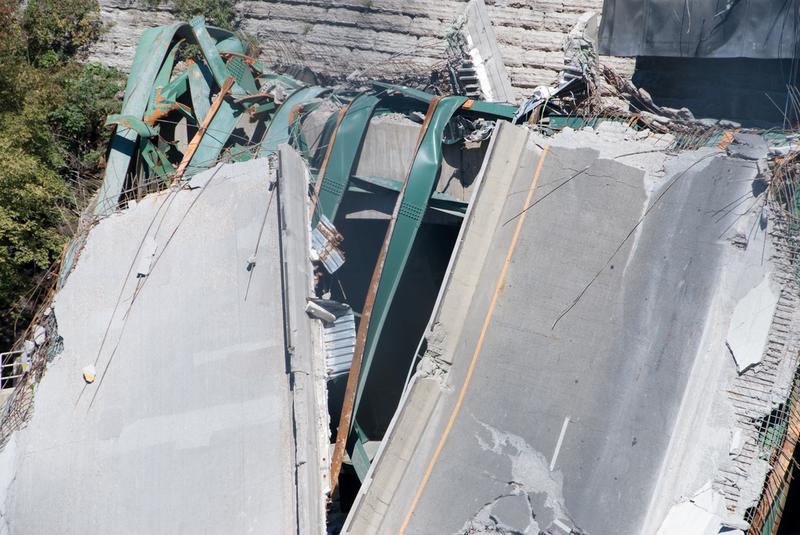 There are 66,405 "structurally deficient" bridges in the U.S., about one in every nine, according to a new study from Transportation 4 America. That's down from just shy of 70,000 two years ago, but the pace of repair is slowing and many more bridges are reaching the end of their intended 50-year lifespan. Recent funding changes in Congress are exacerbating maintenance problems, T4A concludes.
"Today, though, there more deficient bridges in our 100 largest metropolitan areas than there are McDonald's locations nationwide," said James Corless, director of Transportation for America. 
We've known these bridges are in poor shape for a while now. Two years ago T4A issued a report that also found one in nine bridges in disrepair (with updated map) and calculated that 210 million trips are made across those bridges each day. President Obama used his State of the Union speech to lament America's 70,000 deficient bridges, a line that sparked satirical shock and humorous infrastructure outrage from Jon Stewart of the Daily Show.
So it's more reminder than revelation that T4A calculates 11 percent of bridges in the country are in shoddy shape. 
Most bridges are built to last 50 years, but in practice they frequently stay in operation long past that. The average age of American bridges is 43 years old and getting older. The average age of a structurally deficient bridge is 65. Because America isn't replacing bridges at the same rate we once built them, the average age of our bridges is rising, and if we continue apace, in a decade a quarter of bridges will be senior citizens, likely increasing the chances they are structurally deficient.  
Structurally deficient is a technical term that means inspectors found a "major defect" in the support structure or deck of the bridge. That doesn't mean it will fall over, but neglecting the defect usually means there will be considerable increases in costs down the road, and yes, potential collapse at some point. 
However, take the most recent bridge to topple, the I-5 bridge over the Skagit river that fell in May. It was not deemed structurally deficient, but it was deemed "fracture-critical," a different category of concern based on the design rather than the state of good repair. So, all these bridges on the deficient list still don't make up the total of America's bridges in need of repair or replacement. 
Some states are taking on the task. Pennsylvania has the worst ranking in the study with about one in four bridges deemed structurally deficient, but the state has also made some of the best progress since 2011, repairing 500 bridges and reducing the deficient count by 8 percent.
Arizona, Delaware and Hawaii, however, are slacking with their tally of deficient bridges rising five percent in the last two years. 
As T4A notes, Congress limited what projects could get repair money: "Congress made the prospects for bridges even more uncertain last year by eliminating a dedicated fund for them in its update of the federal transportation program. The new law also reduces access to funds for 90 percent of structurally deficient bridges, most of which are owned by cash-strapped local governments." 
U.S. Representative Nick J. Rahall (D-WV), the ranking member of the House Transportation and Infrastructure Committee said in a statement "Congress simply cannot keep hitting the snooze button when it comes to needed investment in our nation's bridges or think that these aging structures can be rehabilitated with rhetoric."
Federal money can make a dent, or at least a chip in the problem. The stimulus and other highway funds helped reduce the share of deficient bridges from 11.5 percent to 11 percent since 2011. But, as T4A writes, "the overall repair rate has dropped significantly over the last 20 years. From 1992-1996 the number of deficient bridges declined by 17,000. However, from 2008-2012 the number dropped by only 4,966 – more than three times slower."