UFT Backs Thompson, Putting Major Unions At Odds: Your Guide to What it Means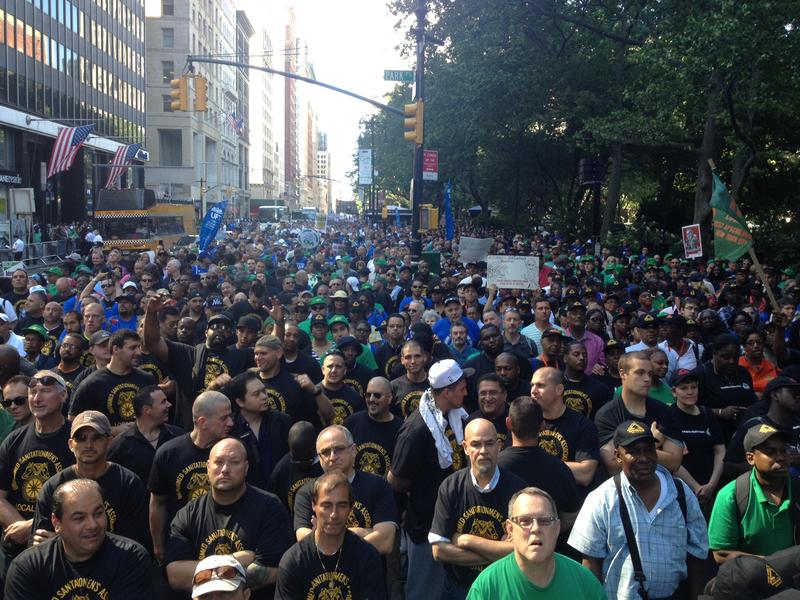 Labor is split in this Democratic mayoral race. Former Comptroller Bill Thompson has the backing of the teacher's union. Bill de Blasio's got the health care workers in SEIU 1199. John Liu has the municipal workers of DC-37, and Chris Quinn has retail workers and food and commercial workers.
"There is no labor candidate in this primary," said Bill Cunningham, a former press secretary for Mayor Michael Bloomberg and political consultant who is unattached in this mayor's race.
It's not unusual for labor to split in a contested Democratic primary, and it often does not have much to do with policy differences of the candidates. For labor, the endorsements are a chance for leaders to prove their political mettle and for the rank-and-file to show they can mobilize and be a formidable force for the next contract fight.  Unions have long memories, and elected officials who've given unions assists can be remembered fondly, for years.
For the candidates, union backing can be an important seal of approval on their policies, and for the unions with the mobilization muscle, an important turnout machine.
"It terms of pulling out people, UFT would be at the top of the list. 1199 has always had a very effective GOTV machine," said Richard Steier, editor of the public union newspaper The Chief. "DC37 has not had as effective a get out the vote operation as it did 25 or 30 years ago. The political action department is simply not what it was."
 A dozen and a half city unions have split their endorsements so far. Here's a quick look at the city's biggest labor players in recent mayoral elections.  
United Federation of Teachers
Membership: about 200,000, which makes them the city's largest municipal union. The union boasts 170,000 voters in UFT households in the city.
2013 Pick: Bill Thompson
Endorsement history: The last time the UFT endorsed was 2001, when it endorsed Alan Hevesi in the primary, Fernando Ferrer in the run-off, and Mark Green in the general election. That prompted Mayor Michael Bloomberg, no friend of the union, to characterize its backing as "a kiss of death."
But that doesn't take into account how rarely UFT has wielded its endorsement weapon in mayoral elections. The last time they backed a winning candidate was in 1989, but the union did not endorse a candidate during Bloomberg's reelection campaigns in 2005 and 2009, or in 1993 or 1997.
"UFT has only endorsed once in 24 years since Dinkins, and they managed to go for a hat-trick there," Steier said of 2001. "They swung three ties and missed each time sandwiched around mayoral elections that they didn't get involved in."
This election is an opportunity for union chief Michael Mulgrew to establish his ability to lead it. This is his first citywide election cycle as president, following Randi Weingarten's departure in the summer of 2009.
1199 SEIU
Membership:  About 220,000 homecare, hospital and nursing home workers in New York City, which makes it the largest union in the city. Its membership is majority women, with large numbers of African Americans, Asian Americans, and Latinos. Overall, the local represents about 400,000 members in New York/
2013 Pick: Public Advocate Bill de Blasio
Endorsement history: 1199 SEIU did not endorse in the 2009 race, and it backed Fernando Ferrer in 2005. In 2001, the union backed Ferrer against Mark Green in the Democratic run-off, before half-heartedly backing Mark Green against Bloomberg in the general election.
DC 37
Membership: About 110 to 115,000 non-uniformed municipal workers. Many are women and minorities. Many are subject to city residency requirements, so they must live, and as a result vote, in the five boroughs.  
2013 Pick: Comptroller John Liu
Last time they backed a mayoral winner: Bloomberg in 2005
Endorsement history: DC-37 endorsed former Comptroller Bill Thompson's unsuccessful mayoral run in 2009, after backing Mayor Michael Bloomberg reelection in 2005. In the last open mayoral election, DC37 endorsed Peter Vallone in the 2001 Democratic primary, then switched to Fernando Ferrer in his runoff against Mark Green, then backed Green against Bloomberg. The union endorsed Giuliani's reelection in 1997.