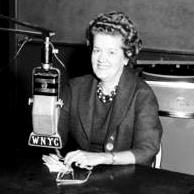 This episode is from the WNYC archives. It may contain language which is no longer politically or socially appropriate.
Three dimensions on child care:

New York City Health Commissioner Leona Baumgartner on the medical aspect of child care and day care centers.
Katherine F. Lenroot on child welfare.
Millicent McIntosh of Barnard College on child education.

Abe Stark, President of the City Council, on day care centers.

Edited talks.

2 s. 16 in.
Audio courtesy of the NYC Municipal Archives WNYC Collection
WNYC archives id: 73843
Municipal archives id: LT6970