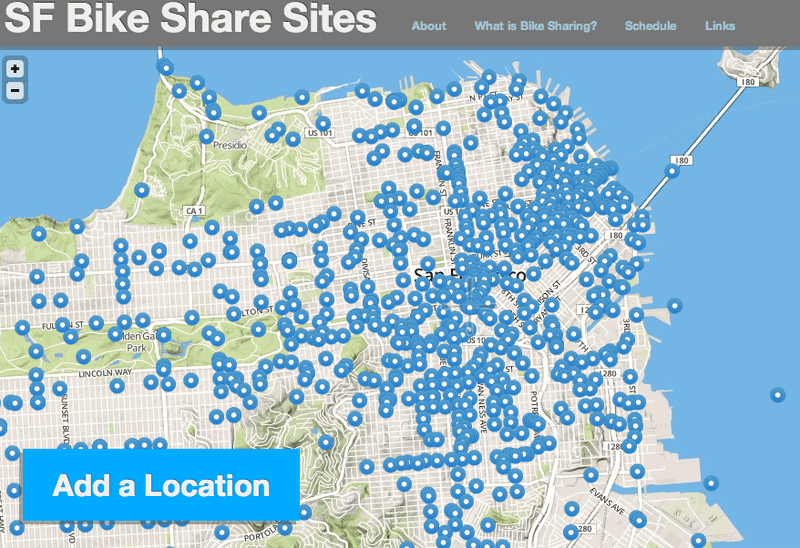 Bike sharing is coming to San Francisco and Silicon Valley this August. It's being launched on a small scale at first -- just 750 bikes in the whole system. But the city is turning to the public to help them plan the system's expansion.

The San Francisco Municipal Transportation Agency (SFMTA) has already released the locations of where it plans to put the city's 35 Bay Area Bike Share stations. They're concentrated in the downtown Financial District and South of Market areas– parts of the city that have high numbers of commuters. There will also be a few stations along San Francisco's waterfront, on Embarcadero.
In an article explaining the system, bike sharing program manager Heath Maddox explained, "this area is notably flat, has the densest bikeway network coverage and has the highest bicycle use counts in the city."
Because the initial launch is so small, the system can't sustain stations that are too spread out beyond the initial launch area. But San Francisco plans to expand the program as quickly as possible, so it created a crowdsourcing website where people can recommend different spots for stations.
New York City took a similar approach when planning its bike share stations, and the city received thousands of suggestions on where to locate docks.
Currently, most votes center around that same downtown area, but other neighborhoods –- like the Mission District -– are getting some attention too. But some Bay Area residents hope the bike share won't be limited to those central neighborhoods. Henry Pan, a native San Franciscan and biker, doesn't want it to skip over the outlying neighborhoods.
"Especially at those neighborhoods with the least access to transit and probably the least access to a car," he explained. "And those neighborhoods would imaginably be those with the lowest incomes."
Pan has cousins who have curfews because they can't rely on public transit to get them home safely. He thinks a bike share could help, and give them an easier way to get to the city.
Pan, who volunteers for the community group Folks for Polk, is excited about bike share coming to San Francisco. "This is one step that's needed to get our city more access to sustainable modes of transportation," he said. "That means less cars on the road, safer streets, and more willpower to galvanize protected bike lanes in the city."